TCM on front line in battle with virus
Share - WeChat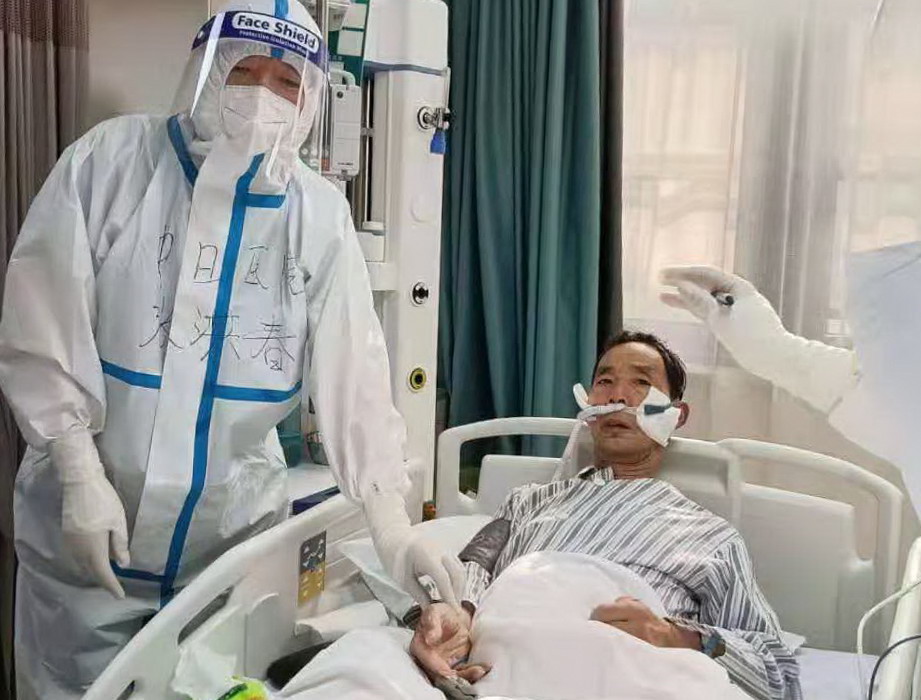 When Zhang Hongchun arrived in Shijiazhuang, Hebei province, on Jan 12, the streets were eerily empty amid a sweeping stay-at-home order due to a spike in COVID-19 cases.
On a chartered coach, the 57-year-old raced to the Hebei Chest Hospital in the provincial capital.
Awaiting the eminent traditional Chinese medicine therapist were rows of isolation wards filled with novel coronavirus patients.
He quickly saw a pattern-and then a strategy.
"One-third of them were seniors and children," said Zhang, an asthma and chronic bronchitis specialist at China-Japan Friendship Hospital in Beijing. "The oldest was 91 while the youngest was 7 days old."
The province detected its first case on Jan 2, in a sprawling rural neighborhood on the eastern outskirts of Shijiazhuang known as Gaocheng district.
The worst-hit district, it is home to large numbers of left-behind seniors and children, with many locals of working age toiling away in urban factories or construction sites for better salaries.
When Zhang arrived, the tally of locally transmitted cases in Shijiazhuang had seen double-digit increases for almost 10 days, with most of the patients seniors in Gaocheng.
While severe symptoms are rare among children, older patients are likely to develop persistent fevers, if not fatal ones.
That's where Zhang and a couple of other big names in TCM intervened, with herbal decoctions and concoctions.
"The widespread use of clear lungs and detox soup has contributed to reducing the number of seniors who develop chronic fever," he said. "Fever has either been relieved or has gone away completely for many."
Based on a medical classic from the Eastern Han Dynasty (25-220), the soup has been used since early last year to successfully treat people infected with the novel coronavirus.
Among the 214 patients who received the treatment by early February, more than 60 percent improved symptomatically or radiographically, according to figures from the National Administration of Traditional Chinese Medicine.
Another 30 percent maintained stable conditions, it said.
The use of herbal medicines in treating COVID-19 patients is part of a broader effort by central authorities to push for a mix of traditional medicine and modern therapies in tackling epidemics such as the severe acute respiratory syndrome outbreak in 2003 and bird flu in 2009.
Li Yu, a senior official with the administration, told a news conference in March that the adoption of the mixed therapeutic strategy reached an "unprecedented level "amid the COVID-19 outbreak, with TCM's participation rates well above 90 percent in most provincial-level regions.
Zhang said last year was a turning point for traditional medicine's role in epidemic control.
"Due to limited recognition, TCM practitioners used to experience different degrees of exclusion from epidemic control task forces," he said. "But in the COVID-19 outbreak, traditional medics have been required for every designated hospital. That has laid a good foundation for involvement."
TCM's success in containing outbreaks has prompted Zhang to advocate early involvement of traditional therapies in epidemic control.
As a member of the Chinese People's Political Consultative Conference National Committee, the country's top political advisory body, Zhang proposed creating a "mechanism" to that end in May.
Now, as the world scrambles to contain a far more contagious strain of the virus, the benefits of TCM have come to the fore.
That's because unlike modern treatments such as antiviral drugs, which target the virus, or oxygen therapy, Chinese medicine focuses on a holistic approach to ease the symptoms it causes, Zhang said.
Mutations don't change the nature of the disease, he said.
"The Chinese nation has survived other great ancient cultures, an achievement in which TCM has played an important role," he said. "After all, modern medicine was imported to China only about three centuries ago."