3 documentaries highlight students in Zhejiang
Share - WeChat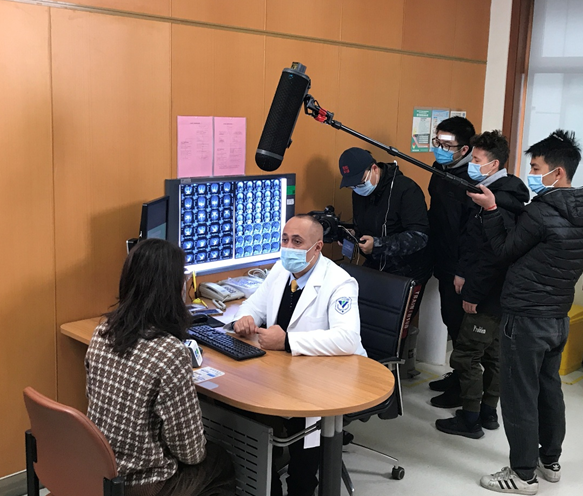 Filming of the micro documentary Ammar Takes You to Tour Yiwu City wrapped up in Yiwu, Zhejiang province, on Jan 17.
The documentary stars Ammar Al-Baadani, a Yemeni PhD alumnus of Zhejiang University who is a neurosurgeon and physician in Yiwu.
He takes the audience on a tour of Yiwu International Trade City, the Fourth Hospital of Zhejiang University and various tourist attractions to showcase the prosperity and development of the city.
Yiwu, dubbed the World's Supermarket, is shown from the perspective of an international student and foreign businessman living in China.
The film is one of three micro documentaries of the Chinese Bridge online exchange project, which highlights scenic spots and economic and social developments in the cities of Hangzhou and Yiwu.
Produced by ZJU's international education school, the three documentaries will be released online in March and will include subtitles in both Chinese and English. They are A Cloud Tour in ZJU, Ammar Takes You to Tour Yiwu City and Go Around Hangzhou with a Mobile Phone.
The first, A Cloud Tour in ZJU, reveals international students' feelings about their experience at ZJU and reviews the teaching management team at ZJU's international education school by shooting some class scenes and presenting personal interviews. It also shows the different atmosphere and overall style of each campus of ZJU across four seasons.
Go around Hangzhou with a Mobile Phone shows how smartphones and the internet have changed the daily lives of people living in Hangzhou through the eyes of a foreigner who searches the city to find a Chinese friend and solves the problems of eating, transportation, travel and shopping with ease with a mobile phone.
The Chinese Bridge online exchange project was derived from the Chinese Bridge Summer Camp, a branded program of the Center for Chinese-Foreign Language Exchange and Cooperation under the Ministry of Education. Because of the impact of the coronavirus pandemic, the summer camp was changed into an online group exchange project this year.
The micro documentaries are jointly produced by ZJU's International Education School, College of Media and International Culture, and Tianmu News, a news app affiliated to Zhejiang Daily.
Wang Youxi contributed to the story