Resounding across generations
Share - WeChat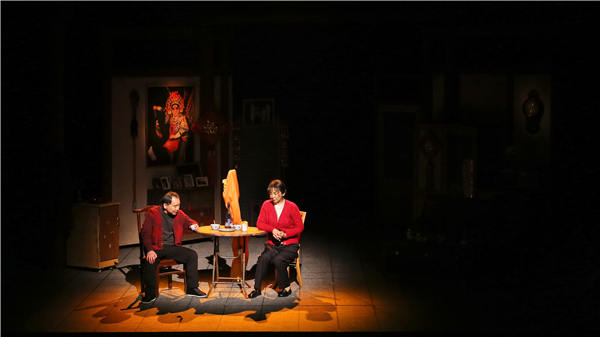 A father-son duo is presenting a new play about Peking Opera, Chen Nan reports.
Song Tianshuo grew up listening to the pounding of drums, clangs of cymbals and high-pitched arias of Peking Opera. His father, Song Yan, is a performer of the 200-year-old art form and president of Beijing Fenglei Peking Opera Company.
Song Tianshuo watched Peking Opera performances as a toddler and studied the art form with his father as a child. However, instead of becoming a professional Peking Opera performer, Song Tianshuo is a theatrical director.
After receiving training in contemporary drama at the Central Academy of Drama in Beijing, 30-year-old Song Tianshuo has carried on his family's legacy in his own way.
The original Chinese play, The Couple in the Lane, directed by Song Tianshuo and written by Song Yan, is being staged at the National Center for the Performing Arts in Beijing until Sunday.
The play, which premiered in the capital in November, tells the story of an old couple living in a hutong (traditional alley) in southern Beijing. Song Yan and actress Li Qinqin play the old couple. The production features strong Peking Opera elements since Song Yan plays the role of a retired Peking Opera performer.
"When my father gave me the script in January last year, I was touched because it tells his own story," says Song Tianshuo, adding that his father, who is 58 years old, will retire in two years and foresees his post-retirement life through the play.
"I've talked about retirement with my father. He loves Peking Opera and won't stop performing, even after his retirement. He's also keen on popularizing the art form among children."
In the play, the man feels lost after retiring from a Peking Opera company.
Retirement transforms his daily life. Although he still trains every day, he has no stage on which to perform, as he has for decades. It also poses challenges for the long-married couple as they adjust to life after retirement.
Most Popular