Calabashes a sound investment in the future
Share - WeChat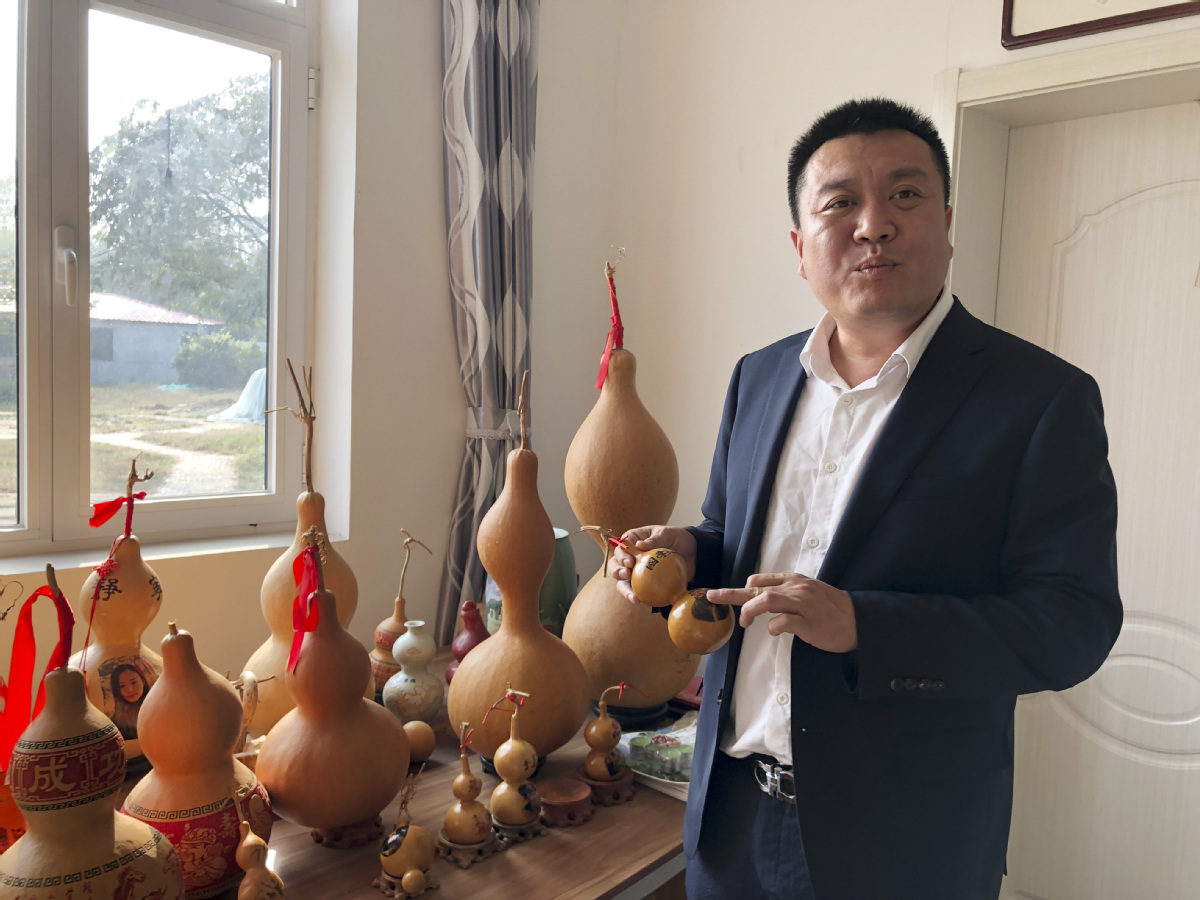 TIANJIN-After using her computer to create a design for the character "fu", meaning blessings, Zhu Na inserted a calabash gourd into a laser printing machine. As the ornate gourds were churned out, Zhu tied them together with Chinese knots.
Zhu, 32, is one of three trainers at a workshop founded in 2019 to produce carved and pyrographic calabash artworks in Daduzhuang village in Tianjin.
Daduzhuang has grown calabashes for over 40 years. Nowadays, the plant variety has been expanded while also being processed into craftwork, helping villagers make a fortune.
"We three trainers have helped more than 40 people in the village learn the skills to make the artworks," Zhu said.
In addition to using the laser machine, Zhu is also skilled in using wood-burning techniques to intricately decorate calabash handicrafts. Other decorative methods include rough sketches on the calabashes, drawing outlines with a soldering iron and painting.
Each piece created by the laser machine can be sold at tourist spots for about 10 yuan ($1.50), and a handcrafted work can fetch an even higher price. Zhu now earns more than 3,000 yuan a month and can better take care of her family.
The new calabash business has also brought a new look to the village. A few years ago, Daduzhuang was financially reliant on heavy polluters such as auto parts and plywood factories. However, the industries took a toll on the environment and were major contributors to air pollution.
In 2017, the village shut down all the heavy polluting enterprises, resulting in the collective economy of the village being almost bought to a standstill.
In his efforts to bring about change, Bi Hongge, the village Party chief, found some villagers were making big money from their traditional calabash planting business. "Why not promote the calabash planting to the whole village?" Bi said.
He later invited people with experience of seedling raising and calabash growing to train the villagers and help them explore online marketing channels.
In recent years, more than 30 varieties of calabash trees have been planted on over 13.3 hectares of land in the village, with an annual output of more than 6 million yuan.
Sun Guoyu, a 54-year-old villager, planted calabashes on about 0.27 hectares of land and used livestreaming to market his products.
"I sell big, beautiful calabashes through livestreaming. If a calabash is to a customer's liking, they can book it in advance, so when the fruit is ripe, I will send it to them," Sun said.
The village purchases the remaining small calabashes and makes them into artworks. Sun's family can earn about 100,000 yuan a year from the business.
The village has built a museum for "calabash culture" to showcase the delicate calabash artworks. It also organizes calabash artwork classes. Last year the annual per capita disposable income of villagers reached 27,000 yuan.
"In the future, we plan to extend the calabash processing industry chain and bring in food processing equipment for making calabash specialties," Bi said. "We believe our villagers will enjoy happier lives with the business."
Xinhua