SOE reforms, revamp receive fresh impetus
Share - WeChat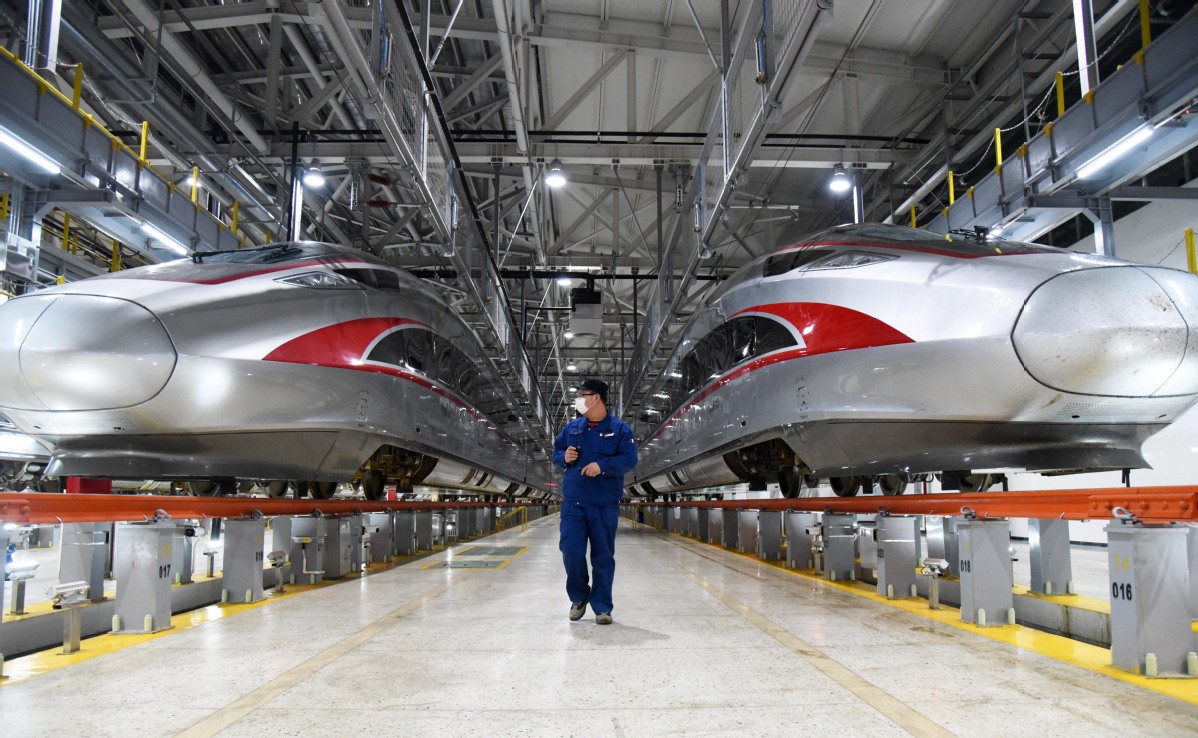 Govt to push contractual management system for executives at all levels
China plans to complete more than 70 percent of the tasks of its three-year (2020-22) action plan by the end of this year, further pushing forward the mixed-ownership reform and reorganization process in its State-owned enterprises, a senior government official said on Tuesday.
The government will improve the market-oriented operational mechanism and promote contractual management systems for executives at all levels of SOEs this year, said Peng Huagang, secretary-general of the State-owned Assets Supervision and Administration Commission of the State Council.
SASAC will support the corporate giants to actively and orderly offer the incentive to core talent in key positions, as well as explore ways of providing medium and long-term incentives for their employees with outstanding performance, said the official.
China's Central Committee for Deepening Overall Reform had reviewed and approved the three-year (2020-22) action plan for SOEs in late June. It called for renewed efforts to optimize the structure of the State-owned economy to make it more competitive, innovative, influential and more able to withstand risks.
He stressed that works related to State-owned assets and SOEs during the 14th Five-Year Plan (2021-25) period should be conducted against the backdrop of the country's new growth paradigm.
China unveiled a move last year to pursue the new development paradigm of dual-circulation, which allows the domestic and overseas markets to reinforce each other, with the domestic market as the mainstay.
Despite the COVID-19 pandemic effect, net profits of China's 97 centrally-administered State-owned enterprises grew by 2.1 percent on a yearly basis to 1.4 trillion yuan ($215.74 billion) in 2020, while nearly 80 percent of the central SOEs saw net profit growth on a yearly basis, according to the latest data released by the SASAC.
Central SOEs gained 176 billion yuan in net profit in December, the highest for that period in history. Their monthly net profits have maintained double-digit growth for six consecutive months since the second half of last year.
The country's top State assets regulator said that due to the pandemic, the total operating revenue of central SOEs fell by 2.2 percent on a yearly basis to 30.3 trillion yuan in 2020.
Aside from cutting SOEs' administrative functions and overcapacity in certain industries, China launched a 200-billion-yuan fund in Shanghai late last month to facilitate mixed-ownership reform and cutting-edge technology innovation at its SOEs.
The fund will support the reform projects by setting up sub-funds, joint investments and other investment avenues to facilitate the three-year action plan for SOE reforms.
As a major force in participating in the development of Belt and Road Initiative-related projects, China's SOEs have overcome difficulties, with not a single project under the initiative having shut down production, Peng said. They have to date been involved in 3,400 BRI projects, with more than 600 completed already.
China Railway Group Ltd, known as CREC, reported that its annual output value amounted to $361.62 million for the construction work of the Jakarta-Bandung high-speed railway in Indonesia last year. Despite the epidemic, the work schedule was not disrupted, and the company has helped create more than 5,000 jobs for locals.
Supported by reforms, the improved efficiency of the SOEs will benefit the whole corporate sector as they provide broad opportunities for the investment and growth of businesses with varied ownership, as well as reinforce deep integration of industrial and supply chains for companies of different sizes in domestic and global markets, said Chen Yun, CREC's chairman.
During the 13th Five-Year Plan period (2016-20), SOEs have competently coped with complex and grim situations while their economic efficiency steadily improved, with annualized operating revenue, net profit and labor productivity up 5.6 percent, 8.9 percent and 7.8 percent, respectively during the period, according to SASAC.
The SOEs have kept advancing supply-side structural reforms and other market-oriented reforms over the past five years, which have led to a marked improvement in the innovation capacity, competitiveness and capability of resisting risks in the State-owned economy, said Zhou Lisha, a researcher with the research institute of SASAC.