Job market kept stable despite virus
Share - WeChat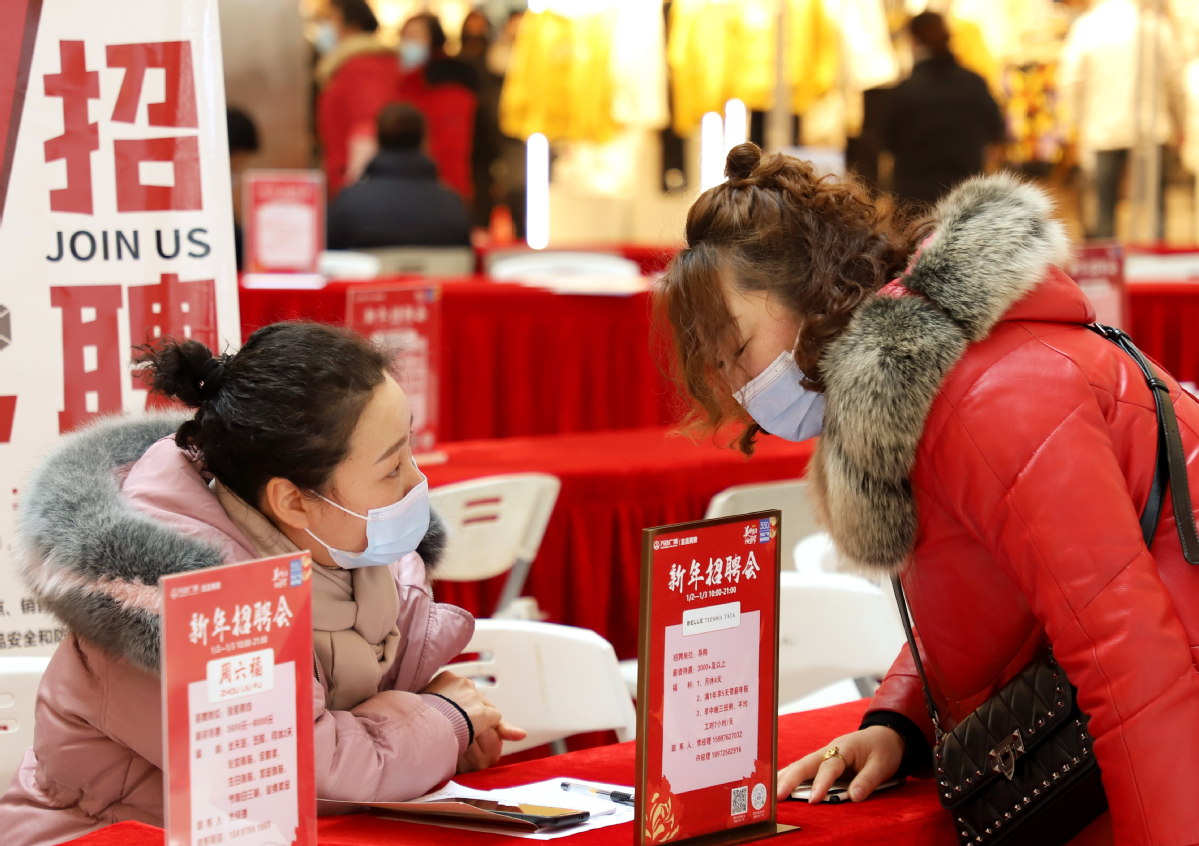 COVID-19 epidemic hit retailers but created openings in digital economy
China's job market remained stable last year, according to data released by the National Bureau of Statistics on Monday, with an average surveyed unemployment rate in urban areas of 5.6 percent, below the government's annual target of around 6 percent.
Last month, the surveyed urban unemployment rate was 5.2 percent, and the figure was 4.7 percent among people aged 15 to 39, both unchanged from the same month in 2019.
A total of 11.86 million new jobs were created in urban areas last year-132 percent of the annual target.
Zhang Yanhua, an associate professor at China University of Labor Relations in Beijing, said the surveyed urban unemployment rate accurately reflected the effects of the government's proactive job policies in aiding economic recovery amid the COVID-19 epidemic.
"Policies such as reducing tax and insurance fees relieved the burden on enterprises and helped them survive so they could provide more job vacancies," Zhang said. "Training sessions aiming to improve employees' professional skills were also effective."
China rolled out measures last year to deal with the epidemic's impact on employment. Governments at all levels reduced taxes and fees paid by enterprises, promoted the resumption of work and launched subsidized employment initiatives.
Preferential policies helped provide or maintain employment for vulnerable groups including the unemployed, college graduates, migrant workers and retired veterans.
The average monthly salary of the country's 285 million migrant workers was 4,072 yuan ($627) last year, up 2.8 percent year-on-year, with the total number of migrant workers dropping by 5.17 million and the number traveling to other provinces down by 2.7 percent, the NBS said.
"Restrictions on people's movement and the closure of some small enterprises due to the epidemic may be the reasons for the drop," Zhang said. "It was more difficult for migrant workers to find jobs outside their home provinces."
Meanwhile, though COVID-19 dealt a blow to retailers, it created flexible job opportunities in the digital economy such as e-commerce platforms and online services.
"Spurred by the epidemic, flexible job opportunities emerged in new economic patterns, for instance the takeout delivery riders registered on e-commerce platforms and those working for ride-hailing platforms," Zhang said.
China's economic prospects are better this year as the country's methods of curbing the epidemic have proved effective, she said. However, the growth of the platform economy had been accompanied by some problems and concerns about the quality of jobs following recent incidents due to hectic work schedules, imperfect social insurance, and safety issues.
"When maintaining employment, more efforts should be made in the future to improve the quality of employment," Zhang said, giving the example of further regulation of the platform economy.
"Balancing the flexibility and safety of jobs may be our next goal," she added.