Rescuers talk with trapped miners
Share - WeChat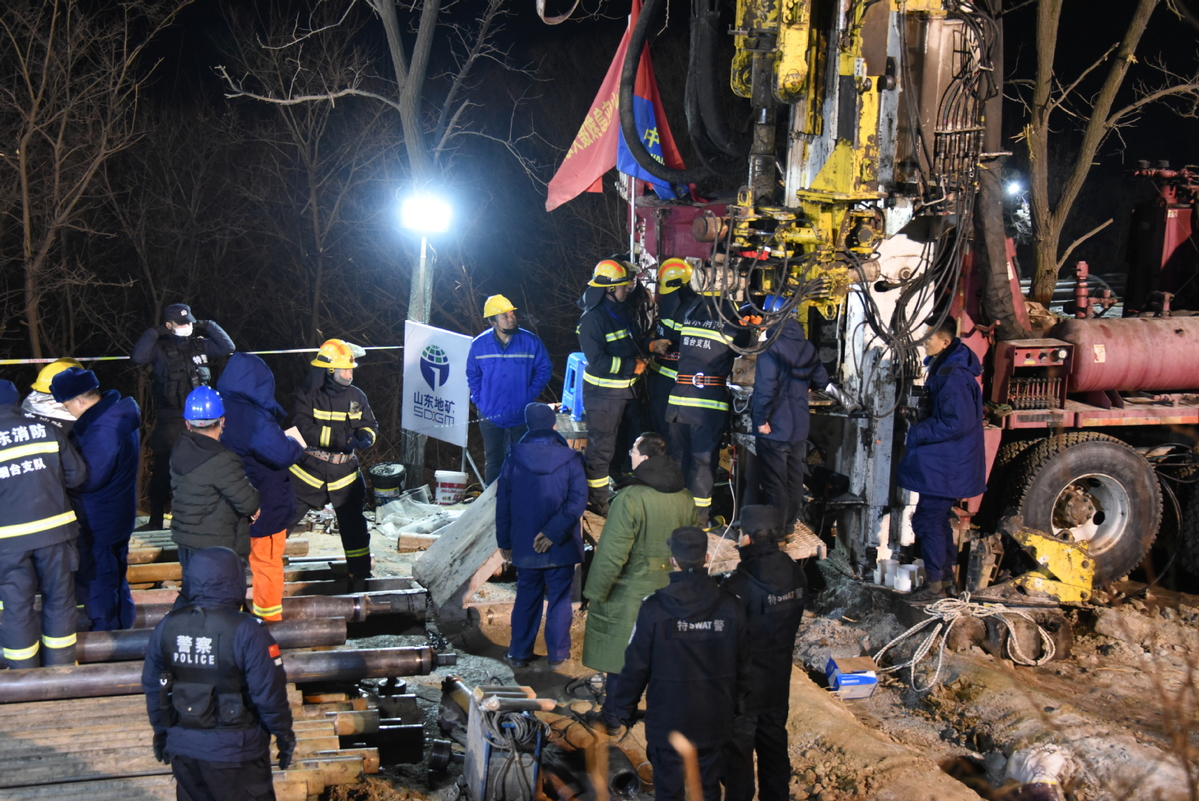 Rescuers were able on Monday to speak for the first time with some of the 22 miners trapped underground since an explosion on Jan 10 at the Hushan gold mine in Qixia, Shandong province.
They were able to make contact after a communication device was passed down to the trapped workers, the rescue headquarters reported at a news conference on Monday.
Chen Fei, mayor of Yantai, which administers Qixia, said at the news conference that 12 of the trapped miners have now been located. Meanwhile, rescuers are aware of a 12th man in an adjacent space but have yet to communicate with him. Ten other miners remain missing, he added.
The workers are weak. Rescuers have sent down nutritional supplements and other supplies, including medical supplies, on a wire threaded down through the shaft, he said.
The trapped workers attached a handwritten note to the wire on Sunday describing a high concentration of smoke and a large amount of water where they are trapped.
The note said that they are exhausted and in urgent need of medical supplies.
"We hope the rescue continues. We remain hopeful, thank you," said the note.
The explosion that trapped 22 miners underground more than 600 meters from the mine entrance occurred at 2 pm on Jan 10 at the Hushan gold mine in Qixia.
Before the food arrived, the trapped miners had been living on muddy water for days, Beijing News quoted a rescuer as saying earlier.
After initial contact was made with the trapped miners on Sunday, a week after the blast, a new hole was drilled early on Monday, reaching a section 698 meters from the mine's entrance. More miners are believed to be trapped there.
Rescuers banged on the drill rod to send a signal, but have not yet received a response, the rescue headquarters said.
Du Bingjian, chief engineer of the National Mine Emergency Rescue Center, said, "This mine has the hardest rock I have ever known, along with two strata that contain water, which hinders the drilling."
Rescuers are drilling a wide shaft through which the trapped miners can be returned to the surface, Du said.
Meanwhile, rescuers are clearing debris that is blocking the shaft previously used by the workers to enter and exit the mine.
More than 530 rescuers and 30 volunteers are working around the clock in shifts at the site. Liu Jiayi, Party secretary of Shandong, visited the site again on Monday to urge rescuers to save the workers with every method that can be used.
An investigation has been opened to determine the cause of the blast.