Rain-making drone takes maiden flight
Share - WeChat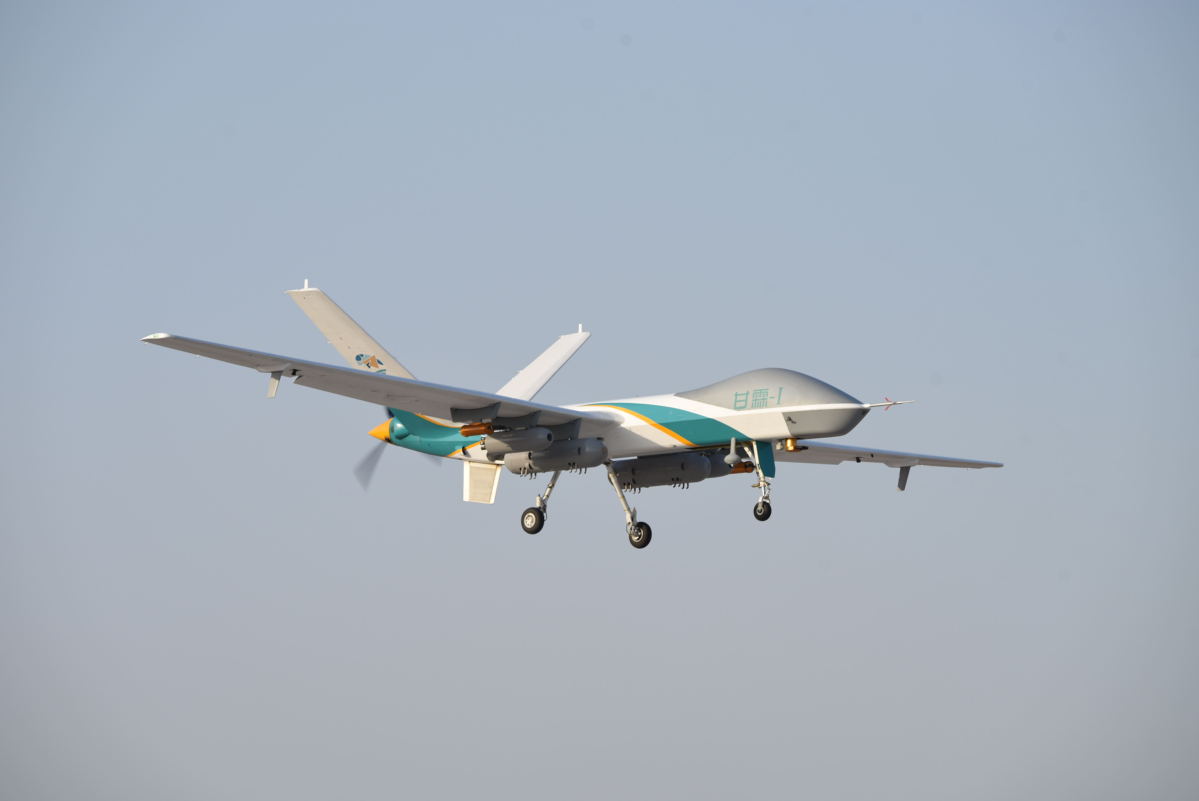 China's first weather modification drone, Ganlin 1, made a successful maiden flight at Jinchang Airport in Gansu province on Wednesday afternoon after a ceremony held by the China Meteorological Administration and Gansu's provincial government.
Ganlin means "sweet rain" in Chinese and Ganlin 1 is the country's first weather modification unmanned aerial vehicle. The cutting-edge technology of using large unmanned aerial vehicles to modify weather fills the country's gap in producing artificial precipitation with drones, said Yu Yong, deputy head of the administration.
During more than 30 minutes of flight, drone functions recorded by its ground control system, such as de-icing, atmospheric detection and catalyst seeding, were normal, and its performance was up to standard.
The project was launched in March 2019 to help artificially increase rainfall and snow in the Qilian Mountains, a region plagued by water shortages, said Li Zhaorong, deputy head of the Gansu Provincial Meteorological Administration.
"Ganlin 1 has solved many universal tasks of weather modification," Li said. The drone can fly into remote mountain areas under complicated geographic and weather conditions, and automatically make agile adjustments en route to accomplish cloud seeding.
It is also capable of night flights, he said.
"The endurance of the drone can exceed 14 hours, with a range of 5,000 kilometers, which lets it easily cross the territory of Gansu province from east to west," Li said.
The drone is capable of precisely detecting suitable areas for increasing rainfall and snow, and can evaluate the effects of its seeding operations, which is a big advance in producing artificial precipitation, he said.
By the end of last month, the drone had completed 23 scientific trial flights, including six in the Qilian Mountains region, to increase rainfall and snow. A test flight on Oct 11 is believed to have brought precipitation to a nearby area.
Compared with current methods of producing precipitation, such as launching rain rockets and cloud seeding by manned aircraft, the weather modification drone is more efficient and flexible, with longer endurance and lower costs.
Weather modification operations in the Qilian Mountains region could increase annual rainfall by 15 percent - about 740 million cubic meters - Gansu Daily reported.
Yin Xianzhi, an official with the Gansu meteorological administration, said the success of Ganlin 1 will not only improve the efficiency of producing artificial precipitation in the province, but also lead work on weather modification drones across the country.
Li said the project will promote weather modification technology nationally and internationally, as well as the use of drones in extinguishing fires and in remote sensing to support environmental protection.
He said a weather modification operations crew will be established to promote the project.