Social service empowers women facing physical challenges
Share - WeChat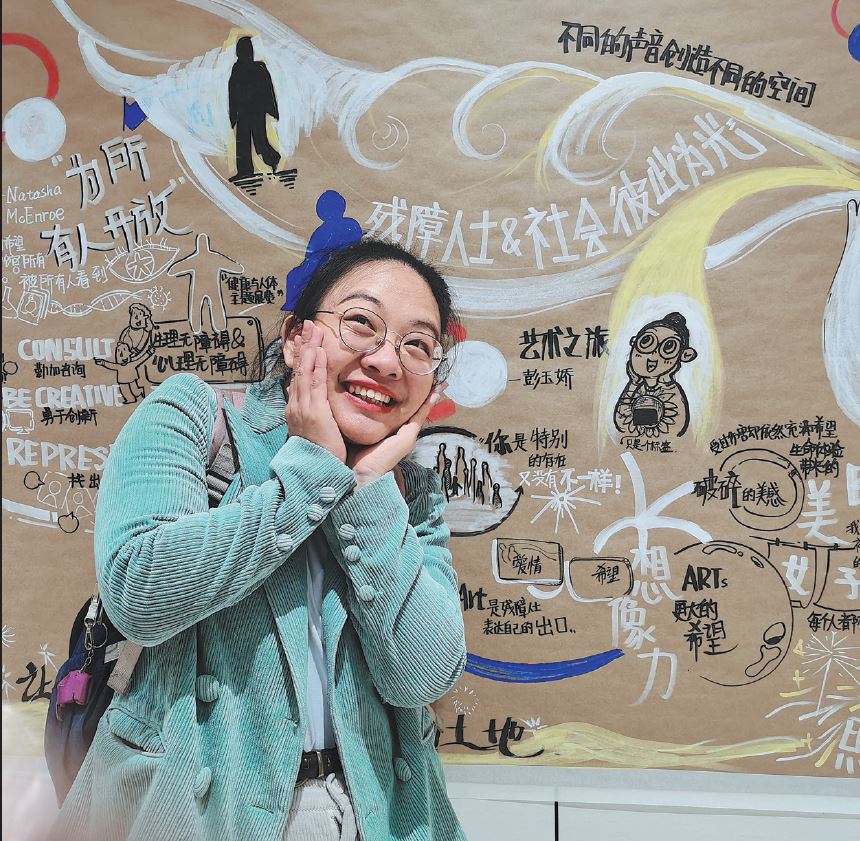 Overcoming the odds and helping others sees her inspire so many
The human pursuit of individuality never ceases, but being told all her life that she is special, Peng Yujiao would rather acknowledge herself as being among the common people.
"Who am I? I am just an ordinary girl with cerebral palsy," Peng said. Beaming with confidence, she gave a speech entitled "Arts, Gender and Disabilities" at the Second China-UK Disability Arts Forum on Dec 3.
"I have always felt that I am ordinary. If I made mistakes at school, I would have been punished. My teacher asked me to stand alongside for the PE lesson even though I could not participate in the exercises, because I am no different from everyone else. This idea has been engraved on my mind since."
She also has a passion for beauty, in both appearance and artistic creations. While cerebral palsy causes uncontrollable tremors, she spent an hour putting on makeup prior to the forum just for the sheer enjoyment of it. The same motivation, sense of fun and achievement drive her passion and interest in drawing.
However, considering the work Peng has done, she can hardly be deemed "ordinary" by any standard. Having worked several years as a social worker, the 30-year-old has been a summer visiting scholar at the University of Oslo in Norway. She is now a member of the Asia-Pacific Network of Women with Disabilities, and runs her own NGO.
As the founder of the Beijing Leyirong Social Work Office and the BEST Beijing Enable Sister Center, Peng now dedicates herself to using the arts and aesthetics to engage and empower women with disabilities and neuro-diversity, and promote their social integration.
The idea of empowering women in particular was inspired by an encounter at the age of 16, when she met another girl with a disability. Regrettably, unlike herself, the girl was assaulted at middle school and could not receive further education, for no high school was willing to accept her.
"I was furious when I heard of her experiences. Growing up I would always hit back if I was bullied. Her experiences are totally unacceptable and I decided I must do something to change the conditions of women with disabilities," Peng says.
Her first job was an early-childhood special-needs teacher at a welfare house, when she "realized the stark reality".
"There I saw a lot of children with cerebral palsy, who also had tremors, some even worse than me," Peng says, "From that moment on, I realized that I am the same as them, and different from the 'common people'."
"But this is a good thing, because when I gave my lessons, I saw that art and aesthetics overcame the obstacles. This marked the beginning of my work in disability and inclusive arts."
At the classroom, Peng along with other teachers helped the small children to turn their scribble into artworks and the pictures proved popular at charity sales.