China, EU agree investment deal
Share - WeChat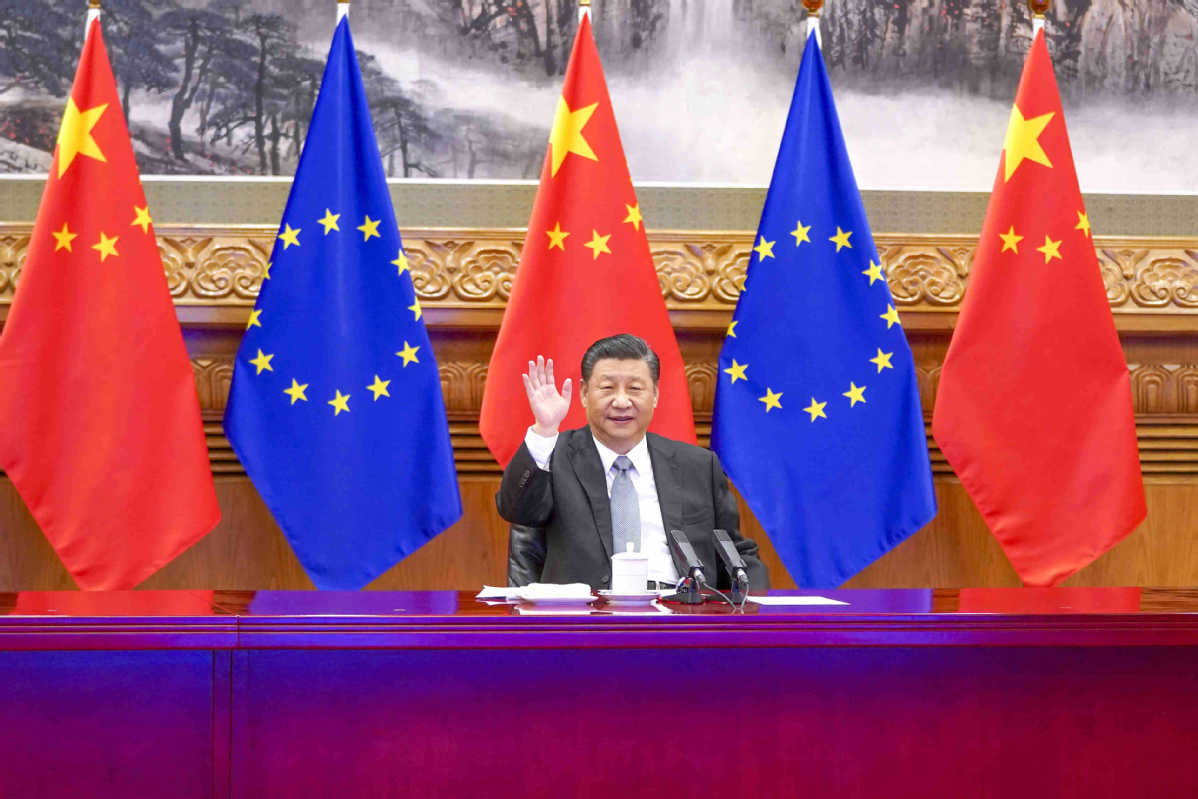 Pact to provide greater market access, brighter future for cooperation, Xi says
A landmark China-European Union investment deal agreed upon Wednesday night will provide greater market access for both sides and a brighter future for China-EU cooperation, President Xi Jinping said on Wednesday.
The agreement was reached "in principle" as negotiations drew to a close on the bilateral investment agreement, the negotiators said.
In a videoconference with German Chancellor Angela Merkel, French President Emmanuel Macron, European Council President Charles Michel and European Commission President Ursula von der Leyen, Xi and the European leaders jointly announced the conclusion of the negotiations after more than seven years of talks.
The balanced, high-quality and mutually beneficial agreement demonstrates China's resolve and confidence to promote high-level opening-up, Xi said.
It will promote recovery of the world economy in the post-pandemic era, facilitate global trade and the global economy, boost the international community's confidence toward economic globalization and free trade and make important contributions to building an open world economy, he added.
The China-EU investment deal negotiations started in October 2013, aiming to reach a higher-level agreement covering investment protection and market access. The two sides held the 35th round of negotiations early this month.
Xi noted that China is dedicated to building a new development paradigm, which will bring more market opportunities and greater space for cooperation for Europe and the whole world.
Xi said he hoped the EU would promote free trade and multilateralism, and provide an open, fair and nondiscriminatory business environment for Chinese investors.
Xi pointed out that 2020 has been an extraordinary year for China, Europe and the world, with rising uncertainties given the outbreak of COVID-19 and the great changes unseen in a century.
China and Europe have overcome difficulties and made fruitful achievements in strengthening bilateral relations, he said.
China and Europe, as two major forces, two large markets and two ancient civilizations, should assume their responsibilities and be proactive in promoting global peace and progress, Xi said.
The president put forward five proposals, namely coordinating their efforts to fight against pandemics, jointly promoting recovery of the economy, connecting development strategies, promoting green development and pushing forward multilateral cooperation.
The investment treaty is a comprehensive, balanced and advanced agreement that is based on high-level international economic and trade rules, and focuses on institutional openness, the Ministry of Commerce said late on Wednesday.
The result of the negotiations covers four areas-market access commitments, fair competition rules, sustainable development and dispute settlement, said Li Yongjie, director-general of the ministry's department of treaty and law.
The European leaders said that despite the influence of COVID-19, Europe-China communications have been strengthened this year, with a great amount of progress made, including the conclusion of a geographical indications agreement on product origins.
The conclusion of negotiations for the EU-China investment deal is a milestone for Europe-China relations, the leaders said. It will promote global economic recovery, they said, adding that it also proves that although Europe and China have disagreements on some issues, both sides have the will to enhance dialogue, deepen cooperation and achieve win-win cooperation on the basis of mutual respect.
Hailing the agreement as a high-quality deal, the European leaders said they appreciated China's efforts to boost opening-up, promote free trade and facilitate investment.
The EU appreciated China's measures in dealing with climate change and fighting pandemics, and the two sides should enhance cooperation on such issues as disease control, climate change, biological diversity, sustainable development and reform of the World Trade Organization, they said.
Jochum Haakma, chairman of Brussels-based EU-China Business Association, said the association is very happy that a decision to conclude the negotiations has been taken, and of course details will need to be hammered out in coming months and ratified by the European Parliament.
Based on the negotiations, European companies active in industries including financial services, telecommunications services and new energy vehicles would see new opportunities in China, he said.
It will be of great importance and a big step for the bilateral relationship and shows the political willingness of both parties to continue to sit down together and to try to solve problems and misunderstandings on the basis of reciprocity and a level playing field, he said.
Bernard Dewit, chairman of the Belgian-Chinese Chamber of Commerce, said the move will help to increase trade between China and the EU. European companies and investors in China will benefit from that.
Zhong Nan contributed to this story.