Hot for cold
Share - WeChat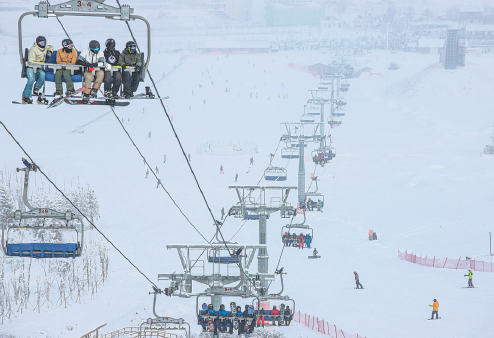 A growing number of Chinese are enjoying winter experiences, especially skiing, this season, Yang Feiyue reports.
Domestic travelers are seeking wintertime activities, such as skiing, especially since COVID-19 has restricted outbound excursions.
Ski-themed tour bookings surged by more than 350 percent since November as compared with the same period last year, Trip.com Group reports.
Tickets for winter activities in northern China have seen explosive growth, the online travel agency reports.
Changbai Mountain in Jilin province, Yabuli ski resort in Heilongjiang province and Zhangjiakou in Hebei province are among the most popular destinations this season.
Kanas in the Xinjiang Uygur autonomous region and Hulun Buir in the Inner Mongolia autonomous region are also luring more skiers.
Alibaba's travel portal, Fliggy, tracked a 300 percent surge in searches for destinations in the country's northeastern provinces and a 110 percent increase in winter-product bookings during the Nov 11 Singles Day online shopping spree, which started on Nov 1, the agency's data show.
Many ski resorts opened to the public in early November because of the early snow this year. Some began pre-sales in August.
"The ski market is indeed very hot," says Zhang Xuguang, a manager with Genting Resort Secret Garden in Zhangjiakou, the city that will cohost some events during the 2022 Beijing Winter Olympics.
The number of skiers visiting the garden has grown by 196 percent as compared with the same period of last year, Zhang says.
"We've clearly seen more people who've begun to ski," he says.
The ski resort realized 9.4 million yuan ($1.4 million) in sales during the Singles Day promotion.
Twenty-eight ski resorts were built in 2019, bringing the total number to 770 nationwide, according to the 2019 China Ski Industry White Paper by Beijing Ski Association official Wu Bin.
Ski-resort visits reached 20.9 million last season, up 6 percent over the same period of 2017-18, the paper says.
China's hosting of the 2022 Winter Olympics and the country's efforts in boosting winter tourism have played a positive role in increasing the number of visits, experts say.