'Tis the season for rime and skis
Share - WeChat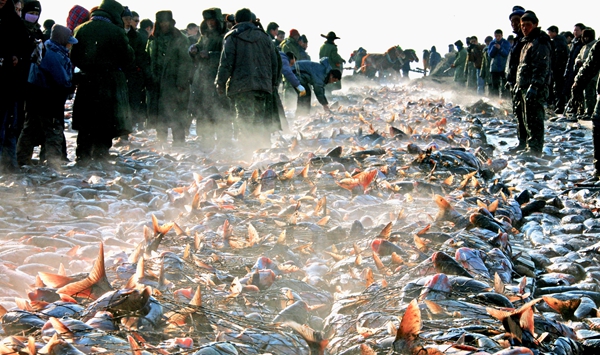 To attract winter vacationers, Northeast China's Jilin province has rolled out new tourism products and favorable policies in hope of boosting tourism numbers.
From Nov 19, a 100-day winter tourism festival will be held in the provincial capital Changchun. Visitors can choose to experience from the 100 winter-themed activities at the festival.
Yao Li, a senior official with the Changchun publicity department, says there will be marathons, large ice sculptures and a gourmet food exhibition to enhance visitor experience.
The Changchun municipal government also plans to offer 7 million yuan ($1.06 million) worth of coupons to boost consumption during the festival.
The Changchun ice and snow new world park is scheduled to open on Dec 12, and more than 100 pieces of snow artwork will be on display.
Changchun's major ski facilities, including Tianding Mountain and Miaoxiang Mountain ski resorts, will offer visitors more than 40 ski tracks, covering more than 1 million square meters.
The province's second biggest city Jilin will also stage a big rime festival, where sightseeing of rime in several areas and winter sports will be promoted.
Jilin is located in the central area of the province and is known for its scenery of rime, a special type of frost resembling granular tufts of ice. It has been considered to be on par with the sea of clouds from Huangshan Mountain in Anhui, the sunrise at Taishan Mountain in Shandong, and the tidal bore of the Qiantang River in Zhejiang.
Gai Dongping, vice-mayor of Jilin, says that the city has launched 11 new tourism routes that will include hot springs and folk customs.
Tourists can immerse themselves in the more than 50 tourist activities available in Jilin during the winter, ranging from a ski carnival to a music festival.
Most ski resorts in Jilin city will open after Nov 13, and ski ticket discounts and transport subsidies will be available for visitors.
Skiers of all levels are guaranteed to enjoy the powder-like snow and the dozens of ski resorts that the city has.