Waiting for white to hit the slippery slopes in Altay
Share - WeChat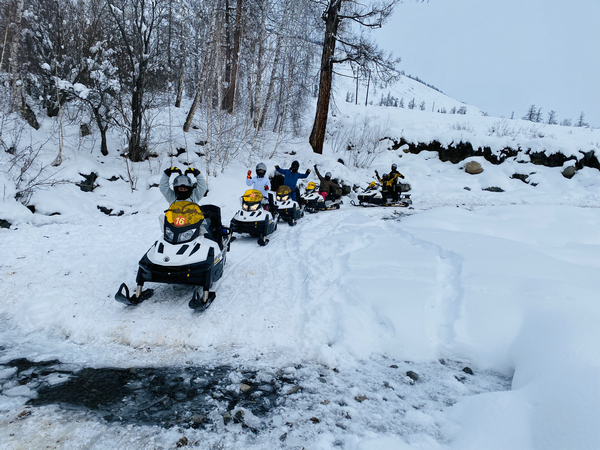 Altay General Ski Resort's dull peaks will soon shine with bright white, freckled with skiers.
Winter usually starts there at the end of September, when temperatures can drop to below-40 C at night.
The snow that declares its sovereignty over these slopes is relatively powdery because of drought and doesn't melt much since daytime temperatures rarely exceed -10 C.The skiing season can last until May.
There's little wind on the resort's mountains, which host smooth, continuous tracks 1,600 meters from downtown.
These conditions make Altay one of the world's best skiing destinations, says Shi Zhiqiang, president of the resort's developer, Altay City Altai Mountain Tourism.
Archaeological studies show people in the area developed boards to glide across snow 10,000 to 30,000 years ago. Villagers who live in the mountains still use fur-covered boards to get around when snow blocks the roads, Shi says.
The ski resort has boosted the local economy since construction started in 2009, when only 30 to 40 percent of Altay's 1,000 beds were occupied.
Over 90 percent of its 5,000 beds in quality hotels were full before COVID-19. The resort received 300,000 tourists, including 130,000 skiers, from around the country during the last skiing season in 2018 and'19, Shi says.
Although this season's snows are yet to arrive, three special plastic tracks of varying levels developed by Beijing Running Water are open.
"In many ski resorts, a lot of water and electricity are used to create snow and maintain the tracks. This kind of plastic track can reduce costs in this respect," says Yang Yonggang, president of the extreme-sports facilities company.
After watching a snowboarder fail two ski-jump attempts, Yang says, "It won't hurt when he lands because springs connect both sides of the track and will absorb the impact."
The surface is beaded to create friction and reduce speeds by up to 30 percent. Some skiers step on wet cloth before starting to reduce friction.
"Beginners can start by learning on the plastic track and then real snow later," Yang says.
Many visitors to Altay hit the slopes in the wilds outside of the resorts, on both foot and ski.
Xing Henan and her team have been working on high-end eco-friendly hostels in Hemu village inside the Kanas Nature Reserve since 2017. They opened for business in December 2019.
And their five boutique cabins with a total capacity of 21 people were full around Spring Festival.
Hemu doesn't have a ski resort but does have wonderful wilderness.
"Last year, my colleagues and I snowmobiled to explore a track. We organized for tourists to travel 18 kilometers between Hemu and Jiadengling, and then we skied outside for the rest of the day. We wanted to organize similar activities in February, but the outbreak took place," she says.
"Otherwise, the village is always packed. But all five cabins were booked for the National Day holiday."