China's economic growth to bolster global recovery from COVID-19
Share - WeChat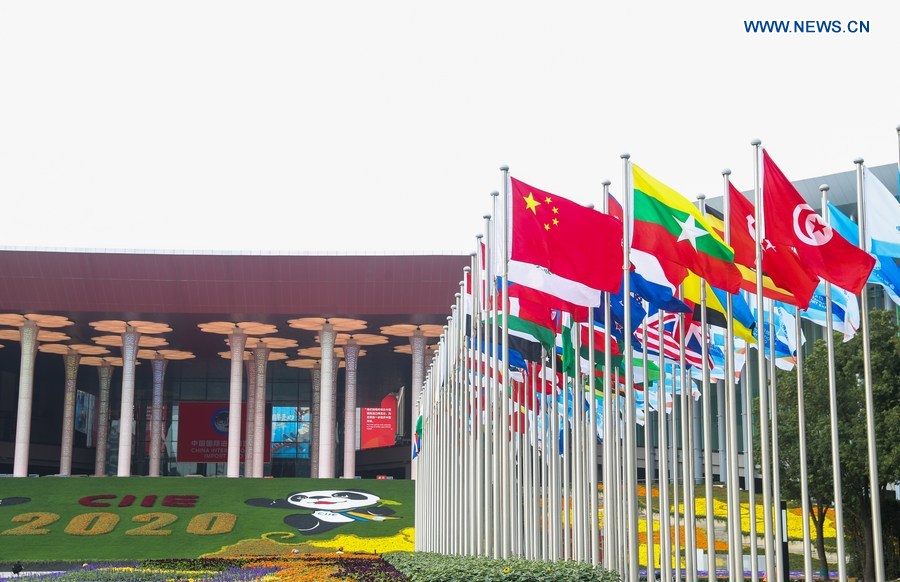 BEIJING - Having gone through a big test with the pandemic, China's economy has emerged stronger as key economic figures suggest that China's recovery is gathering pace at year's end.
It will surely help revive the global economy mired in the severest recession in nearly a century.
After recording a rare 6.8 percent GDP contraction in the first quarter when the virus took its toll, China's economy made a sharp U-turn and returned to 3.2 percent growth in the second quarter. In the third quarter, the figure surged 4.9 percent.
Recent economic indicators have shown that across-the-board recovery of the world's second largest economy from the COVID-19 recession is picking up steam.
In November, indexes for the manufacturing sector, the service sector, foreign trade as well as the consumption sector are encouraging, demonstrating the economy's strong resilience and potential.
National Bureau of Statistics said major gauges in November pointed to faster economic growth in Q4, as both production and demand have continued to soar steadily.
China is expected to be the only major economy that will see positive growth this year, according to the projections by the International Monetary Fund (IMF), the Organization for Economic Cooperation and Development (OECD) and other international organizations.
In its latest Economic Outlook released on Dec 1, OECD predicted that global gross domestic product will reach pre-pandemic level by the end of 2021, with China expected to account for over a third of world economic expansion.
The hard-won economic achievements are attributed to the central leadership. Facing the sudden onslaught of COVID-19, it took resolute actions and put people and life above everything else.
The 1.4 billion Chinese people, united as one, have created the conditions for the country to gradually bring production and life back to normal.
"With the right mix of supportive macroeconomic policies focused on strengthening social safety nets and further key reforms, China will secure the recovery and ensure balanced and high-quality growth, which will benefit China and the world," said IMF Managing Director Kristalina Georgieva.
In face of an ongoing pandemic, mounting protectionism and unilateralism, China has not stalled in its pursuit of opening-up, which has a positive spillover effect on the world economic recovery.
China has taken many policy steps to open its door still wider, such as implementing the Foreign Investment Law, further cutting the negative list for foreign investment, and easing foreign access to the financial market.
China signed the Regional Comprehensive Economic Partnership agreement with other participating countries in mid-November.
It is conducive to boosting regional trade, and improve the economic recovery of participating countries, according to Steven Zhang, the chief economist at Morgan Stanley Huaxin Securities.
China's import of goods has basically recovered to the level of last year. The China International Fair for Trade in Services held in Beijing this September brought together 22,000 companies from 148 countries and regions to its online and off line events.
Not long ago, the third China International Import Expo saw 72.62 billion dollars' worth of deals reached, outperforming the past two events.
To achieve high-quality development, China put forward a new development pattern of "dual circulation," in which domestic and foreign markets reinforce each other, with the domestic market as the mainstay. This pattern will further integrate its economy into the world's.
The pattern will enable China to fully unleash its market potential so as to provide more business and trade opportunities around the world.
China's per capita GDP has topped $10,000, and its middle-income population has exceeded 400 million. This will create more demand for a greater variety of quality products, technologies and services, thus providing a lasting boost to global revival.
The just-concluded Central Economic Work Conference outlined the specific tasks for 2021, saying China will promote high-quality development, work to ensure the economy run in an appropriate range and pursue a high-level opening-up.
The conference sets course for a continuous growth that will help drive a global economic recovery.
It is clear China cannot develop without the rest of the world, nor can the world as a whole prosper without China.
As China embarks on a new journey toward building a modern socialist country in an all-round way from next year onwards, the high-quality development of China's economy will inject more confidence and vitality to the world and bring shared prosperity for all in the post-pandemic era.