HK bans flights from UK, on-site classes suspended until Jan 10
Share - WeChat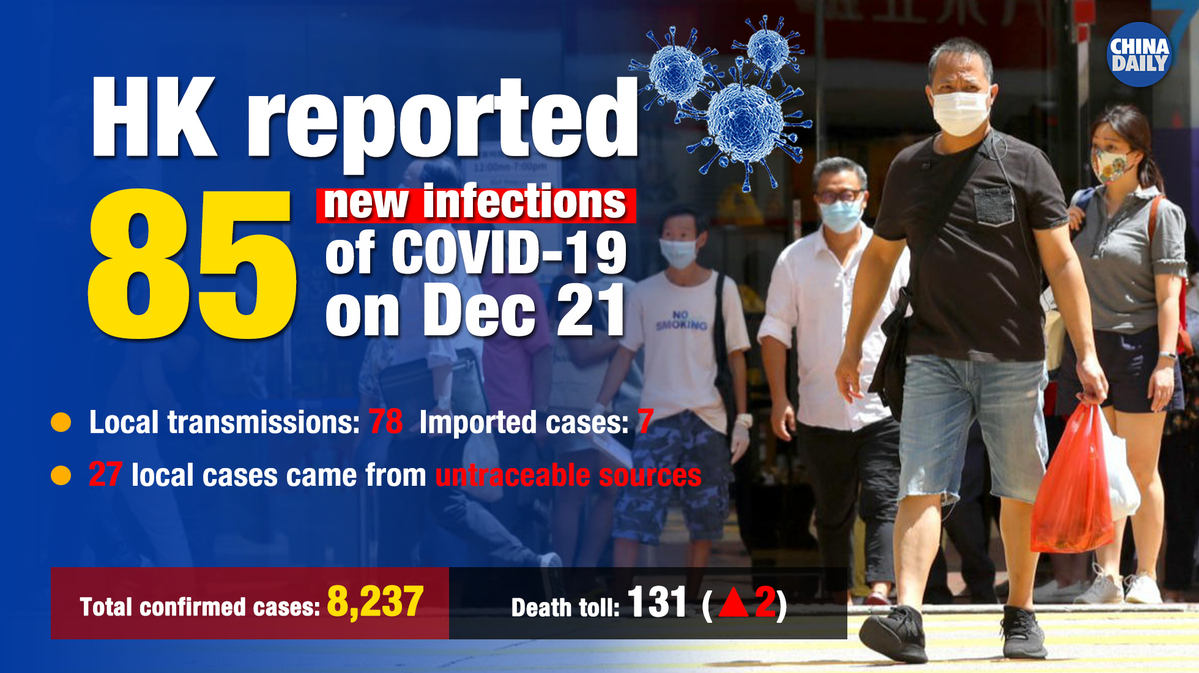 85 New Cases
Hong Kong recorded 85 new COVID-19 cases on Monday, including 78 local infections, of which 27 were of unknown origin, Chuang Shuk-kwan, head of the Centre for Health Protection's communicable disease branch, said in a separate press briefing
More than 50 people tested preliminarily positive while the city's tally of confirmed cases stood at 8,237, Chuang said.
An 82-year-old woman, who had chronic diseases and was hospitalized on Nov 14, succumbed to the disease in the early hours of Monday, becoming the city's 131th coronavirus-related fatality.
As new infections kept emerging, residents at three more residential buildings were placed under mandatory testing, Chuang said.
They included residents of Yau Lai Estate Yat Lai House Yau Tong, which has had six cases; Shek Lei (ii) Estate Shek Wing House in Shek Lei, which had seen eight cases; and Ming Wah Dai Ha in Shau Kei Wan, which had six patients.
Health authorities will also distribute specimen collection bottles to residents of Lei Yue Mun Estate Lei Sang House and Tak Tai Building in Kwai Chung, which have confirmed five and six cases, respectively, according to Chuang.
Meanwhile, the manhunt for a 63-year-old confirmed patient, who fled his ward on Friday, was concluded after the man was taken back by police officers to the Queen Elizabeth Hospital in the early hours of Monday, the government said in a statement.