Elderly man visits schoolboy who saved his life
Share - WeChat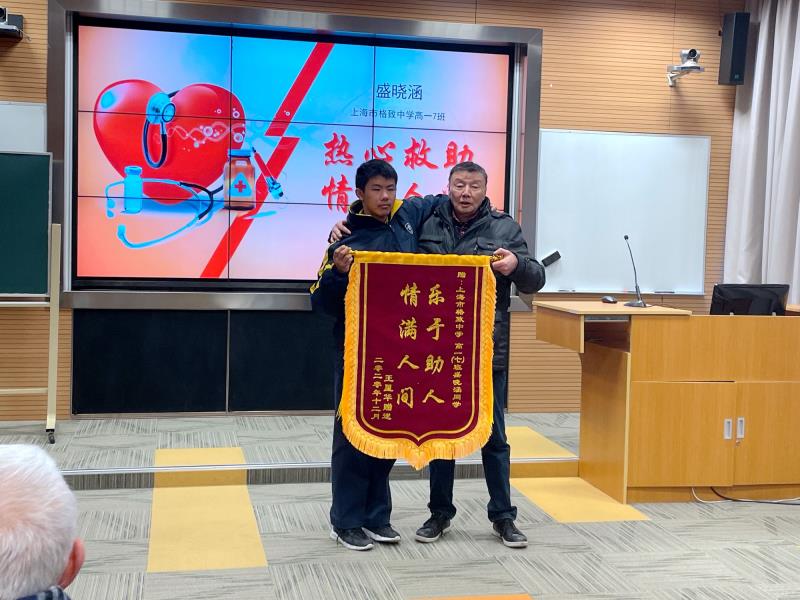 A 63-year-old man surnamed Wang visited Shanghai Gezhi High School on Wednesday to thank a student who saved his life in October.
The student, 15-year-old Sheng Xiaohan, was on his way home from school on Oct 27 when he saw a group of people gathered around the 63-year-old man lying unconscious along Zhaojiabang Road in Shanghai.
Sheng, who was trained in first aid at school, immediately offered to check Wang's pulse and airways before deducing he was suffering from a heart attack. Sheng then performed cardiopulmonary resuscitation for around six minutes until the ambulance arrived and took Wang to the hospital, during which he started breathing again.
Sheng did not mention his name to Wang's friends, but the latter recognized the school logo on the boy's uniform.
"I just did what I needed to do. There is no need to thank me. I hope everyone remembers this is just a high school student's deed, and when others need help, please lend a hand without hesitation," Sheng said.
Classmates of Sheng were not surprised by his behavior.
"He is outgoing and kind. He always steps up whenever other people need help, such as handling projection equipment for teachers and helping me in my studies," said Hu Zhixiang, Sheng's classmate.
"He is a role model for me now," Hu added.
According to Gezhi High School, training and lectures on first aid, disease prevention and other health education are offered to students. In early October, for instance, first-grade senior high students attended training sessions for cardiopulmonary resuscitation and first aid bandaging skills.