Technology can narrow education gap
Share - WeChat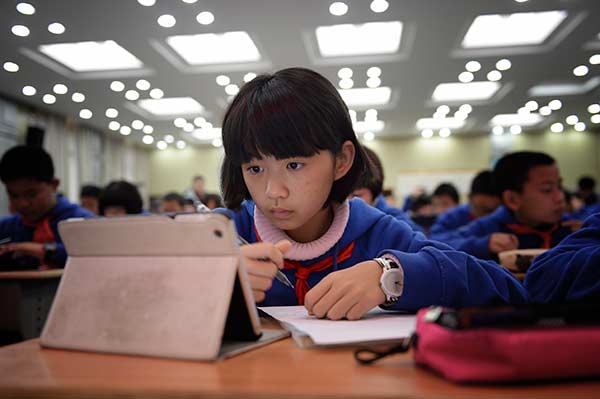 New technologies such as artificial intelligence and big data have increasingly important roles to play in bridging the education gap between urban and rural areas and realizing personalized education, Chinese experts said recently.
The COVID-19 pandemic has brought hundreds of millions of students to online education and it has only accelerated the need for emerging technologies that benefit everyone, rather than widening inequalities, they said.
Concrete steps should be taken to make sure teachers know how to use such technologies to deliver quality education to rural students, they said at the 2020 International Conference on Artificial Intelligence and Big Data in Education.
The conference was organized by the National Center for Education Technology, Beijing Normal University and Hefei-based leading AI company iFlytek.
Li Ping, deputy Party chief of the National Center for Education Technology, said new technologies have great potential to advance education reform to achieve high quality, equitable and inclusive education.
As new technology is advancing, it is the mission of education to help equip everyone with the skills and abilities to capitalize on the new technologies for better lives, she said.
Liu Limin, president of the China Education Association for International Exchange, said classrooms with offline teachers in rural schools and online teachers from urban schools can enable rural students to have access to high-quality education resources like their urban counterparts.
Technologies such as speech synthesizers and voice recognition can help correct students' mistakes in pronunciation when they are learning languages and even singing, he said.
Dong Qi, president of Beijing Normal University, said AI and big data can be used to create diversified and process-based evaluation by focusing on multi-dimensional and more accurate data collected in students' daily lives.
Technologies such as facial recognition and voice recognition can effectively measure students' behavior, movement, facial expressions and speech in class to better understand their learning process.
They have also provided the opportunities to analyze differences and styles of different learners, so learners with different personalities, interests, advantages and potentials can all be taught in their own customized ways, he said.
Liu Qingfeng, president of iFlytek, said automation can help teachers do their routine work, such as grading homework, so they have more time to focus on students.
Data in doing homework and taking tests can be collected and analyzed by AI so that students will be assigned personalized homework, catering to areas they have difficulty in, he said.
Gu Mingyuan, senior education professor at Beijing Normal University, said while almost all Chinese students have access to the Internet, more efforts are needed to make sure rural teachers have the skills to use the new technologies.
Moreover, there are heightened concerns regarding privacy and data protection. There should be rules of security management and ethics of digital technology application to prevent misuses of technology that may harm the interests of teachers and students and undermine public well-being, he said.