Most former Yangtze fishermen find new jobs
Share - WeChat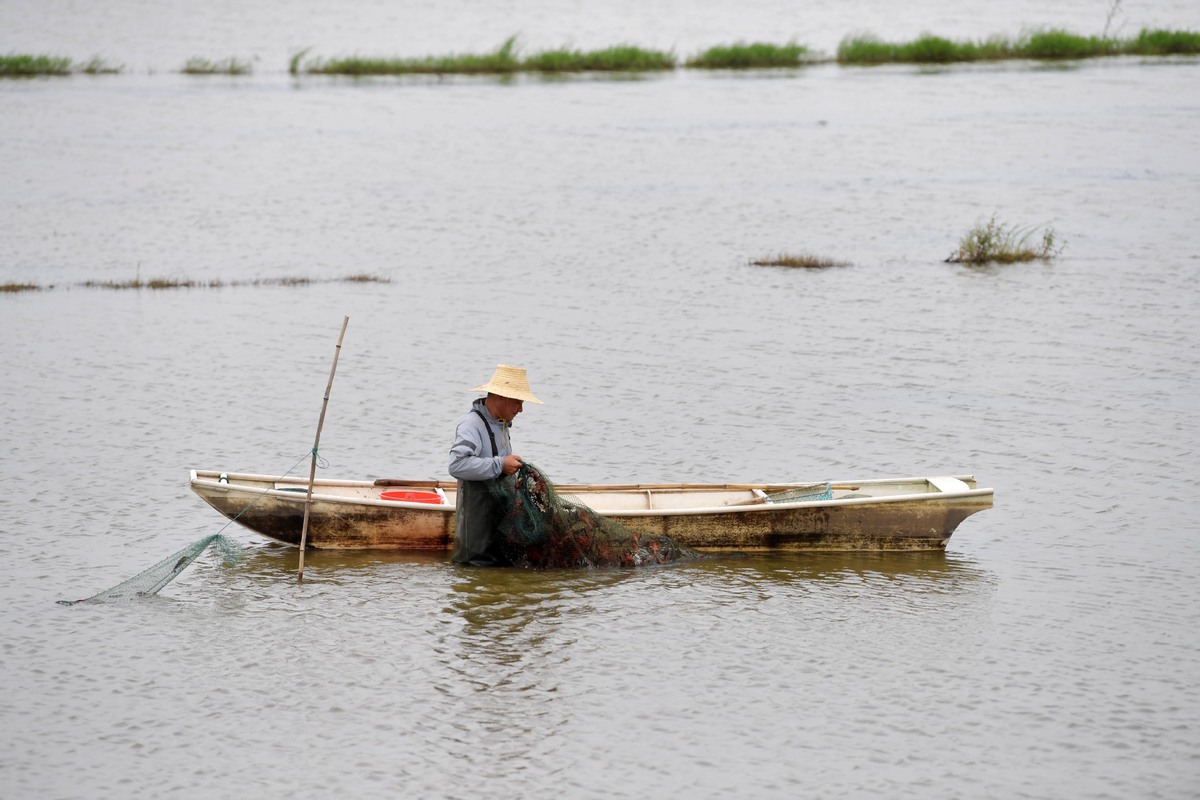 With a 10-year fishing ban along the Yangtze River set to take effect next month, the Ministry of Agriculture and Rural Affairs said on Tuesday that nearly all of the 231,000 fishermen affected by the ban have stopped fishing and the majority have found new employment.
In addition to ensuring that the remaining 3,000-plus fishermen move ashore by the end of next year as scheduled, the ministry said the next step is to ramp up a crackdown on illicit fishing and beef up long-term support for fishermen who have to abandon their traditional way of life.
The Yangtze River, Asia's longest, runs through 10 provinces and municipalities. To replenish its rapidly dwindling fish stocks and preserve the ecology, the central government has decided to enforce a decadelong fishing moratorium along the river.
The ban came into effect on Jan 1 this year in all 332 conservation sites along the river. From Jan 1 next year it will be applied to the entire main river course and key tributaries.
Ma Yi, director of the ministry's Yangtze River Fisheries Administration, said that all 84,000 fishing boats and 180,000 fishermen located in conservation sites, the main river and tributaries have already come ashore ahead of the deadline set for the end of next year.
The remaining 1,599 fishing boats and 3,072 fishermen are all located in waterways managed by local governments, Ma said.
To ensure the affected fishermen can find alternative sources of income, the central government has allocated 9.2 billion yuan ($1.4 billion) and local governments had invested 11.4 billion yuan by Dec 4, he said.
"A series of measures has been taken, such as developing local industries, helping them land new jobs and start their own businesses," Ma said. "As of Friday, a total of 218,000 former fishermen have been enrolled in social welfare programs and 165,000 have found alternative jobs.
"Efforts have also been devoted to helping them address difficulties in sending children to school, seeing doctors and looking for apartments."
Zhang Xianliang, chief of the ministry's fisheries bureau, said the ministry will keep track of the situation of all fishermen who have given up fishing due to the moratorium, provide consistent support, ranging from training to favorable loan policies, and enroll them in pension programs.
"We will resolutely prevent them from slipping into poverty and ensure that they have steady incomes," he said.
Since the ban will be long-standing and extensive, Ma said, the ministry has teamed up with public security authorities and market regulators to tighten supervision over the industry to ensure no illegal fishing boats will be operating in the Yangtze River in the coming years.
Since the end of June, law enforcement officials along the Yangtze River have busted 7,160 cases of illegal fishing and confiscated 32,000 unregistered boats.
"A round-the-clock monitoring and reporting platform will be set up as a means to intensify supervision," Ma said.
Meanwhile, fishing regulators will soon be equipped with advanced technologies, such as new vessels, drones and radar video surveillance cameras, he added.