Climate progress gets impetus
Share - WeChat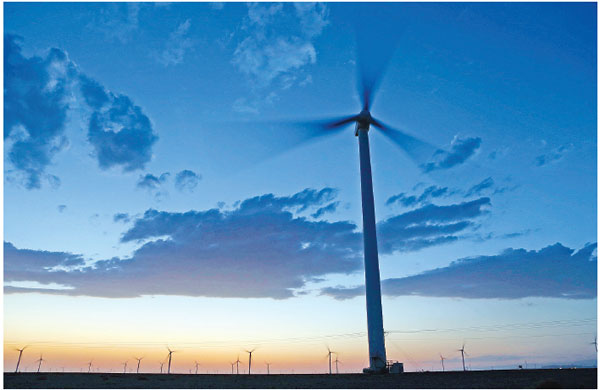 New targets show nation's confidence in meeting environmental challenges
The new climate commitments President Xi Jinping made on Saturday show China to be a responsible major country, and they will inject new impetus into the world's climate progress, experts from international organizations said.
By 2030, China will lower its carbon dioxide emissions per unit of GDP by more than 65 percent from the 2005 level and will increase the share of non-fossil fuels in primary energy consumption to about 25 percent, Xi announced at the Climate Ambition Summit via video link.
The new commitments, which came only three months after Xi announced that China aims to have carbon dioxide emissions peak before 2030 and achieve carbon neutrality before 2060, will offer a guide for the country as it forges ahead toward 2030, said Zou Ji, president of Energy Foundation China.
The country's coming efforts to achieve carbon neutrality can now be shown with specific indicators in specific areas, he added.
The announcement of further lowering carbon dioxide emissions per unit of GDP came against the backdrop of a downward trend in China's economic growth and an upward trend in consumption. This arduous target shows China as a responsible major power and its confidence in addressing challenges, he said.
To further increase non-fossil fuels in primary energy consumption will lay a good foundation to promote comprehensive low-carbon transformation in different economic sectors, he added.
Nathaniel Keohane, senior vice-president for Climate at the Environmental Defense Fund, said the summit on Saturday "helped crystallize the recent momentum toward enhanced climate ambition".
"But one thing is as true now as it was five years ago: Success lies not in the text of the (Paris) agreement, but in the commitments countries make to cut emissions and the actions they take to meet them. Much more ambition is needed to reduce the risk of catastrophic climate change," he said.
The good news is that the last three months have seen a notable upswing in momentum on climate action, driven by commitments from some major emitters, which includes China's 2060 carbon neutrality pledge and the United Kingdom's target of reducing emissions by 68 percent by 2030. "All eyes will be on the US once President-elect Joe Biden takes office on Jan 20," he said.
'Unique collaboration'
In an open letter provided to China Daily on Sunday, Lord Deben, chairman of the UK's Climate Change Committee, and Zhou Dadi, a member of China's Expert Panel on Climate Change, have called on China and UK to strengthen climate cooperation.
"The two countries, which have both set ambitious carbon emissions targets have much in common and could lead the way in a 'unique collaboration' ahead of vital climate talks in the coming months," the letter said.
A transition to lower carbon in the global energy system is now certainly underway, but progress has been too slow so far. That must change by capitalizing on the growing economic advantage inherent in clean technologies like solar photovoltaics-converting sunlight to electricity-and wind, which now have cost advantages over fossil fuels, it said.
"China and the UK can learn from each other's experience in this energy revolution: the phase out of coal, the growth of renewables and the electrification of travel, heating and cooling-alongside the low carbon industrial challenges, through carbon capture and the development of low carbon fuels like green hydrogen," it said.
In 2021, China and the UK will have a unique opportunity to collaborate on climate, bilaterally and in the context of multilateral events such as the UN Climate Change Conference in Glasgow, Scotland, and the UN Biodiversity Conference, in Kunming, Yunnan province, it said.
"In this spirit, scientists and policy analysts from China and the UK will work closely together to increase our collective understanding of climate change, its consequences and remedies, and to encourage further actions on climate obligations," it said.