Breaking the mold
Share - WeChat China's burgeoning street-dance scene stoked by discipline's inclusion in 2024 Paris Olympics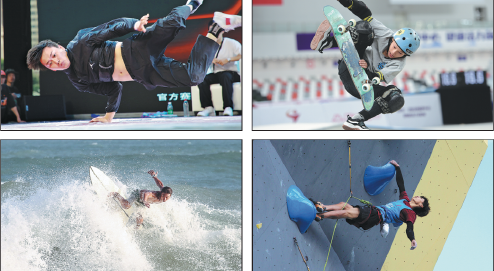 Breaking's Olympic inclusion has stirred excitement among China's street-dance enthusiasts, who anticipate a spike in popularity for the discipline in the buildup to the Paris Games.
Enjoyed by a small but diehard group of fans for years after originally emerging on American streets in the 1970s, breaking is poised to step onto a bigger stage in China after the International Olympic Committee on Tuesday rubber-stamped its addition to the medal program for the 2024 Paris Summer Olympics.
With breaking making its Olympic debut in the French capital, with next summer's Tokyo Games will welcoming three other new events-skateboarding, sport climbing and surfing. The four sports were provisionally agreed for inclusion as medal events by the IOC and relevant governing bodies last June.
Breaking's Olympic inclusion, after a successful trial at the 2018 Youth Olympics in Buenos Aries, forms part of a wider strategy by the IOC to make future Games more appealing to young people.
"We had a clear priority to introduce sports particularly popular among the younger generation and taking into consideration the urbanization of sport," IOC president Thomas Bach said after an executive board meeting to confirm the Paris sports program.
Breaking, or breakdancing, was originally part of early hip-hop culture in New York in the 1970s and is loosely related to other street-dance styles such as locking and popping. It has since developed into a competitive discipline demanding high levels of physical strength, coordination and creativity.
Having seen street dancing's popularity raised by exposure on TV reality shows in recent years, China's dance community believes the IOC nod will propel breaking's status to the next level.
"I think it will help change the public perception of breaking, or street dancing as a whole, toward it being recognized as a creative and healthy exercise," said Han Yu, owner of a dance studio in Beijing.
After falling in love with street dance at 13, Han said his parents initially worried he would become a "bad boy" as he practiced his moves to booming hip-hop beats clad in baggy clothing.
"I think parents nowadays won't see it as bad as my parents did before. It can be counted as an athletic exercise from the physical standpoint, just like gymnastics," said Han, a 2018 winner on the popular reality show Street Dance of China.
Breaking's Olympic inclusion has become a trending topic on Chinese social media, with the hashtag "Breaking among four sports accepted as official events at Paris Games" being viewed over 95 million times as of Tuesday afternoon.
A number of Chinese celebrities renowned for their exceptional street-dance skills, such as actor Sun Honglei and pop singer Wang Yibo, are even being encouraged by fans to represent their country at the Olympics.
Reality shows have undoubtedly boosted the appeal of street dancing, but in a country where sports governing bodies are obsessed with Olympic success, having the IOC's seal of approval could really be a game-changer.
Since its establishment in May 2014, the China Street Dance Association, an affiliate of the General Administration of Sport of China, has been organizing annual multi-style national championships, conducting training programs at 15 provincial locations and issuing national-level instructor certificates.
China's National Youth Games included breaking as an official medal event for the first time at its 2019 edition in Taiyuan, where b-boys and b-girls-monikers for men's and women's dancers in the discipline-competed in one-on-one battle formats.
Using the same rules that were applied at the Youth Olympics, judges determined winners using six criteria: Creativity, personality, technique, variety, "performativity "and musicality.
Now young Chinese dancers are motivated by the prospect of representing their country at the world's biggest sporting extravaganza.
"As a dancer, it's a unique experience to represent your country at the Olympics," said 20-year-old Shang Xiaoyu, the men's winner at the Youth Games, who was China's sole representative at the Youth Olympics in Argentina.
"If it could be added to the Olympics, street dancing would be seen as a serious career choice and open up more business opportunities in the bodybuilding sector."
In Paris, breaking has been allocated a prestigious downtown venue, joining sport climbing and 3-on-3 basketball at Place de la Concorde.
In a bid to contain the increasing scale and cost of the Olympic Games, the IOC also decided at its executive board meeting to cut the total number of medal events from 339 in Tokyo to 329 in Paris.
That in turn will reduce the overall athlete quota to exactly 10,500, significantly less than the 11,091 competitors that had been expected.
Weightlifting has seen the largest reduction in quota places and will see four events-pending final confirmation in late 2021-removed from the program.
Weightlifting will have 120 athletes in Paris, which is less than half of its total at the 2016 Rio Games. The sport could be dropped entirely due to its historic doping problems and IOC concerns over the pace and depth of reform at the International Weightlifting Federation.
The IOC also announced that the Paris 2024 program will ensure exactly equal participation of male and female athletes at 50 percent on each side, rising from 48.8 percent female participation at Tokyo 2020.