Perpetrator speaks of anger and the desire to mend his ways
Share - WeChat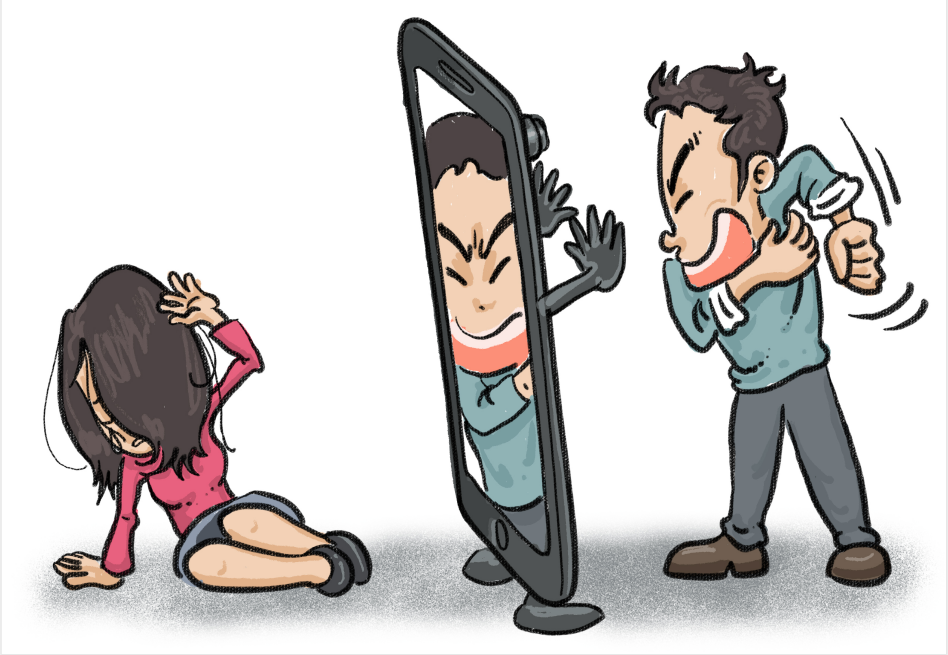 The behavior of Gu Wei, 36, who attacked his wife but later decided to change for the better, is highlighted in a report published last month by Dingxiang Doctor, a popular health information exchange app.
Gu's statement:
I am the only child of a three-member family from a village in Jiangsu province. My father was not good at expressing his thoughts and easily became angry. His solution to ending disputes in public was to argue with, or even hit, others.
In 2010, I met my future wife, and we married the following year. At first, we got along with each other, but by the end of 2011, I found I was having difficulty in controlling myself and was unloading all my work pressure on her.
Initially, I became anxious about trivial matters, such as the times she missed my phone calls or simply left a plastic bag containing drugs on the dining table. She spoke to me in a normal tone of voice, but I felt she was deliberately finding fault with me, so I shouted at her or threw glasses on the ground.
When she was six months' pregnant, I kicked her, as I didn't want to listen to her ideas about how the family finances should be managed. This was the first incident of domestic violence between us.
The next day, she said that if I attacked her again, she would tell my parents and the village committee, but I didn't take her seriously.
From the time she became pregnant to the birth of our son, I assaulted her several times, but I apologized on each occasion and even knelt down in front of her.
In an effort to stop my behavior, we moved to live with my parents-in-law, but this did not solve the problem.
One morning in the bathroom, my violent tendencies were reignited after my wife kicked me. She may not have intended to do so, and I was not hurt. However, in an uncontrollable rage, I hit her over the head. She uttered a growling sound I had never heard from her before.
At the time, I did not consider her to be a woman, let alone my wife. Instead, I just released my pressure. I remember hitting her with my fists, but might not have used such force to attack a man.
We separated after the assaults, and divorced in 2015. I tried to get custody of our son, but failed due to my behavior.
After watching a documentary on China Central Television about domestic violence, I realized I needed to change my ways.
I knew there were organizations to help perpetrators figure out the reasons for their behavior and to assist them in taking up hobbies.
When I gave an interview to CCTV, I used my real name and apologized to my ex-wife, even though I was worried about being recognized by people I knew.
After receiving professional help, I realized I had beaten her mainly because of my father's desire to control his family and the fact that my mother had remained silent.
I also began to reform for my son's sake, as I don't want him following in my footsteps. I hope that he will respect women and express his ideas and emotions in a civilized manner.