Mine sinkhole finds new life as scenic site
Share - WeChat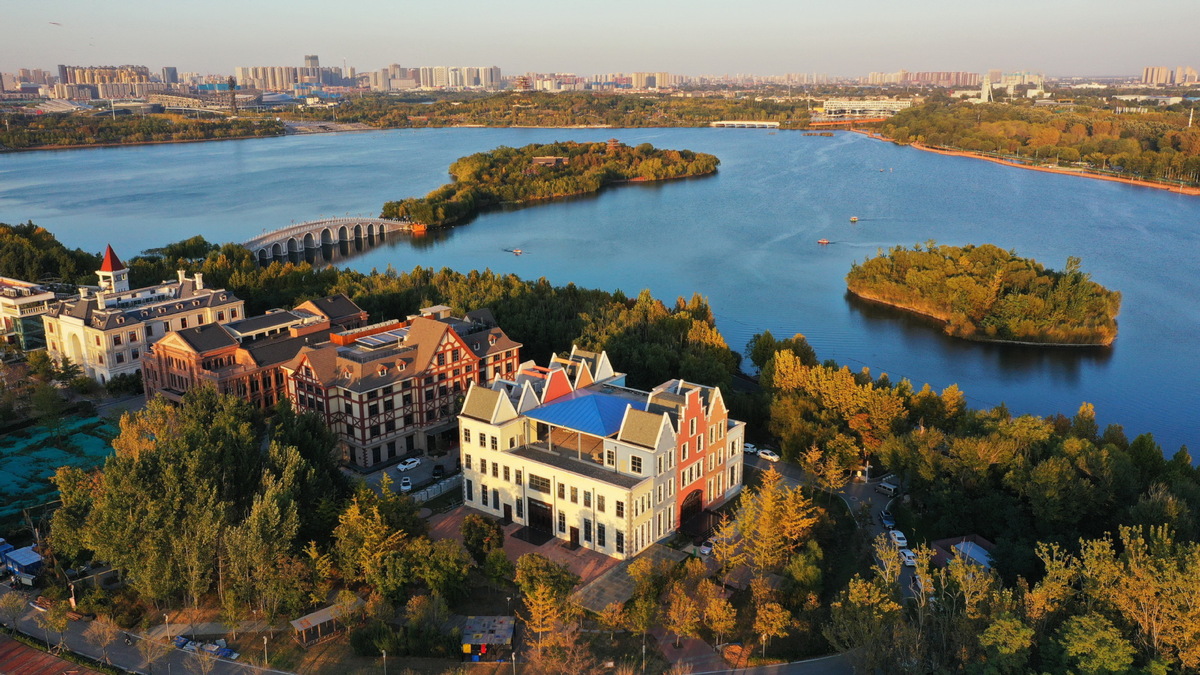 SHIJIAZHUANG-Each morning, 48-year-old Wang Huiyi joins his fellow cyclists on a bike ride around a lake, which was once a sinkhole filled with industrial wastewater.
South Lake in Tangshan, Hebei province, used to be a place that locals would avoid as it was infested with flies and mosquitoes and waste was piled up tens of meters high.
"Now it's been transformed," said Wang, head of a local cycling association. "The environment has been improved and there is good air that's suitable for exercise."
Tangshan is an established industrial city and one of the country's major coal mining areas. It is home to the Kailuan coal mine, the first in the country to use machinery, which was established in 1878.
Over a century of mining had left a hole measuring over 30 square kilometers, which sank even further in 1976 due to a massive earthquake. The hole was later filled with domestic and construction waste.
In 2008, the Tangshan government launched a project to transform the area's environment by planting trees, building scenic transport routes and creating a lake.
The goal is to turn the former "industrial scar" into a "green lung" for the city, according to the project.
A park with an 11.5-sq-km lake and 16 sq km of green space was then established on the site of the former coal mine site.
"I witnessed how the area was transformed from a deserted place into a beautiful park," said Shi Xuran, who began working near the lake in 2011.
The local government used the park as the location for the Tangshan International Horticultural Exposition in 2016.
"People were amazed by the contrast-a sinkhole, and a venue for a horticultural exposition," Shi said.
In 2018, the South Lake area was designated a scenic site, and the city built facilities such as a theater, library and museum. Last year, the park received more than 6.4 million visitors.
The local government also converted an exhibition pavilion used during the horticultural show into a themed hall for shadow puppetry, a well-known local art, offering interactive experiences for visitors.
"Today, it has become a must-visit place in Tangshan," Shi said.
Xinhua