China promotes sustainable, ecological marine farming with technology
Share - WeChat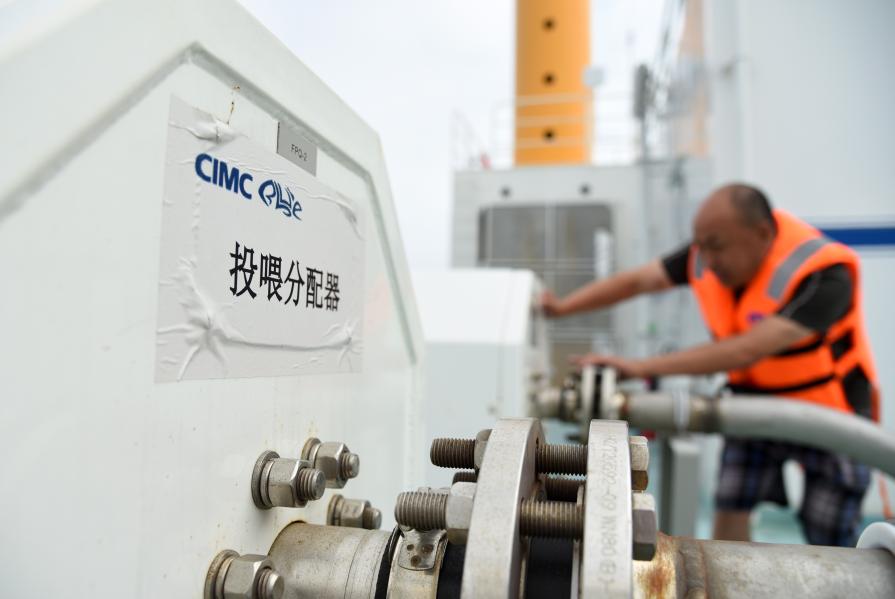 JINAN - A motorboat returned to shore loaded with six boxes filled with around 50 rockfish that Chen Degang caught with his own hands.
Growing up on Changdao Island of the coastal city of Yantai in Shandong Province, Chen pioneered marine farming in 2013. More than 30 nautical miles away from the shore, the marine ranch called Changjing No.1 is where Chen and his four employees work.
The construction and operation of marine ranches, which enable farming to be transferred to the deep sea so that the offshore environment can improve, is changing the production mode of China's fishing industry.
"In the past, fishermen engaged in offshore farming fed the fish on wild bait, which caused serious pollution. With the growth of domestic and foreign markets and the increase of aquaculture volumes, the survival rate of fish decreases," Chen said.
"Marine ranching can control the density more scientifically and increase the production in the relatively sufficient sea space," said Wang Delian, general manager of a local company specializing in marine farm construction and seafood processing and marketing.
According to Li Chuanqiang, director of the Yantai Municipal Marine Development and Fishery Bureau, marine farming is a new concept, established under the guidance of marine ecology and modern marine engineering technology.
Besides aiding a healthy marine ecosystem, marine farming plays a pivotal role in the regulation and restoration of water quality and sediment.
Since the mid-20th century, the marine ecosystems in most coastal areas of Shandong have suffered disruptions due to overfishing and the deterioration of coastal environments, posing threats to fish resources.
According to Liang Wenyue with the Shandong Development and Reform Commission, most of the sea areas meet the quality standards of Class I and Class II thanks to three-dimensional cultivation, the release of ecological artificial reefs, and construction of marine farming observation networks, in recent years.
Chen's marine farm is "green" and also a high-tech one.
After a string of efforts since 2013, Chen was assisted by Yantai CIMC Blue Ocean Technology Co., Ltd., a Yantai-based company focusing on the R&D and design of marine farming equipment, to get big data scientific monitoring equipment for his marine farm. It can process the data collected by sensors under the sea, as well as cast bait and change nets automatically.
"The old pattern of fish farming was time-consuming with high labor costs. Now we only need four employees to breed 1,000 tonnes of adult fish using the platform, which we never expected before," said Chen. "If they are all sold during the fishing moratorium period next year, the net profit could reach 50 million yuan (about 7.61 million U.S. dollars)."
Changyu No.1, another marine farming platform developed by Yantai CIMC Blue Ocean Technology Co., Ltd., is also equipped with high-tech facilities such as a 5G communication base station, underwater monitoring system, and solar energy and wind power generation systems. These feature the functions of scientific research, leisure entertainment, and marine environment monitoring in addition to meeting the needs of daily farming operations.
"The technologies related to information, digitization and intelligence are gradually being applied in marine farm construction and management in China. It can improve production efficiency, reduce environmental damage, and improve food quality," said Li Hong, deputy general manager of the company.
"This advanced information technology allows marine farms to have multiple functions, and the road to wealth for fish farmers is widening," Chen said.
In Shandong, Chen's marine farm is not an isolated case. Forty-eight modern marine farms have sprung up off the coast of the province just in the past two years. More and more fishermen have adopted eco-friendly farming techniques to upgrade traditional fisheries.
Yantai, for example, has thus far brought 30 marine farms above the provincial level, including 14 state-level ones which account for one-eighth of the total across the country. Its marine farms cover an area of more than 73,300 hectares, and the output value of its industrial chain exceeds 50 billion yuan.
"Marine farming is in line with the development trend of mariculture in the future," Chen said.