Industrial profits rise in further recovery
Share - WeChat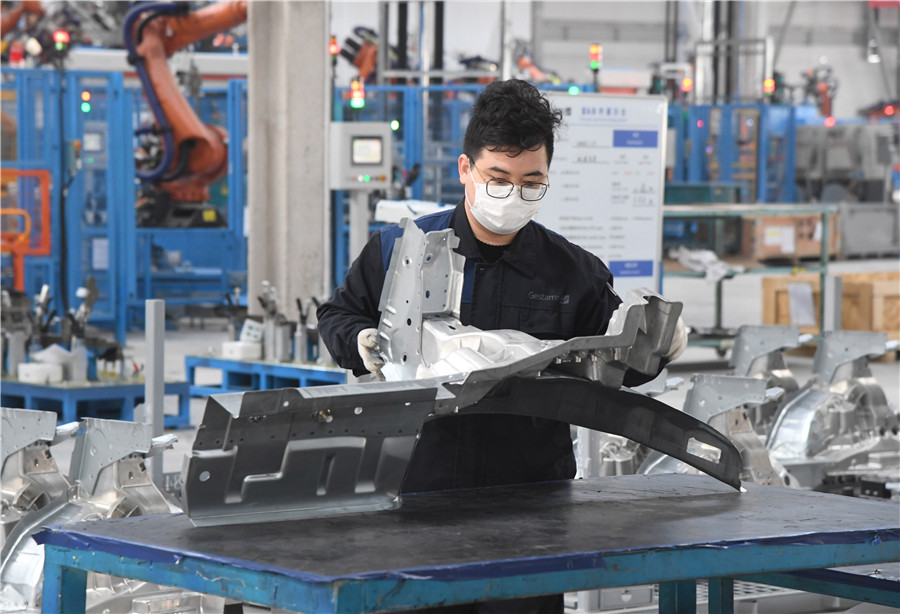 Profits at China's major industrial companies rose 0.7 percent year-on-year in the first 10 months, turning positive for the first time this year and suggesting the country's economic rebound is gaining momentum despite the impact of COVID-19, said officials and experts.
For the January-October period, profits at China's large industrial firms, those with annual revenue of at least 20 million yuan ($3 million), reached 5 trillion yuan, the National Bureau of Statistics said on Friday.
Profits in October surged 28.2 percent year-on-year, 18.1 percentage points higher than that in September, the NBS said.
Zhu Hong, a senior statistician with the bureau, attributed the growth in the first 10 months to China's achievement in epidemic prevention and control, improving market supply and demand and the continuous recovery of production and operation.
Zhu said profit growth was aided by significant recoveries in key sectors including equipment, automobile and consumer goods manufacturing.
For instance, equipment manufacturers in January-October posted profit growth of 9.6 percent, 0.8 of a percentage point higher than that of the first nine months.
Wu Chaoming, chief economist at Chasing Securities, said the positive industrial profit growth adds to signs showing China's strong economic recovery and improving supply and demand.
Wu expected industrial profits to grow steadily in the short term due to the low comparison base for the first quarter in 2020 and the possibility that overseas economies may recover gradually, saying the government needs to increase support for services and consumption to further stabilize the economy.
His views were echoed by Tao Jin, deputy director of the macroeconomic research center of the Suning Institute of Finance, who said industrial profits will continue to grow in the coming months.
"With the advancement of vaccine research, development and production, we'll see a new round of demand expansion and the industrial sector will also maintain a certain level of growth," Tao said.
Zhu from the NBS spoke highly of China's strong economic rebound in terms of industrial profits, saying more efforts are needed to promote the healthy development of industrial enterprises.
"It should be noted that the growth of industrial enterprises' accounts receivable is on the rise and the pressure on cash flow has also increased, which is not conducive to the continuous recovery of production and operation," Zhu said.
In the next step, Zhu said the government should focus on ensuring "six priorities" and stability in six areas for steady economic momentum, and build a new "dual circulation" development pattern that looks at the domestic market as the country's economic mainstay with domestic and foreign markets complementing each other. "We should further boost domestic demand, continue to stimulate market players' vitality and unleash the consumption potential."
The profit data came after the bureau announced earlier this month value-added industrial output, an important economic indicator, went up 6.9 percent year-on-year in October. During the first 10 months, industrial output expanded 1.8 percent on a yearly basis, compared with an increase of 1.2 percent in the first three quarters.
Liu Chunsheng, an associate professor at the Central University of Finance and Economics in Beijing, said industrial growth is in line with the country's quickening economic recovery.
"Domestically, we should continue to consolidate the epidemic prevention and control achievements, vitalize the market, optimize the business environment and remove barriers hindering the development of the domestic market," Liu said. "Internationally, we should focus on addressing weak links in expanding opening-up and deepen reforms to boost foreign investment and trade."
Looking ahead, Ying Xiwen, a senior researcher at China Minsheng Bank Research Institute, said China may see fourth-quarter GDP growth of 5.5 percent and an annual GDP growth of around 2 percent, on the back of China's successful control of the epidemic and production resumption.
"China still has some room to maneuver its policy and foster next year's economic development," Ying added. "We will suggest the government continue to remain prudent and maintain a neutral fiscal and monetary policy for next year's situation."