Gilded age returns in Q3
Share - WeChat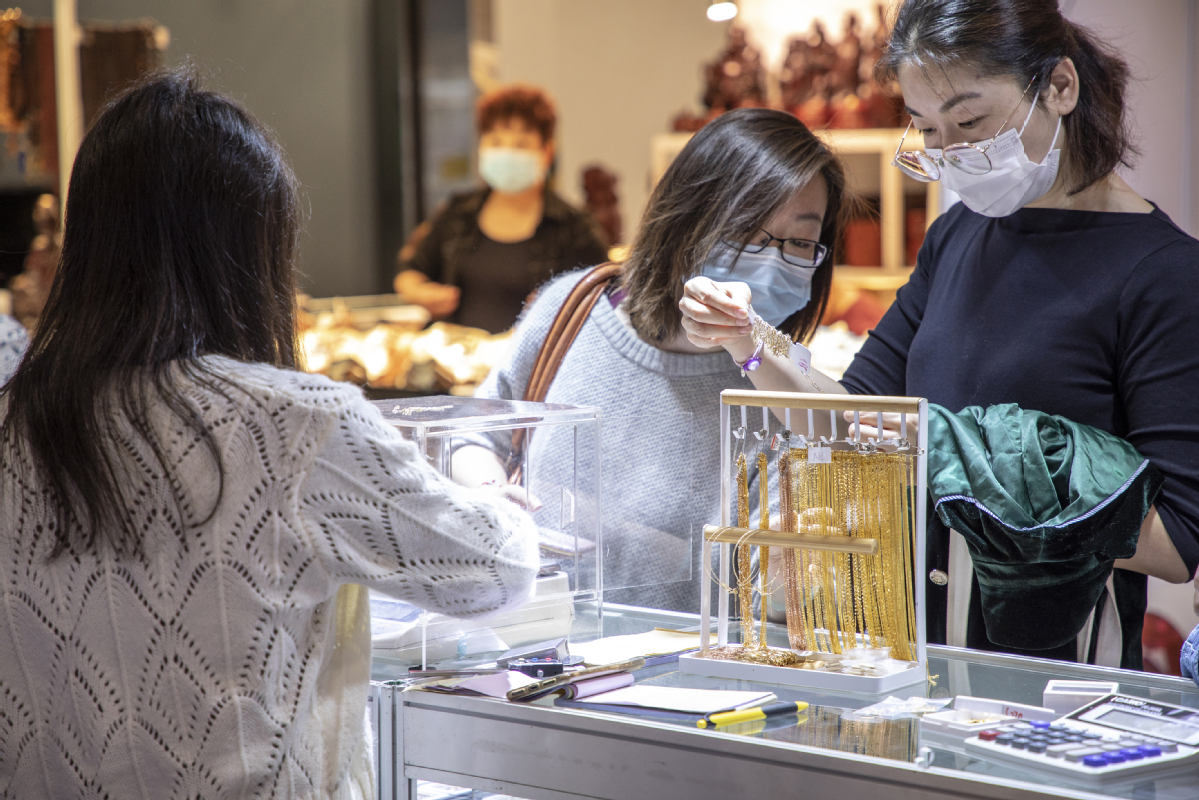 Yellow metal sales surge as contagion comes under better control in China
After gold consumption in China shot up during the third quarter, thanks to the stable recovery of the domestic economy, insiders believe a return to heavy consumer purchases of jewelry in China is likely.
Led by a steady economic recovery and rapid wedding market revival, gold consumption in China saw a quarterly growth of 28.71 percent, with consumption for gold coins and bars witnessing a quarter-on-quarter growth of 66.73 percent, said the China Gold Association.
While gold consumption plunged 28.66 percent year-on-year to 548.09 metric tons during the first three quarters, the past three months have witnessed substantial consumption recovery, it said.
Zhu Yi, a senior analyst for metals and mining at Bloomberg Intelligence, said customers adjusting to higher gold prices, along with greater investment demand, are a recipe for the precious metal's potential price acceleration in 2021.
"Market sentiment for gold is likely to strengthen on dollar wobbles amid rising geopolitical risks in a lower-for-longer interest-rate environment," Zhu said.
"Central banks and investors may absorb the market surplus as they seek gold for portfolio diversification and possibly as a hedge if inflationary pressures return on the substantial stimulus measures injected amid the global health crisis," she added.
Chinese jewelers have also been increasing their efforts in online marketing, with many jewelry manufacturers across the nation bringing their businesses online to reduce health risks and improving efficiency.
According to the association, consumption of gold jewelry in the Chinese market reached 343.08 tons in the first nine months, down 34.43 percent year-on-year.
Consumption of gold coins and bars slumped to 142.52 tons, down 14.07 percent from a year earlier, while consumption of gold for industrial and other use shrank to 62.49 tons, down 21.11 percent year-on-year.
Thanks to the rise of gold prices, leading enterprises in the sector have witnessed better-than-expected performance during the first nine months.
Zijin Mining, one of China's biggest State-owned gold producers, booked revenue of more than 130.4 billion yuan ($19.85 billion) during the first three quarters, up 28.34 percent year-on-year, with net profit reaching a record 4.57 billion yuan, up 52.12 percent.
The average gold price during the first three quarters reached $1,735 per ounce, up 27.27 percent year-on-year, according to the association.
Zhu said higher gold prices have boosted top lines of major gold producers such as Zijin Mining and Shandong Gold.
Bloomberg Intelligence said the average price of gold jumped 30 percent in the third quarter year-on-year.
"Zijin Mining's third quarter revenue and net profit increases are mainly on stronger prices of gold and copper, as the average prices of gold and copper increased 30 percent and 10 percent, respectively, in the first nine months year-on-year," she said.
China produced 262.93 tons of gold in the first nine months, a decrease of 12.42 tons or 4.51 percent compared to the same period last year. The association said this is mainly due to the pandemic, which also caused disruptions in normal operations at gold mines.
As processors resume production and COVID-19 increasingly comes under control, domestic gold production has already returned to normal since the second quarter, when gold production saw a quarter-on-quarter increase of 5.81 percent. The third quarter continued with this trend, with production of the yellow metal up 6.21 percent compared with the previous quarter, said the association.
Zhu said she believes China's output of gold is likely to continue rising in the fourth quarter as higher gold prices offer wider margins for producers, and operations are gradually returning to normal as the virus is being reined in.
Shandong, Henan, Yunnan and Shaanxi provinces, and the Inner Mongolia autonomous region saw the highest gold output nationwide, with total production exceeding 87.68 tons, 39.95 percent of the country's total gold output, said the association.