Viral clips highlight need to not leave elderly behind in terms of technology
Share - WeChat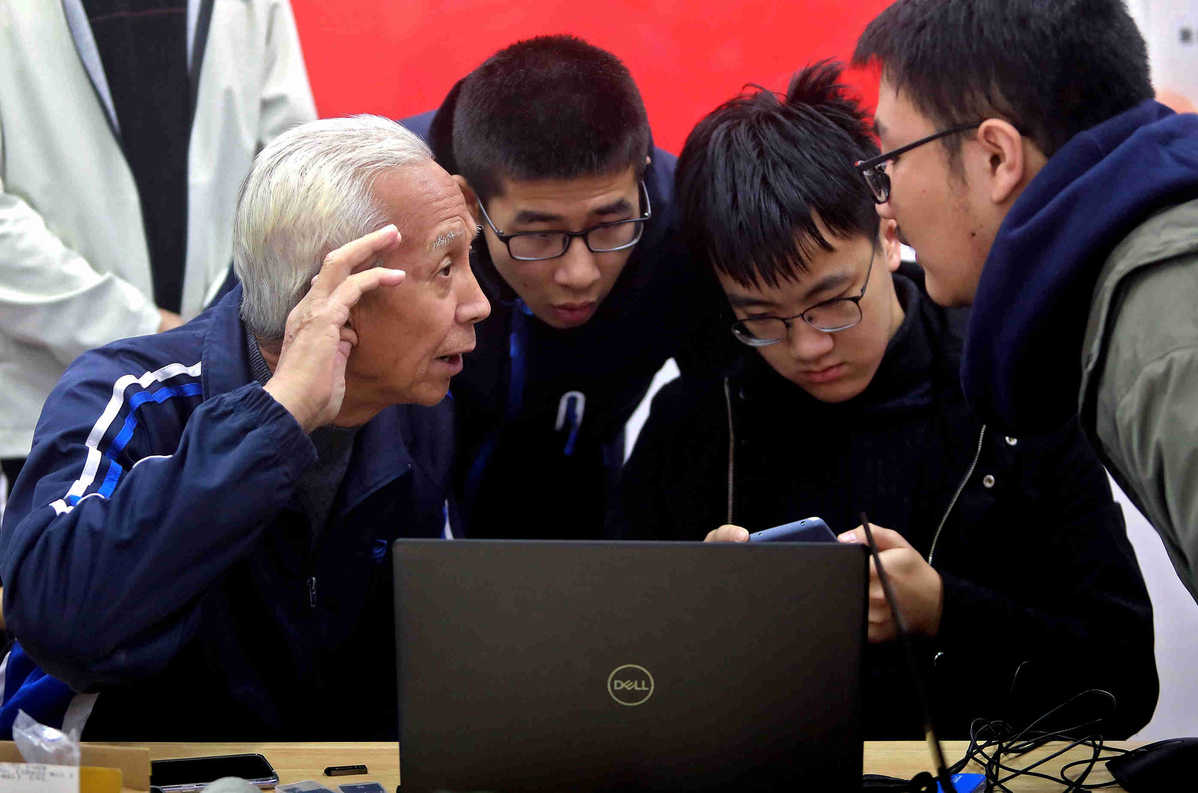 The plight of many elderly people in China who face being left behind by rapidly advancing technology, was highlighted recently in a series of videos posted online that have provoked a strong reaction from the public.
In one clip posted to micro-blogging platform Weibo on Saturday, an elderly woman in Suizhou, Hubei province, is seen being lifted by her son so that she can reach a facial recognition camera at a bank.
On Monday, another clip posted to Weibo showed an elderly woman in Yichang, Hubei province, sitting, visibly distraught, at a medical insurance service counter after being told that cash payment was not accepted and that she must use mobile payment to settle her account or call her relatives for help.
Both videos have racked up over a million views and tens of thousands of comments.
"It's so sad to see her absent look. We all get old eventually. New technologies are meant to improve our lives, not create hurdles," said one comment.
As of Thursday, both institutions involved in the clips had reportedly apologized for causing inconvenience and failing to fulfill the special needs of senior citizens.
The widely shared videos offer a glimpse into the plight of the increasing elderly population in China who are being left behind by the country's escalating adoption of digital tools including mobile payment, food delivery and ride-hailing apps.
The COVID-19 pandemic has further popularized the use of digital tools with digital health codes and early online reservation required before visiting public places such as parks, hospitals and banks.
Liu Xinyi, from Jiangsu province, said her 81-year-old grandmother is dependent on younger relatives to help her withdraw her pension, get health checkups and see doctors.
Smartphones are essential to attain these services nowadays, she said.
"She cannot remember how to use a mobile phone no matter how much we teach her," Liu said. "Taking a few hours off from work and accompanying her seems to be the easiest way."
Liu said her family is aware of government measures aimed at providing more accessible services for the elderly, such as providing social workers to accompany those that require it.
"It's really difficult to rely on limited government workers to adequately serve such a large elderly population," she said."The only viable solution I think that works at the moment is for children to take care of their older family members as much as possible."
Digital dilemma
A particularly pressing issue for the elderly in current times, is the increasing requirement that almost all hospital appointments be made online.
Shen Xiutao, an 81-year-old retired technician, said she enjoys chatting with friends and browsing the news on her smartphone, but when it comes to using it to register at the hospital, she is completely lost.
"It is so complicated," she said. "I give up and turn to my children for help."
In early October, a notice board at a train station in Wuxi, Jiangsu province, went viral and won praise. The board directs people unable to present digital health codes, mostly the elderly and those who do not own smartphones, to volunteers who can help them register their information and comply with COVID-19 regulations.
The practice was later adopted by more cities across the country, according to media reports.