Deliverymen ride hard road to dreams
Share - WeChat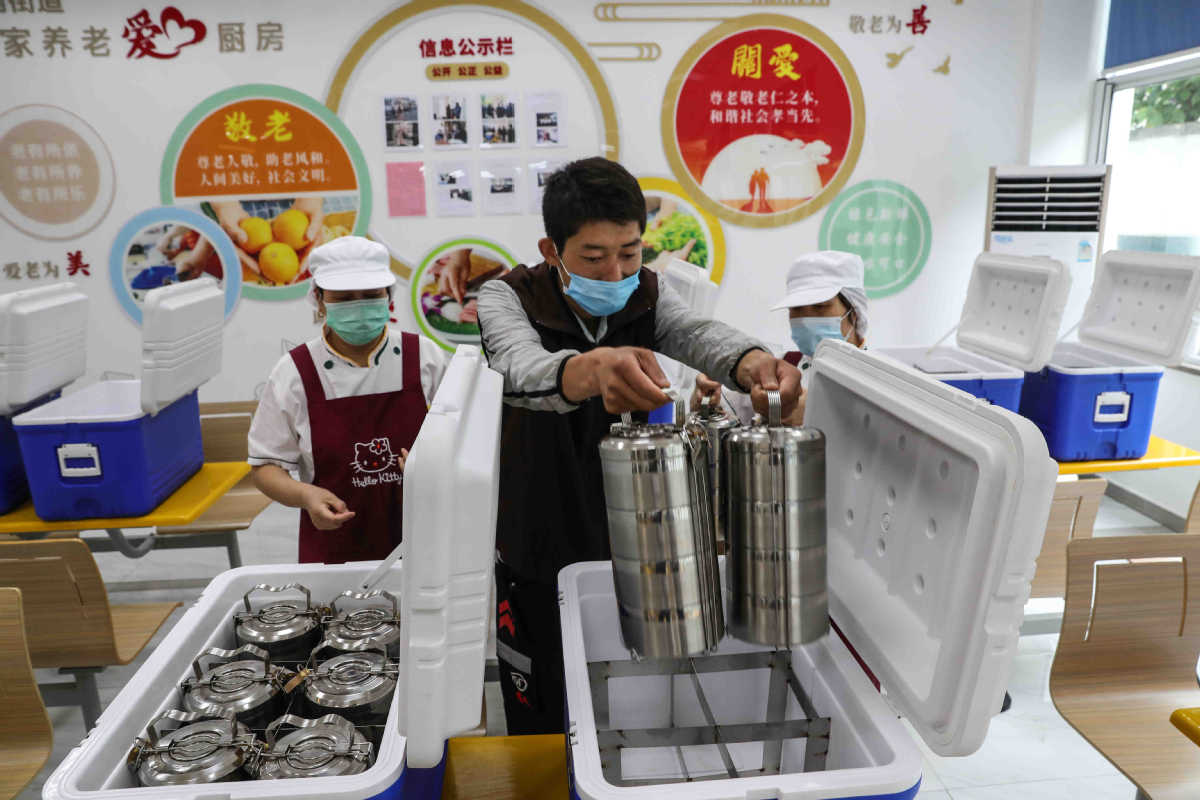 Earning target
Fu, from Qiqihar, Heilongjiang province, became a deliveryman in October 2018.
He rarely eats breakfast for fear of missing orders on the platform. He hasn't had a day off during his entire time as a deliveryman, and he is extremely busy on weekends and holidays because they are prime times for food-ordering platforms.
He has a daily earning target of 450 yuan ($68). If he fails, he does his best to make up the shortfall the next day. He earns about 5 yuan for each delivery, and during summer he gets a bonus of 1 or 2 yuan per order to compensate for working in Beijing's stifling heat.
"I deliver about 80 orders a day, visiting different restaurants to collect the dishes, but none of them is for me. I sometimes dream about working at home and placing orders myself, but I still need to continue my current life," he said.
During summer, his face and arms are tanned dark brown from long exposure to the sun. He wears black-framed glasses, and in summer when he stops working at about 10 pm and heads home, they are covered with stains due to heavy sweating.
Fu's dinner is simple: two packs of instant noodles, two steamed buns and two eggs. To save money, he eats a 10 yuan instant meal at a fixed food stand for lunch every day.
Between 2016 and 2018, the number of couriers in China rose by 50 percent, with the total exceeding 3 million. Many had heavy workloads and little rest, with more than 80 percent working more than eight hours a day, according to a survey of express delivery workers conducted last year and published by China Post and Express News in January.
About 75 percent of express workers earned less than 5,000 yuan a month and only 0.73 percent of front-line delivery personnel made more than 10,000 yuan, it said.
To conquer fatigue, Fu smokes a pack of cigarettes a day. They cost 8 yuan, but they keep him awake. Every time he feels tired or has no orders, he lights a cigarette. He said smoking is a significant support throughout the long day.
When he first started delivering goods, Fu navigated via a map on the company's app. He arrived at the wrong address several times, a common problem among new deliverymen, so he had to apologize to clients. Fortunately, no one registered a complaint, which saved him hundreds of yuan in fines. Some of his peers have not been so lucky.
Fu arrived back in Beijing in April after spending Spring Festival in his hometown. It was about two months later than last year as a result of the COVID-19 outbreak.
Despite his fear of contracting the novel coronavirus, he worked as he didn't want to waste time and compromise his plan of buying a home near relatives in the Inner Mongolia autonomous region.
"At that time, deliverymen were the people most commonly seen on the streets. People bought almost everything online, so we needed to complete the deliveries. Although I was afraid of the virus, I received many orders," he said.