New virus cases raise risk level in Tianjin
By YANG CHENG in Tianjin, ZHANG YU in Shijiazhuang,ZHANG YU and ZHOU HUIYING | CHINA DAILY | Updated: 2020-11-21 08:00




Share - WeChat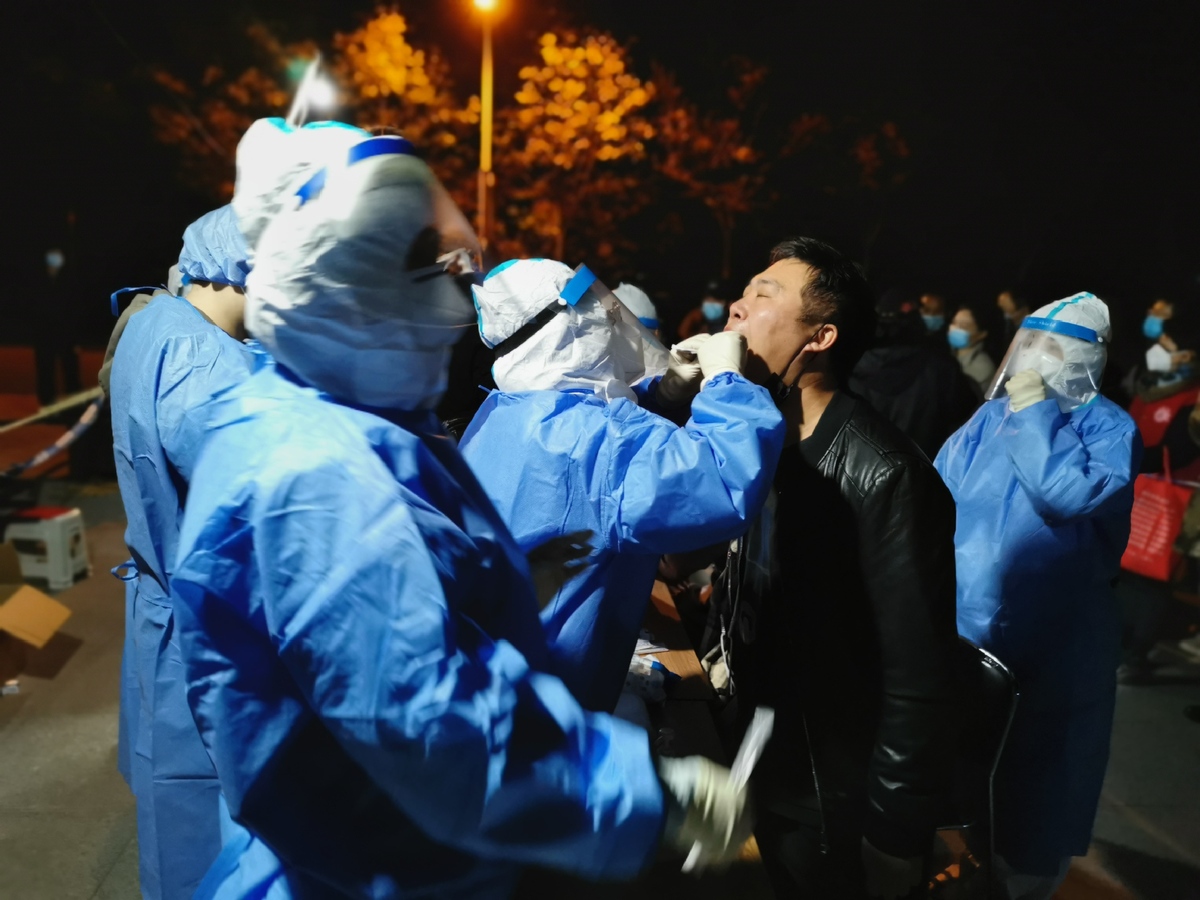 Tianjin will conduct universal screening in the Binhai New Area following detection of cluster infections of COVID-19 in the area-home to nearly 3 million residents, according to the local government.
Starting Saturday, the testing is expected to finish within three days, said the local epidemic prevention and control headquarters Friday night.
The city's health commission reported four local cases early Friday, including three from one family, in the Kanhaixuan community in the Dongjiang Free Trade Zone of Binhai.
The city briefly raised the coronavirus risk level for the community from medium to high, where eight cases to date including three asymptomatic ones were detected.
"A lockdown of the community will continue to be enforced. Around 1,900 residents have been put under centralized quarantine," Gu Qing, deputy director of the health commission, told a Friday news conference. "The neighboring Shangdongwan community is also being managed as a medium-risk area."
He said further epidemiological investigations are ongoing to pinpoint exact transmission routes.
Previously, tests were given to all residents in Kanhaixuan after an asymptomatic case was reported on Nov 10.
On Thursday, after a new asymptomatic case in the community was reported, the community was classified as a medium-risk area and a second round of coronavirus tests for residents began.
The latest four patients were transported to a designated hospital for treatment.
One of confirmed cases, a 35-year-old man surnamed Yang, was hospitalized to treat a urinary infection at Teda Hospital from Nov 15 to 19.
Testing before hospitalization came back negative, but a regular coronavirus test at the hospital on Thursday showed him positive.
A reexamination by the city's disease control and prevention center was also positive. Teda Hospital thereafter stopped receiving new patients.
"To avoid gatherings, indoor public places of culture, sports and entertainment in the Kanhaixuan community have been closed," Gu said. "Stores reduce their opening times."
"Residents of other areas in and around Tianjin should avoid going to medium and high-risk areas," said Gu.
In Hebei province, four residential communities and two villages in Luannan county, Tangshan, have been locked down after the local government received notice that one of the Tianjin patients, a 61-year-old man surnamed Yang, had traveled to the county, local authorities said.
Yang drove to the county on Sunday and left on Monday.
During that period, he visited relatives, had dinner with friends and shopped at various places.
As of Friday, Tianjin had reported seven confirmed cases of COVID-19 and five asymptomatic cases after a 38-year-old storage worker was found to have come into contact with a shipment of contaminated imported food on Nov 8.
Sections of a port in the Binhai New Area were classified as medium-risk areas for coronavirus on Nov 10.
The Chinese mainland also reported 17 imported confirmed COVID-19 cases on Thursday, the National Health Commission said on Friday.