Company took lead in virus testing
Share - WeChat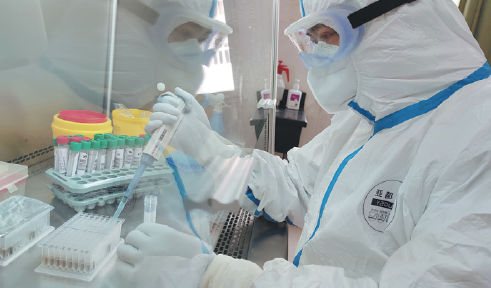 Shortly after China reported increased cases of COVID-19 in early January, researchers at a company based in Guangzhou, capital of Guangdong province, quickly turned to developing a nucleic acid detection kit.
The company, Daan Gene Co, under Sun Yat-sen University, then became one of the nationwide manufacturers to develop and release detection kits in response to increased demand at medical institutions.
"In the Chinese market, external diagnostic reagents are usually controlled by foreign manufacturers. However, the viral nucleic acid reagent is an exception," said He Yunshao, chairman of Daan Gene.
He, in cooperation with the university, began researching nucleic acid detection reagents 26 years ago.
"We need to transform research into medical use," He said.
Daan Gene, a company listed in Shenzhen, Guangdong, later announced a technological breakthrough in nucleic acid detection that could reduce detection time to within 30 minutes.
"The new kits are more accurate and efficient," said He.
The company's production capacity of the detection reagents has reached 1 million kits per day, according to He.
Daan has exported novel coronavirus nucleic acid detection kits to more than 140 countries and regions, according to the company.
"We own both the core raw materials and control the whole industry chain for nucleic acid detection technology, including research and development, quality control and detection service," said Zhang Bin, deputy general manager of Daan, in an earlier interview with China Daily.
Following increased demand for COVID-19 detection kits worldwide, the company's sales reached more than fourfold year-on-year to over 3.55 billion yuan ($540 million) in the first three quarters of this year, according to the company.
The company, together with Wondfo Biotech Co and Guangdong Hecin Scientific Inc, has so far sold more than 160 million nucleic acid detection kits this year, according to Sun Xiang, deputy director of the Guangzhou Science and Technology Bureau.
In the fight against the COVID-19 pandemic, another company, Guangzhou KingMed Diagnostics Group Co, an independent clinical testing company, has carried out more than 22 million tests, according to Sun.
"The city's high-quality development of the bio-industry plays an important role in the fight against COVID-19," Sun said.
According to Sun, the bio-industry of Guangzhou, which currently has more than 3,800 biomedical companies, has been included in the first batch of the nation-level strategic emerging industries.
Guangzhou's bio-industry has maintained an annual growth rate of 10 percent over the past five years and is expected to reach over 180 billion yuan in 2022, according to Sun.
The city unveiled a series of measures earlier this year to boost the regional high-quality development of the biopharmaceutical industry in an effort to cultivate a world-class cluster for its biopharmaceutical industry.
According to the measures, companies can receive a subsidy of 20 percent of the research and development cost per year that they have paid before their products have been put into production. The subsidy will be offered for three years and can be up to 2 million yuan per year.
"Research and development of core technologies will continue to be prioritized in the high-quality development of the biopharmaceutical industry," Sun said.