Notice to limit blood from virus patients
Share - WeChat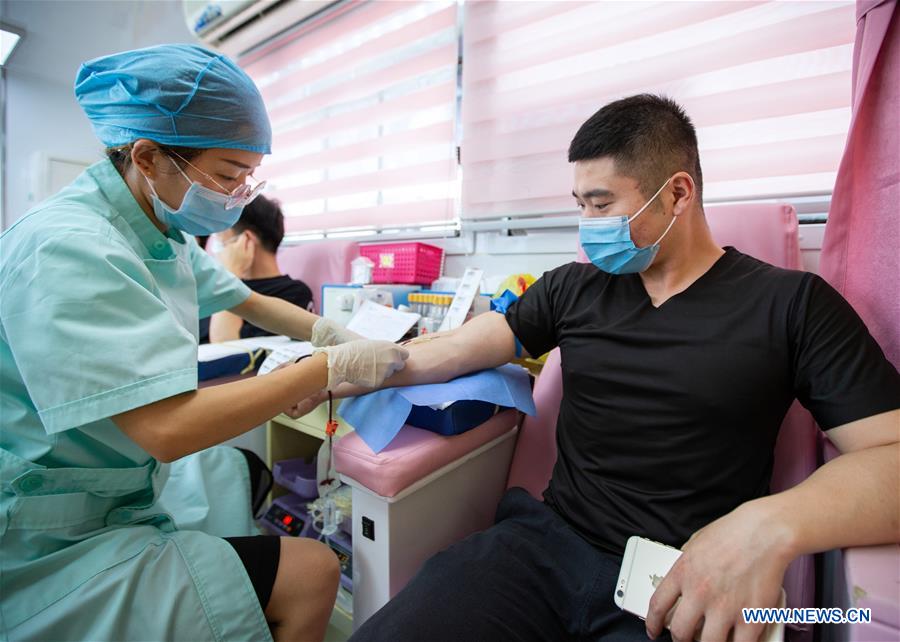 Cured COVID-19 patients will be banned from donating blood until they have been out of the hospital for at least six months, according to a notice released by the National Health Commission to improve blood donation safety.
Other suspicious donors-including those with body temperatures of 37.3 C or above or those who have had close contacts with people who have either been infected with the novel coronavirus or who have a fever-should also be barred from donating blood, according to the notice released on Tuesday.
While making efforts to improve education and awareness among the public to encourage blood donations, donor centers across the country should also take adequate epidemic control and prevention measures to ensure the safety of their employees, donors and donated blood, the notice said.
Blood donation centers should notify donors that they should report back to the centers if they display COVID-19 symptoms such as fever and cough after donating blood.
The centers should take corresponding measures in case of such reports, such as isolating and withholding the donated blood, and make efforts to have the person's close contacts placed under quarantine. The quarantine should be immediately lifted if the person is confirmed to be uninfected, the notice said.
If a donor is confirmed to be infected, the donated blood should be properly disposed of if it has not been used. Otherwise, the center should immediately notify related hospitals to conduct follow-ups of those who received the contaminated blood, and the information should be reported to local health authorities. Close contacts of the donor should be placed under quarantine for 14 days, the notice said.
Liu Bende, a doctor specializing in cardiovascular diseases at Wuhan Union Hospital, said the purpose of banning COVID-19 patients from donating blood until at least six months after they are cured is to ensure the safety of donated blood.
Blood donated from cured COVID-19 patients should be free of the novel coronavirus, but some blood centers may not have virus testing capabilities, he said.
Although hospitals will provide nucleic acid tests for all COVID-19 patients before they are discharged from hospital, some cured patients may still carry small amounts of the virus, which may be difficult to detect, he said.
"Requiring cured patients to wait six months before donating blood can provide double reassurance of the safety of the blood," he said.