Party seeks better rehab for disabled
Share - WeChat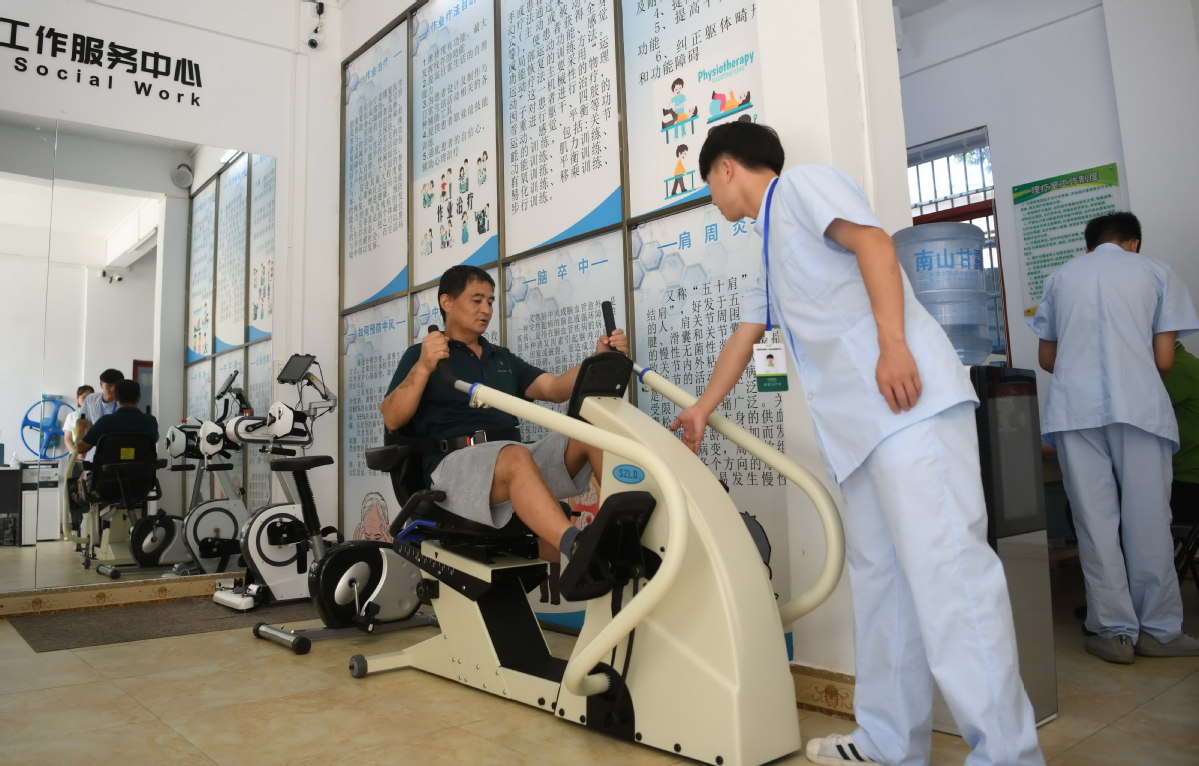 Proposal comes amid broader efforts to boost health services, prevent diseases
In a proposal for China's development priorities in the next five years and beyond, the Communist Party of China Central Committee has called for better rehabilitation therapies for disabled people.
Released earlier this month following an annual Party gathering in Beijing, the proposal called for more efforts to improve rehabilitation services, public health education and the control of chronic diseases, among other initiatives.
It was part of a broader effort by the Party to advance its "Health China" strategy that was unveiled three years ago. It aims to bolster health services and prevent diseases and disabilities as China rapidly ages.
To meet the goals, Zhang Haidi, chairwoman of the China Disabled Persons' Federation, conducted research in hopes of instilling cutting-edge elements into rehabilitation treatments and products, such as wheelchairs and canes.
While addressing a conference on Monday, she called on rehabilitation professionals across the nation to step up academic research and help create China's first national lab for rehabilitation medicine.
She encouraged the attending therapists and researchers to study the idea of making medical rehabilitation an independent discipline parallel to clinical medicine to boost related research and train professionals, which are in short supply.
Last year, the Ministry of Education approved the establishment of a university focusing on rehabilitative majors in Qingdao, Shandong province. Currently, medical rehabilitation is a subdiscipline of clinical medicine.
Zhang, also chairwoman of Rehabilitation International, an international disability rights organization, asked therapists to help draft industrial standards to boost service quality and step up technical support for treatments in rural villages and other places lacking qualified therapists.
"More emphasis will be placed on rural women and children," she said.
Government-subsidized rehabilitation services-ranging from cochlea implantation surgeries to psychological consultations-have been a crucial tool to ease the financial burden facing families with disabled relatives. The services also help disabled people maintain basic functions and dignity, experts said.
In a landmark move in 2017, the State Council, China's Cabinet, released a regulation on disability prevention and rehabilitation, making such treatment a public service covered by basic health insurance.
The rules came after China set a target of 80 percent coverage of rehabilitation services, a goal due to be reached by the end of this year, to benefit the growing disabled and senior population. The China Disabled Persons' Federation said the coverage rate was 65 percent five years ago.
Official figures showed that authorities have made headway in expanding the availability of such therapies.
More than 10 million certified disabled people received such treatments in 2019. That includes 1.1 million visually-impaired people and 5.5 million people with physical disabilities, according to an annual report by the federation.
A report by the China Association of Rehabilitation of Disabled Persons said 88 percent of disabled people received the necessary treatment in 2019.
Zhang acknowledged the achievements on Monday. However, she noted that many therapists at the grassroots level lack qualifications, and the standards in the sector have yet to be ironed out, creating difficulties for regulating the market.
China had an estimated 85 million disabled people in 2010, the latest available data, according to the China Disabled Persons' Federation. Experts have projected the number to be around 100 million by the end of this year, creating huge demand for rehabilitation services.
The need is also fueled by a fast-graying demography.
China had 253 million citizens age 60 and above by the end of 2019, according to the National Bureau of Statistics. The Ministry of Civil Affairs, which oversees elder care policy, said in October that the head count will surpass 300 million in the next five years.
Among them, 40 million will be disabled or semi-disabled seniors who are usually not counted as part of the 85 million disabled population.