Sichuan says last seven counties out of poverty
Share - WeChat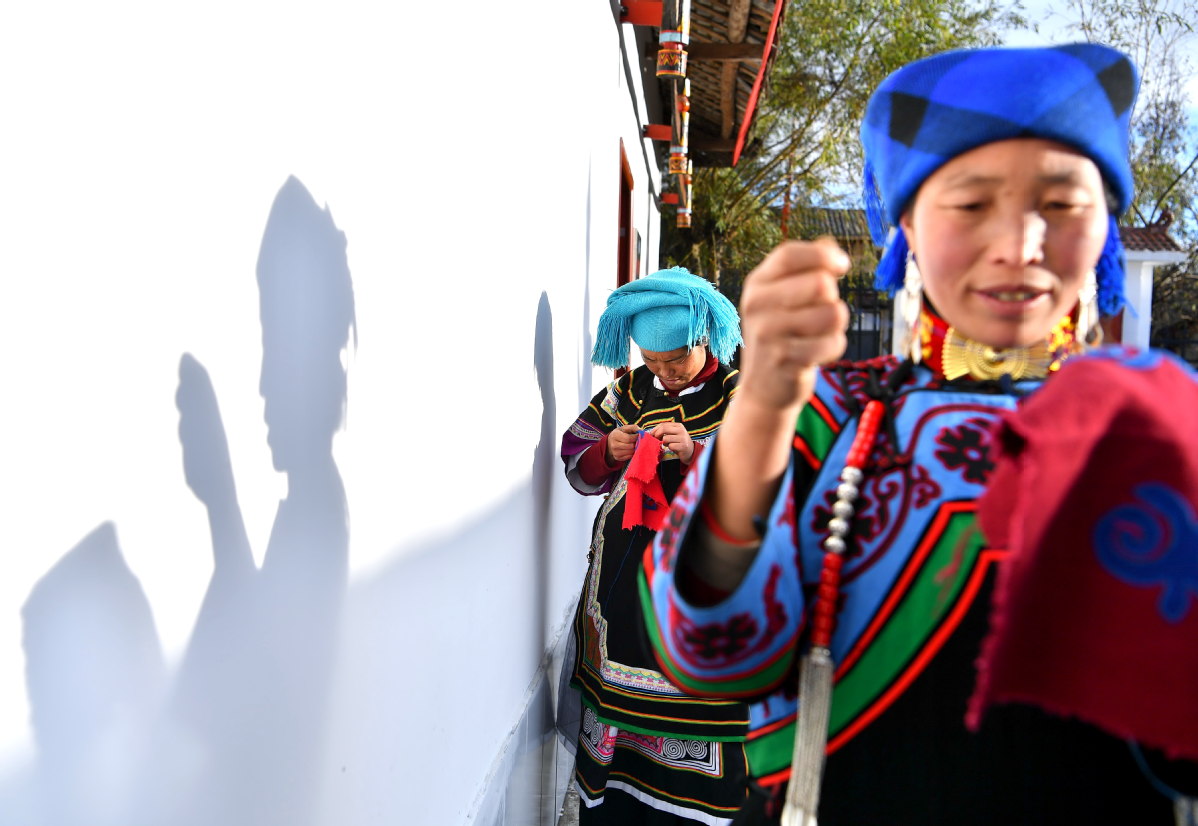 Resettlement, tourism promotion and skills training were tools in fight
Sichuan province announced on Tuesday that its last seven "impoverished counties" have been officially lifted out of poverty, bringing China closer to ending absolute poverty by the end of this year.
The seven counties-Puge, Butuo, Jinyang, Zhaojue, Xide, Yuexi and Meigu-are all in Liangshan autonomous prefecture, according to an announcement released on the province's website.
The announcement said per capita disposable income in those counties has significantly increased in recent years, and infrastructure construction also saw great improvement.
Moreover, each of those counties that had been labeled impoverished now has a healthcare service center, a public service center and public schools, meeting specific goals of the nation's poverty alleviation efforts.
Sichuan had about 6.25 million registered poor people at the end of 2013, a figure that dropped to 200,000 in 2019, data from the provincial government showed. The province used to have 88 impoverished counties.
Governments at all levels have invested huge amounts of money to facilitate poverty alleviation in recent years, including 790 billion yuan ($120 billion) used to aid industry growth and 100 billion yuan doled out to agriculture-related sectors.
Located in southwestern Sichuan, Liangshan was at the top of the nation's poverty alleviation list with about 500,000 poor people. In past years, it has made all-out efforts to fight a decisive battle against poverty.
Multiple methods, such as government-supported resettlement, eco-friendly tourism promotion and free professional skills training, had been introduced to boost the local economy and improve the quality of life.
"Ending poverty in those seven counties is a milestone in the antipoverty fight. We should consolidate our achievements and further boost rural economic growth," said an official from the province's poverty alleviation office in another announcement on Tuesday.
On Monday, the Ningxia Hui autonomous region announced that Xiji, its last county remaining on the poverty list, has been lifted out of poverty.
On Saturday, Yunnan province and the Xinjiang Uygur autonomous region, two border areas home to many ethnic groups, also announced that they no longer have any impoverished counties.
Nine counties in Yunnan and 10 in Xinjiang shook off their poverty labels, according to statements by the provincial and regional governments. The announcements were based on evaluations by local governments and independent assessors.
Counties yet to be removed from the impoverished counties list are in the provinces of Guizhou and Gansu and in the Guangxi Zhuang autonomous region.
Vice-Premier Hu Chunhua has recently called for efforts to consolidate and expand the country's achievements in poverty alleviation and guarantee a smooth transition into rural vitalization.
Hu, also head of the State Council leading group of poverty alleviation and development, made the remarks during an inspection tour in Gansu last week.
He urged local authorities to make plans to consolidate poverty relief results and help regions that have been lifted out of poverty seek progress in rural vitalization.
Hu also called for studying and formulating targeted policies to support industrial development, employment, entrepreneurship, infrastructure and public service construction in rural areas.
Xinhua contributed to this story.