German actor plays his part in HK life
Share - WeChat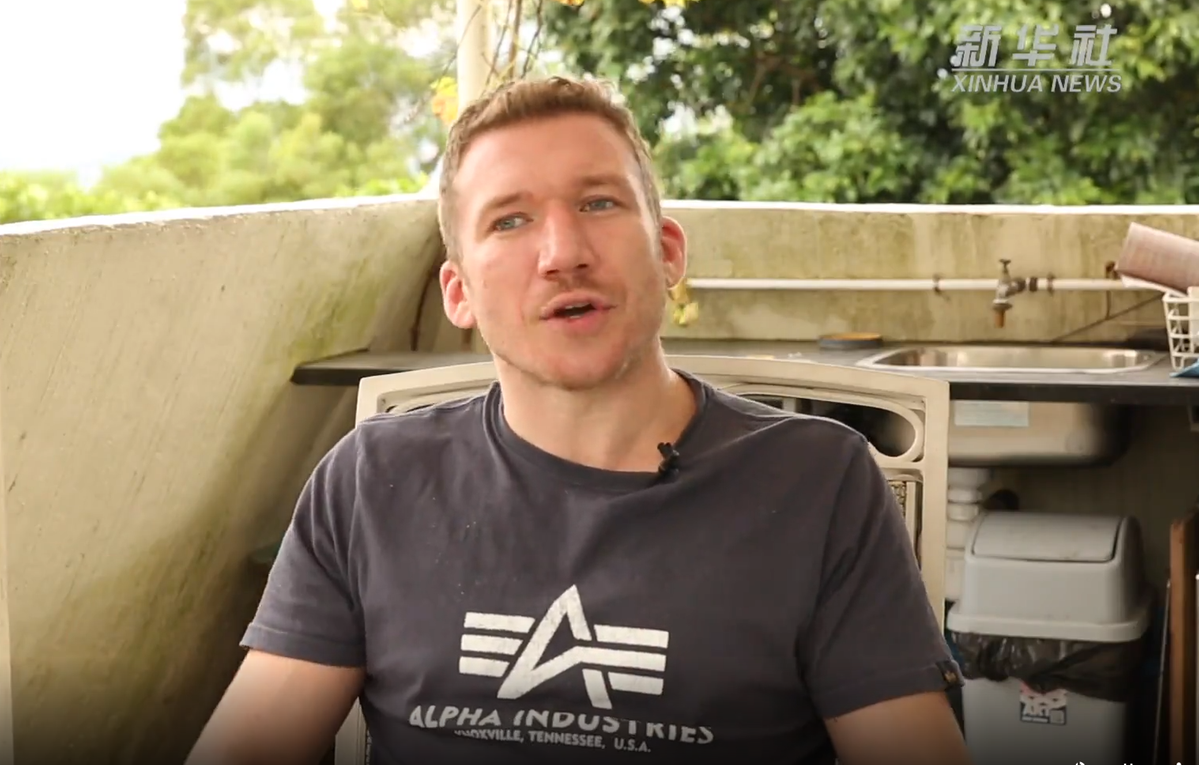 HONG KONG-When German Julian Gaertner first met Chinese travelers in Europe when he was 17, he didn't know his life would be bound with the Eastern country in the future.
Fifteen years on, Gaertner, now an actor, has found another home in Hong Kong, where he hopes to play more roles and be a bridge of cultural exchange between the East and the West.
Finding a new home
On a cruise ship in Norway, a group of Chinese travelers were playing cards, cracking melon seeds and chatting with friends. This was Gaertner's first impression of China, and it left him with both amusement and curiousness.
They looked relaxed and entertained, which was totally different from the life he had in Germany. Gaertner recalls, "I wondered what life was like in China."
Born into a doctor's family in Bavaria in 1987, Gaertner left his hometown to pursue a bachelor's degree at the University of Hong Kong, or HKU, in 2008.
Since then, he has immersed himself in the Chinese culture and the language.
He speaks both Mandarin and Cantonese fluently, and has a Chinese name, Yi Yuhang. In Chinese, Yi means "easy" and Yuhang is "space navigation". He defines his name as "a person who can find a suitable place to live in the universe, and make a contribution".
Having moved from a cramped apartment in downtown Hong Kong Island to a three-storey villa with a garden in Peng Chau, a one square kilometer island away from the urban glamour, for four years, Gaertner has explored almost every corner of the tiny island. To better adapt to life on the car-free island, Gaertner bought a bicycle.
A few months ago, he injured his right knee while filming and had to walk with crutches. One day, before going to visit the doctor, he stopped by a fruit shop, bargained with the owner in Cantonese, and bought a fruit basket for his doctor and a papaya for a friend.
"Hong Kong has changed me. I wasn't used to buy gifts before visiting someone in Germany," he says with a grin.
"There is a Bavarian saying, 'home is the place where you put your hat', so I have put my hats in Hong Kong," he says. "I have friends here, I love Hong Kong and I want to see how it is growing and be part of it, for I have found a sense of belonging."
Hong Kong is one of the most densely populated places in the world with a fast-paced lifestyle. Having lived amid the hustle and bustle for more than a decade, he had moments when he felt lost, but never considered leaving.
"Could there be a better place in the world to fuse Eastern and Western cultures?"
"Hong Kong is a place where cultures can meet, and it is like living in the soup of life and its ingredients are things that happen to you."
Bridging East and West
In 2004, when he was a teenager, Gaertner watched 2046, a romantic drama film and Cannes Film Festival award winner by Hong Kong director Wong Karwai. While he did not understand the language then, he understood the story through the visuals and the background music.
That was when the idea to be an actor emerged.
Film has the magic to display and engage people into a certain reality, he says. This creates shared experiences and therefore mutual understanding and empathy.
Famous actors Bruce Lee and Jackie Chan also influenced his impression of Chinese culture and films, and pushed him toward the action genre.
However, he temporarily "sealed the dream at the bottom of his heart" after graduation, launching a free language-learning platform.
"I felt like something was missing," he sighs.
Listening to his heart, Gaertner joined Hong Kong's Television Broadcasts Limited, or TVB, in 2013. Four years later, he played a British police inspector in Chasing the Dragon, an action crime film made by filmmakers from both Hong Kong and mainland China.
However, it was Billy, a demon of lies that he played in this year's TVB series The Exorcist's 2nd Meter, that earned him a wider reputation among the locals.
When a little boy recognized him on the street and asked to take a photograph with him, it was a fulfilling moment. "He knew the character, Billy. I hope he will further learn that other foreigners, like me, are nice, and will be open to more people in the future."
Unfortunately, the film industry had been heavily disrupted by the COVID-19 pandemic.
"The world is split by the pandemic," he says, recalling a trip to visit his family in Germany earlier this year.
Gaertner realizes that Eastern and Western countries tend to have different approaches in dealing with the pandemic, which, he believed, is partly attributed to cultural differences.
"I feel a sense of responsibility to be a bridge between the East and West," he says.
He wants to make films that allow him to express himself in a way that will spark different emotional reactions, yet is bound by a common sense of resonance and connection.
'PR agency' for China
Over the past decade, Gaertner has traveled frequently between the mainland and Hong Kong for academic exchanges and business cooperation.
He had a one-semester exchange program in the southern Chinese city of Shenzhen before attending HKU, and visited many mainland cities for work in recent years.
For Gaertner, Hong Kong has an irreplaceable role as a creative center through its blended art and history. "There is a lot of divergent thinking between Eastern and Western ideas in Hong Kong, and we can combine them. I think that's what the real role of Hong Kong is."
Hong Kong can make use of its unique geographical location and policy advantages to be a "public relations agency between the world and China", offering a distinctive window through which the world can see and learn about Chinese culture, promoting cultural exchange, he says.
As one of the six creative industries, the film industry in Hong Kong has faced a prolonged downturn for almost two decades since the early 1990s.
To change that and to revitalize the ecosystem, Gaertner believes Hong Kong's film industry needs to break away from the traditional model of producing stylized content.
"Hong Kong should attract talent from all over the world, develop cultural and creative industries, and give young people more opportunities to realize their dreams," he says.
Most Popular