'Dutiful son' finds fame as devoted teacher
Share - WeChat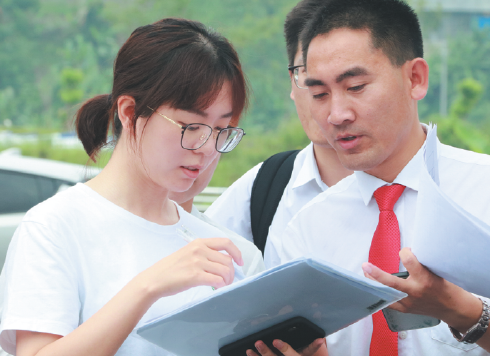 Twelve years ago, Liu Xiuxiang made headlines nationwide as the dutiful university student from a single-parent family who took his mentally disturbed mother to classes.
Recently he was in the spotlight again, recognized for the devotion he has shown to his students at a rural school in the mountains of Guizhou province.
Since graduating from Linyi University in Linyi, Shandong province, in 2012, he has taught in his hometown in Wangmo county, Qianxinan Buyi and Miao autonomous prefecture, and helped dropouts return to school.
Last month, he was awarded the title of "most beautiful teacher", along with 10 other educators, by the Publicity Department of the Communist Party of China Central Committee and the Ministry of Education. "I want to wake up parents and children who consider education useless. Education changed my destiny and I believe it will change theirs as well," he said.
Liu, 32, is a vice-principal and history teacher at Wangmo Experimental High School. He sometimes takes his students to see the house he lived in as a child.
"In the beginning, I didn't want to talk about my past with others, which brought back miserable days and reopened old wounds. However, I later realized my story can inspire them," said Liu, who still takes care of his mother.
When Liu was 4, his father died of an illness. His mother slipped into depression and developed other mental health problems.
By the time he was 10, his then 17-year-old brother, and two sisters, 13 and 19, had left home to work odd jobs. He has not seen them since.
The young boy survived on grain handed out by the local government because his mother couldn't take care of herself, let alone her son. When her mental condition worsened, she started throwing rocks at people's houses.
Liu said he was bullied by children who sometimes threw cow dung at him, but "at least I had a home and someone to care for".
Glimmer of hope
At middle school Liu was exempted from tuition fees because of his excellent academic performance. He earned about 20 yuan a week collecting trash, which was enough to cover basic expenses.
He later attended high school in Anlong county, about two hours' drive from Wangmo. Liu rented a disused pigsty for him and his mother to live in for 200 yuan a year, and insulated the walls with woven bags.
During summer vacations, he worked 18 hours a day at a hydropower station to earn tuition fees.
In 2007, Liu failed the gaokao national college entrance examination, due, he said, to illness caused by overwork."Fate was so unfair to me," he said."I hated my father for bringing me into his world and not raising me. It was easy for others to prepare for the exam for another year, but I needed to support myself."
He found a job in a bathhouse scrubbing customers' skin, but after working there for about 50 days decided he wanted to continue studying."From conversations with my customers, I learned getting ahead in life can only be achieved by getting an education," he said.
Liu had no money and begged the principal of a private high school to let him study for free."I was refused four times. But the last time, I knelt down and he was touched by my request and approved my admission," he said.
Back to school
In 2008, after finally passing the gaokao, Liu was admitted to Linyi University where he studied history. He became a media celebrity as the "dutiful son" who took his mother to school with him. Liu didn't want other students to know his story, and naively spent a few hundred yuan buying all the newspapers on campus.
When he graduated, a Beijing company offered him a job as a salesman with an annual salary of 500,000 yuan, but he refused. "I didn't want people hiring me because I was the boy who took his mother to school," he said, adding he wanted respect, not pity.
Wangmo county shed its impoverished status this month. In 2012, about 46,000 residents had an education level of primary school or below, according to the local government. Liu said he worried about the situation at his school as some students smoked and many were only interested in dating and surfing the internet.
He got through to his students by cooking for them and talking to them like a friend. Liu also rode a motorcycle to the students' homes to try to persuade their parents about the value of a good education and played them audiotapes of stories of his own struggles.
Sponsorship
A gifted orator, Liu told his story at schools all over the country and encouraged sponsorship of students from poor families. Since 2012, his efforts have resulted in more than 1,900 students being sponsored.
Wang Meikuai, 17, attends Wangmo Experimental High School thanks to Liu. Her father is dead, and her mother takes care of her younger brother and sick grandmother.
The teenager wants to become a designer, but cannot afford school tuition fees.
However, Liu found a female engineer in Beijing, who gives 7,000 yuan ($1,047) a year for Wang's education."It makes a big difference if I can give a student a hand," Liu said.
Sixty-three percent of high school students in Wangmo county passed the gaokao this year, compared with 12 percent five years ago, according to the local government.
Liu said he hopes more teachers choose to work in remote mountainous areas to improve the quality of education. "They need to understand that children in mountainous areas can also make contributions. They're not inferior to the children in big cities," he said.
Wang Jin contributed to this story.