Window on the world
Share - WeChat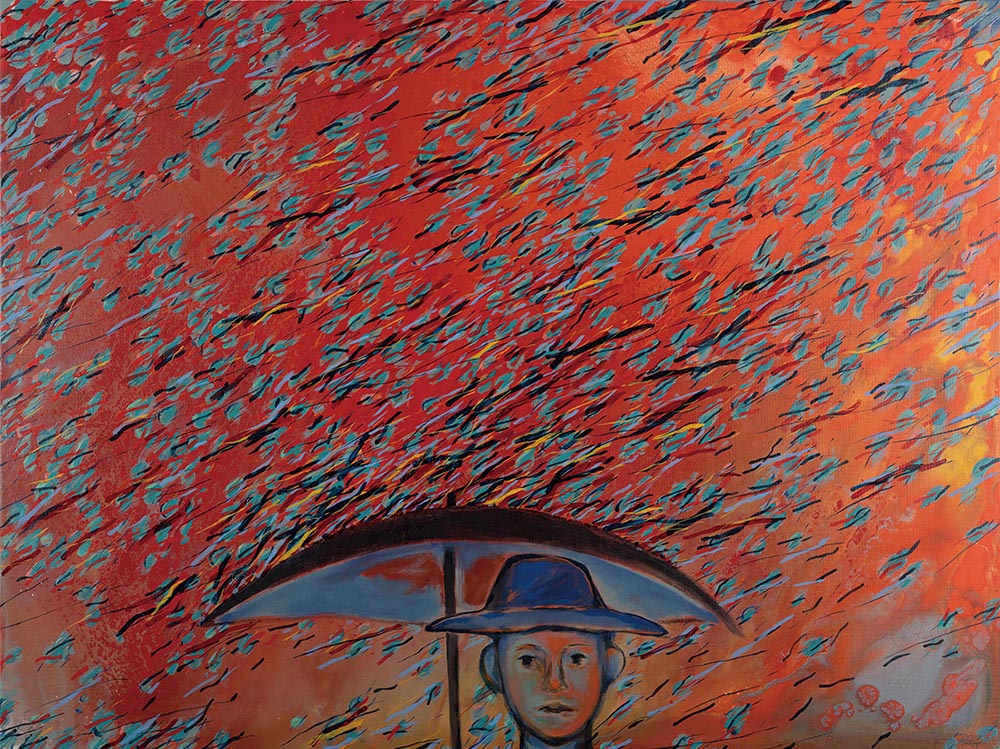 Local artist Hilarie Hon brings her painterly gaze to Gallery Exit.
Local artist Hilarie Hon invokes bold colors and comical imagery to create a night marish, surreal world. Her canvases depict fleeting moments tantamount to watching a film in a cinema – a tree about to fall, a man walking in heavy rain, fireworks. She deploys notions of gazing and painting as a visual art device and a metaphor. All of this is readily apparent in her latest exhibition,Yesterday Brightness.
The site-specific work Tree in Kowloon Park explores the nature and functions of windows through a juxtaposition between the actual space and the painted space. The work consists of a three-panel painting of a large bare tree, with a curtain in front of it that can be drawn open or closed.
With form and function comparable to an actual window,Indoor is a painting with foldable wooden panels, which allows the painted scenes to be seen or hidden from view. It's a triptych when opened and an installation object when closed, thereby transforming between 2D and 3D forms.
Sparkly Waters, Blurry Eyes is a four-metre long work comprising 11 panels with different scenes, sizes and perspectives, all loosely connected with each other on a grid. Many of the paintedscenes look near-identical to Hon's previous paintings, such as the centrepiece of the sunset, another panel depicting birds flying in the darkening sky, and a scene of human figures drifting in boats. The work is a response to her 2018 series The Daily Disappearance of the Sun.
The human figures in Hon's work have no strong identity, and co-exist both inside and outside the painted panels, reinforcing a sense of alienation and spatial ambiguity. Discover Hon's transformative world at Yesterday Brightness, showing until November 28.
Gallery Exit, 3/F, 25 Hing Wo Street, Tin Wan, Aberdeen; galleryexit.com