3,000 free haircuts a snip for hairstylist
Share - WeChat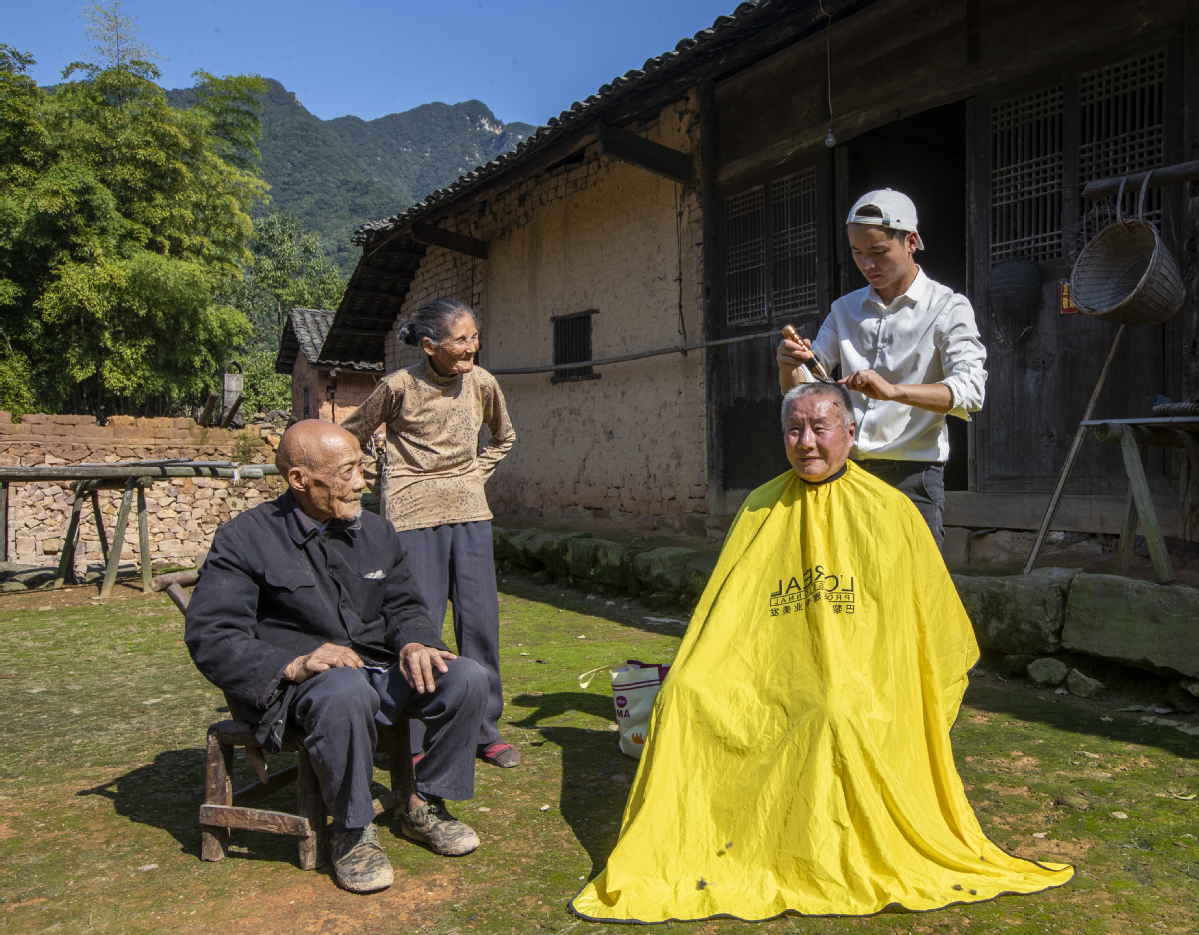 Before 32-year-old hairstylist Zhuo Yihang got behind the wheel of his car in June 2017, it was difficult for elderly people in remote villages in Hunan province to have a proper haircut.
"When I made up my mind to offer free trims to those in need of a haircut in the countryside, I decided to do it on a regular basis, therefore, I turned the odometer (of my car) to zero, and pledged that I would help as many left-behind villagers as I can," he said.
Zhuo lives in an urban area of Zhangjiajie in the province's northeast, but many of the city's villages are located deep in mountain forests. The isolation means many of the villagers usually give themselves a haphazard trim or simply let their hair grow long until it has to be cut.
Zhuo said the first few times he went to the villages to offer free haircuts the residents were "pretty shocked". Although they were pleased to accept a free haircut, they appeared indifferent about the service, which indicated to Zhou they believed he would not return.
He said he understood their skepticism because of the long travel involved, and admitted he had thought of giving up his volunteer work on several occasions.
To reach many of the villages not only requires Zhuo driving for several hours, but also hiking through mountainous terrain. For a professional hairstylist with his own salon, it was also difficult for him to justify doing volunteer work at weekends for no financial return.
"It was hard sometimes. But I regained my motivation at the thought of those lonely elderly people with rashes on their heads because of their long, unkempt hair," he said. "It was like a wake-up call, and a reminder to keep my promise."
Zhuo tries to revisit the same villages at least once a month and takes daily necessities for elderly residents. Over the past three years, he has visited more than 50 remote villages and given free haircuts to more than 3,000 people.
Once Zhuo became lost on his way down a mountain and spent six hours trying to find a way out. A farmer, who had heard of his charitable work, provided him with free accommodations for the night.
"It is hard to believe that in remote places like these, where people rarely venture out, someone has heard of you," Zhuo said. "Before leaving the next morning, the farmer told me that although many people know about me I needed to wear the same clothes next time as that's the only way they will remember me."
He said despite some of the elderly people being unable to recall what he looked like or what he had done, it did not matter and he would continue to serve them.
"The number on my odometer is the only record I need," Zhuo said pointing at the reading of 15,000 kilometers.