Circular farming approach puts residents on balanced path to prosperity
Share - WeChat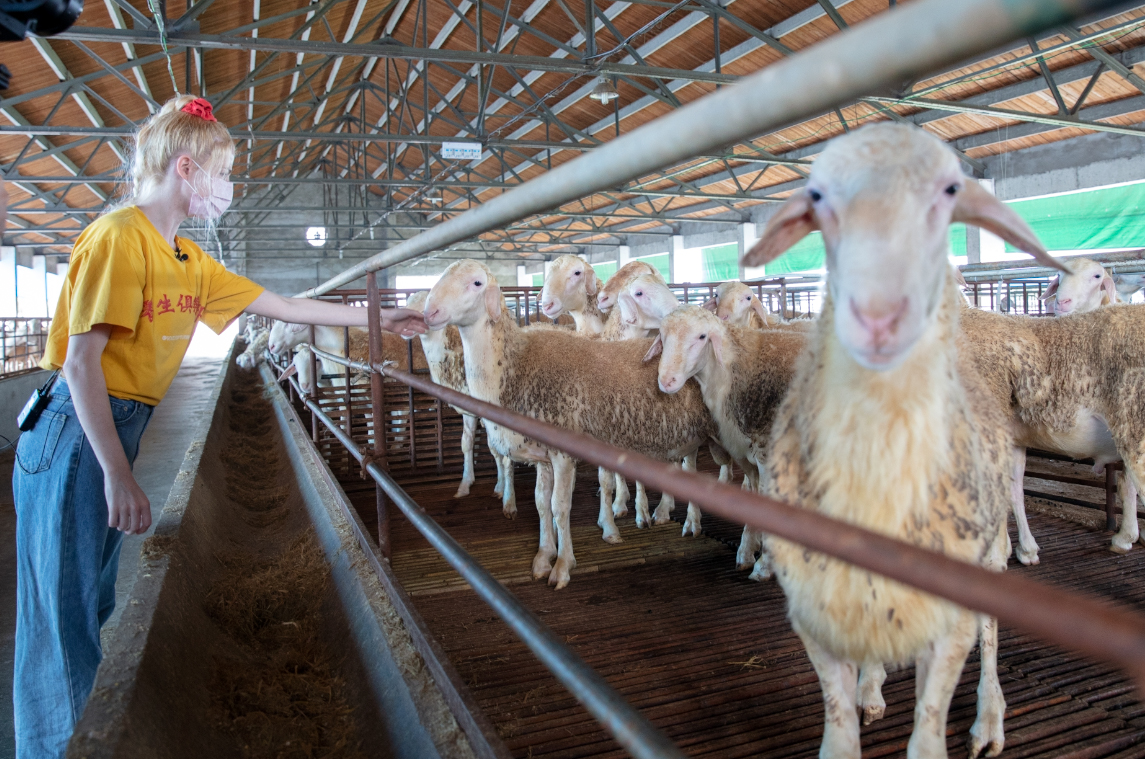 Ask Chen Yaoming, 80, about his old house and the retiree will tell you it lies submerged at the nearby lake.
But the resident of Taicang city in East China's Jiangsu province will also tell you his former plot of land is in a good place-just like his current home.
"The environment here is beautiful. It is very serene and comfortable," he said.
Chen retired from his local government administrative position two decades ago before moving to new premises within an apartment complex for resettled villagers near Jincang Lake in Taicang's Chengxiang town, in line with the area's pursuit of environmentally sustainable development. The lake itself has since become a major eco-agriculture sightseeing spot.
The villagers bought the apartments, complete with natural gas, electricity, internet connections and other modern amenities, at a highly discounted and subsidized base price of less than 1,500 yuan ($225) per square meter, or about 15 percent of current market prices.
Chen Yi, the elder Chen's granddaughter and a local official herself, said the residents, most of them from Donglin village under Chengxiang, include many young adults who work in well-paying jobs for major enterprises in the urban area about 7 km away, riding on rising affluence amid the country's development drive toward a moderately prosperous society.
"In a sense, using the 'villager' term on them may no longer be applicable," she said.
But Donglin village has not been left idle-it is also at the forefront of change and progress, tapping the latest agricultural and mechanization technologies to keep its development up to speed with the local economy.
The village, north of Taicang, covers about 7 square kilometers, with more than 700 households of about 3,000 residents who boast of the area's geographical and infrastructure advantages.
Donglin rolled out Taicang's first village cooperative of its kind a decade ago, covering about 150 hectares of high-grade farmland turning to advanced agriculture and industrial technologies. The village has since built a circular, environmentally sustainable agriculture industry chain focusing on pig, sheep, rice and fruit production across more than 300 hectares. It packs and ferments rice and wheat straw to make fodder that is fed to livestock, while their solid waste and biogas residue are processed into organic fertilizer and supplied to farmland through pipes and pump stations.
Donglin's green model and development approach have won it many accolades, with consumers also drawn to the local rice, mutton and pear produce.
The village recorded 25.53 million yuan in income last year, up from 17.5 million yuan in 2012. The annual income of residents, who count active elderly members in their 60s and 70s numbering more than 200, have hit an average of 40,000 yuan.
Su Qifang, the village's Party secretary, said the advanced, efficient use of resources works out to about 14 people working on 147 hectares of farmland, or about 11 hectares per farmer, much more than previously. The target is to raise that efficiency to about 16 hectares for each person, he said.
"We took the cue from the authorities, to value and maximize farmland and raise the quality of life for farmers. We're also continuing to learn from foreign experiences, from those in the United States and Europe. There's still space to grow and develop. At the same time, many groups from other parts of the country have heard of our achievements and want to learn from us," Su said.
Looking ahead
The success of cooperative measures and agricultural sector incentives have also drawn more young villagers back to the countryside to ride on the growing opportunities, with several Donglin villagers of the post-1980 and 1990 generation becoming professional farmers. These villagers, who are able to access comprehensive agricultural knowledge and skills training, have helped fuel the development of diversified village-level collectives, ranging from rice planting and processing, fruit farms and rural tourism, to food production and livestock feed research and development.
Livestock production offers another stellar example of Donglin's success in tapping the latest green technologies. About 10,000 of its sheep are sold a year, with one animal helping to rake in about 2,000 yuan. About 5,000 of them are kept in stock, taking about six months to grow.
Chen Weihong, head of the village's sheep breeding facility, said it is not just advanced equipment such as solar panels that boost production and efficiency. The animals also benefit from improved breeding conditions.
"Take the high ceilings that help keep the place more airy. It's a better environment for the animals and that means they have a 30 percent to 50 percent less chance of getting sick," he said.
Donglin's circular agriculture mode will continue to offer a balanced approach to rural-urban development for residents, village Party secretary Su said.
The village will strive to keep its rural roots, traditions and values even as it progresses in line with the fast-growing city and its changing urban needs and trends, such as offering tourism options for visitors and cafes for residents amid its well-groomed rice fields, he said.
Taicang itself is one of the cities in the country with the smallest income gap between urban and rural residents on top of recording one of the highest rural incomes. Urban per capita disposable income was 68,205 yuan last year, 1.61 times the national figure and up 8.1 percent year-on-year, while rural per capita disposable income was 35,198 yuan, 2.2 times the national figure and up 8.4 percent year-on-year, according to government statistics.
Retiree Chen Yaoming said he could not be in a better location.
"We are close to the city. I can practice tai chi here and there are many other activities," he said. "There is community spirit."