Does 'large-scale forced labor' exist in Xinjiang?
Share - WeChat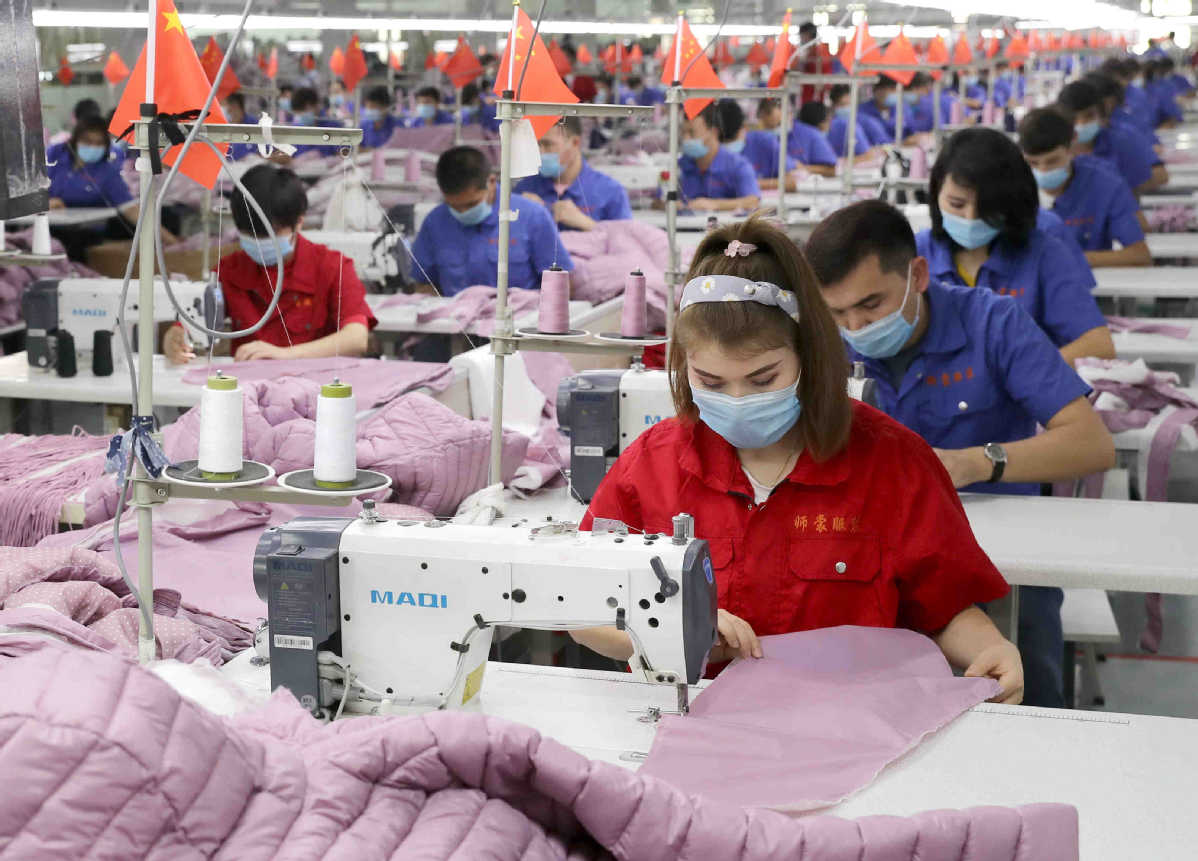 Rumor: There is "large-scale forced labor" in Xinjiang.
Fact:
People of all ethnic groups in the Xinjiang Uygur autonomous region voluntarily choose their jobs and they are never forced to work outside the region, according to an investigative report issued by the Development Research Center of Xinjiang.
An increasing number of surplus laborers from southern Xinjiang are seeking jobs in more developed cities in other parts of the country that offer higher wages and better living and working conditions. Although industries in the relatively less-developed south of Xinjiang have boomed, they still do not meet local people's employment needs, the report on the employment of people from ethnic groups in Xinjiang said.
The center's investigation team made field visits to more than 70 enterprises, rural labor cooperatives and business startups in Ili Kazak and Kezilesu Kirgiz autonomous prefectures and Kashgar, Hotan and Aksu prefectures. The team also visited cities outside the region, including Beijing and Tianjin.
The investigators interviewed more than 800 company managers, employees and self-employed workers. They also studied 26 government documents issued since 2016 and 48 academic papers published since 2005.
In the past, jobs that people in Xinjiang found for themselves were usually of low quality and unstable, with insufficient pay. As a result, people from the region hoped that the government would help them obtain employment, the report said.
After conducting interviews with Xinjiang residents, the investigation team noted they had expectations that the government would help them find jobs. A survey of 100 farmers in Kashgar and Hotan found the vast majority of respondents wanted the government to organize work for them, the report said.
People's willingness to be voluntarily employed has always been the premise for local governments organizing work for them, which is clearly stated in several government documents. The decisions of those unwilling to work for health or other reasons are fully respected, and they are never forced to sign up for training, the report said.
Memetmin Asarjan learned about the opportunity to work in a textile factory in Urumqi, capital of Xinjiang, from a radio broadcast in his village in Lop county, Hotan, in March 2018.
Before signing up for the post, he was struggling to support his family of four with the agricultural products he harvested from farmland. He said he had to find part-time jobs to save up for tuition fees before his two children could go to universities.
"By working at the factory, my wife and I can make 10,000 yuan ($1,500) a month together, which is more than the family's annual income in the past," he said. "Besides the factory in Urumqi, the villagers are also offered opportunities to work close to their homes. There are many options to choose from as long as we want to improve our lives."
The majority of people from rural Xinjiang who go to other parts of China to work are Muslim. To support their freedom of religion rights and ensure facilities for worship, employers inform them about the number and locations of mosques in a city.
Their religious activities, such as praying at the mosque and fasting during Ramadan, have not been interfered with by any organization or individual, the report said. Halal food is also made available in the workplaces of Muslim employees from Xinjiang.