Tibetan village promotes reading
Share - WeChat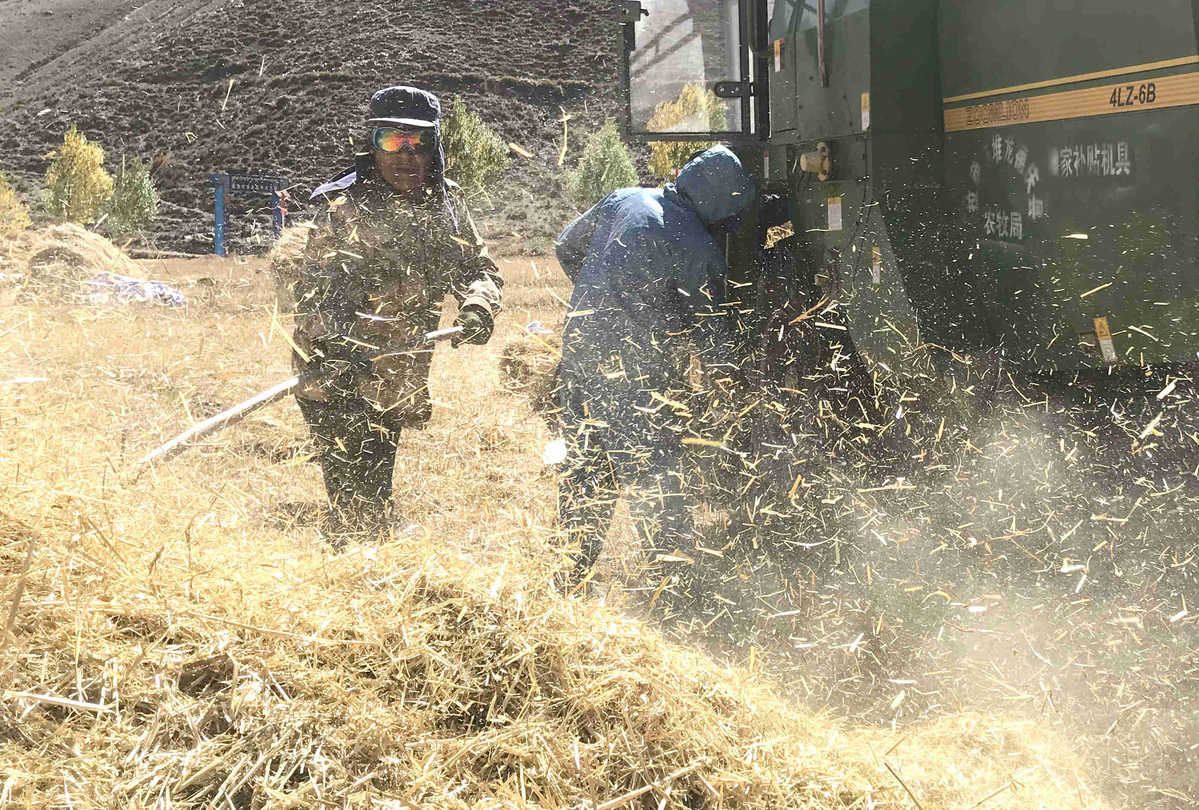 Tse Drolkar and her seven neighbors sat down for lunch after threshing highland barley for a whole morning on Oct 12 in Tsomai village, which is about 45 kilometers west of Lhasa, capital of the Tibet autonomous region.
"Our elder generation said they used to be really busy at harvest time, and they would have liked even their dogs to help them," Tse Drolkar said.
"But now, since the plowing, harvesting and threshing are basically mechanized, farm work is much easier."
Her husband works in Lhasa all year round. She and her sister farm and raise cattle. Her parents help her take care of two children.
While eating and chatting, she shared two new skills she acquired recently-how to make apple jam and how to clean grapes. She learned the skills from a book on healthy eating that she read in the village's reading room.
The reading room is an example of the efforts the village has made to promote a healthier lifestyle.
Sodnam Yeshi, the village's Party chief, said that since the 19th Communist Party of China National Congress in 2017, the rural revitalization strategy has created a favorable opportunity to improve the lives of villagers.
Tsomai, in Mar township in Lhasa's Doilungdeqen district, has provided books and shelves to each family and has prepared 18 boxes filled with books to rotate from house to house.
The books cover a range of topics, from Party history, practical science and agricultural and animal husbandry technology to healthy eating, legal rights protection, novels and comic books.
"During the slack season, we organize contests and other interesting activities to encourage villagers to read," Sodnam Yeshi said.
Tsomai has a total of 286 households with 1,036 people. Its per capita income exceeded 14,000 yuan ($2,090) last year, and its five major industries were a yak farm, a furniture factory, a brick factory, a breeding base for Tibetan chickens and a processing plant for agricultural products.
Sodnam Yeshi said all the villagers have now been lifted out of poverty, and with the support of the city and township governments, Tsomai is making efforts to prevent them from falling back into it.
Over the past few years, villagers have been encouraged to give up smoking and drinking and carry out waste sorting. The local government is also urging residents to renovate their toilets, kitchens and living rooms and tidy up their yards.
The villagers do this voluntarily. For those who meet renovation standards, the district government gives them a renovation subsidy of 10,000 yuan and a furniture purchase subsidy of 1,000 yuan, Sodnam Yeshi said.
Tsomai's Tibetan opera troupe, which has a history of 350 years, has also established some new folk art programs to promote a healthy lifestyle, he said.
Last year, Tsomai was named one of the "national model villages for rural governance" by the Central Leading Group for Rural Affairs, the Publicity Department of the CPC Central Committee and the Ministry of Agriculture and Rural Affairs.
What concerns the villagers most now is the cultural and tourism development plan for their village.
Relying on its easy access to Lhasa, rich natural resources for leisure tourism and its unique Tibetan opera performances, Tsomai is conducting preliminary research to develop its cultural tourism industry.