Mountain village gets taste of good life
Share - WeChat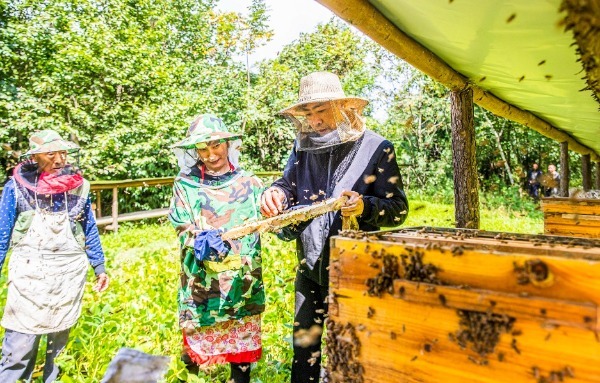 But the young man was not satisfied with the income and started the first grocery shop in the village. As his business was expanding, his fellow villagers elected him as the director of the village committee in 1992, hoping he would lead them to a better life.
"The average altitude of Miaoba village is 1,300 meters above sea level. The soil and climate are suitable for the growth of coptis chinensis. Planting this valuable Chinese herb can be a good way for my village to get rid of poverty," Cheng says.
He took the lead to learn how to plant coptis chinensis. In 1995, he earned 20,000 yuan from the herb planting and then the others followed quickly. The village finally had a profitable industry for the first time in history.
Cheng became village Party chief in 2010 and shouldered bigger responsibility to explore new ways out of poverty.
"Lucid waters and lush mountains are invaluable assets," President Xi Jinping had said in 2005, when he was the Party chief of Zhejiang province. This inspired the village head.
"Nearly 90 percent of our village is covered by woods and it is a perfect place to run honeybee farms," he says.
Miaoba is located within the provenance reserve zone of the eastern honeybee (Apis cerana), a Chinese native bee species. So Cheng led the villagers to build the bee farms. This industry turned out to be a big success too, bringing the village 1.6 million yuan output value in 2019.
Thanks to the fast transportation development, newly paved roads have connected the mountain village with outside world, bringing more visitors.
"We have beautiful scenery throughout the year and people can enjoy spring flowers, summer cool breeze, autumn leaves and winter snow," the village chief says.
In 2014, Cheng moved first again. He renovated his own house and turned his six bedrooms into a home stay. He earned about 20,000 yuan in the first year.
Encouraged by his success, more villagers joined the business. In 2019, tourism generated 2.1 million yuan for the village.
"The green mountains are the most valuable resource for us," Cheng says. "We must cherish and protect this beautiful environment."
Most Popular