A peach of an idea provides a better life
Share - WeChat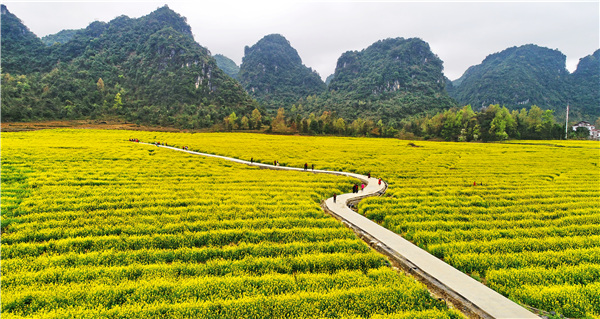 Walking on the stone-paved road under the shade of lush trees in Bamou village, it is easy to find respite from the summer heat.
Years of infrastructure upgrades and agricultural tourism development has turned the once isolated village into a popular tourist destination.
Sitting in the Baise city of South China's Guangxi Zhuang autonomous region, it wasn't too long ago that Bamou was considered to be a village mired in abject poverty.
In 2014, about 1,000 out of the village's 1,600 residents were living under the nation's poverty line.
"Houses in the village were relatively old and shabby before, and most villagers worked away from home," says Lin Liangsheng, a senior village official.
"Only the elderly and children were left behind, and locals were living a hard life."
In 2018, the local authority decided to develop rural tourism to improve the situation.
The village enjoys a mild temperature all year round and is an especially good place to beat the summer heat.
The local government has made great efforts in restoring the local ecosystem, growing aquatic plants and purifying the water. A road network and a project to conserve water were implemented, and internet infrastructure was installed.
Bamou also began developing agricultural tourism and has established a peach orchard and a 500-mu (33.3 hectares) rapeseed flower plantation.
The latter drew 30,000 visits during the 2019 Spring Festival holiday.
"We also received many tourists this year, despite the epidemic," Lin says.
Last year, a culture park was established, offering not just a naturally landscaped area for people to rest, but also providing guidance on social, societal and legal issues via films and literature.
The village has also been given a face-lift. Small lakeside buildings have sprung up and tea oil trees, tangerines and pomelo plantations are up and running. All of it now looks like a pastoral scene from a landscape painting.
Rural tourism development has not just improved the local environment, but as hoped, brought better financial opportunities for villagers.
The peach orchard generates at least 350,000 yuan ($51,700) for the local rural cooperative, and many villagers receive rent for their land.
Local villager Zhou Chuanghong can make more than 10,000 yuan a year renting his land for planting peaches and rapeseed flowers.
He can also draw a daily salary of 100 yuan for working for the village's tourism operation.
Many villagers have returned to ride the rising wave of tourism.
Tan Zhiwei has renovated his house and runs a homestay.
He had worked in South China's Guangdong province for nearly two decades. Now, his homestay business earns him 15,000 yuan a year.
"I can also raise chickens and plant fruits, and the money is increasing," Tan says.
So far, nine homestays in Bamou are up and running, creating job opportunities for 30 people.
Most Popular