Tourism in Macao expected to pick up during National Day
Share - WeChat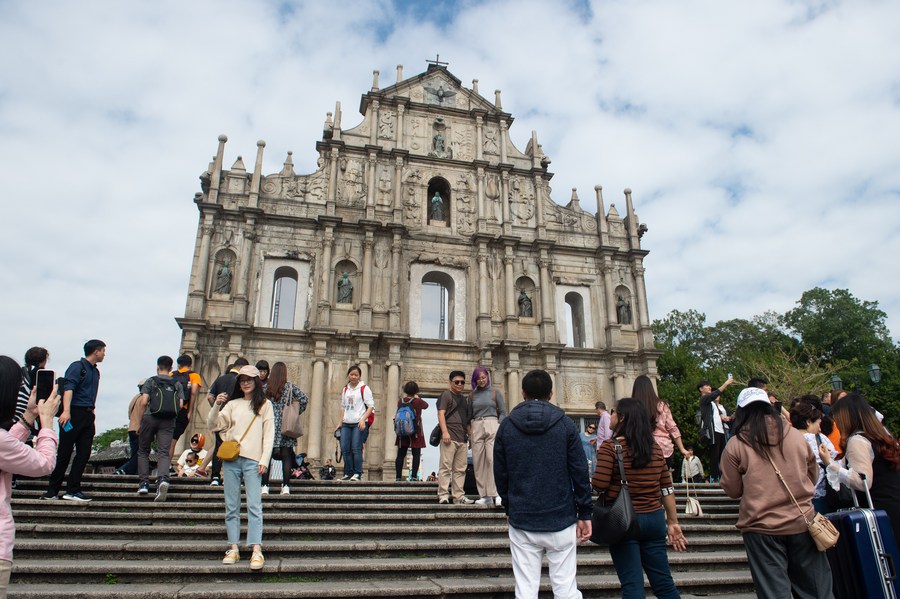 With COVID-19 basically under control in China, Macao is preparing to embrace a National Day Holiday tourist boom after the exit and entry departments of public security organs recently resumed handling mainland residents' tourists endorsements for individual or group tours to the special administrative region.
However, a notice from the National Immigration Administration said that despite the improved pandemic situation, the resumption effort excludes people from areas that are medium-or high-risk for the virus, as well as those who traveled to such areas within 14 days of applying.
The resumption produced an immediate effect. Data from online travel agency Ctrip show that the search volume of Macao tourism spots has increased significantly, and bookings for high star-level hotels in the SAR during the holiday rose by 50 percent this month.
Signs that tourists were eager to return to Macao began showing in August.
On Aug 12, residents in Zhuhai, Guangdong province, were able to apply for tourist endorsements, and two weeks later, the resumption expanded across the province.
According to the Macao Special Administrative Region's Statistics and Census Service, more than 227,000 inbound tourists-88 percent of whom came from the Chinese mainland-visited the region in August, triple the number of tourists in July.
Liu Yuanju, a researcher with the Shanghai Institute of Finance and Law, said that the resumption could help shore up Macao's vital tourism industry, which was dealt a heavy blow by the virus.
In the first eight months of this year, Macao received 3.57 million inbound tourists, a decrease of 87 percent year-on-year, the service said.
Si Tak-heng, a tour guide from Macao, said that he has been out of work for more than half a year, and his wife, who works in a pharmacy, has been supporting the family.
"Many travel agencies in Macao closed due to the novel coronavirus outbreak. I could have changed to another job with the aid of the SAR government, but I refused. I love the flexible timetable of a tour guide," he said.
"I have always been confident about our country's ability to control the virus and about the recovery of Macao's tourism."
In September, to aid the industry, the SAR government prepared coupons worth 290 million patacas ($36.3 million) for mainland residents to use in hotels and various shops.
On Saturday, the tourism office of Macao held Macao Week in Beijing, promoting the region's food, culture and commerce to attract more tourists from the Chinese mainland.
"The number of tourists to Macao may surge higher than in previous months. However, due to Hong Kong's suspension of tourist endorsements and the tradition of the two regions' package tour, Macao's tourism will still be under pressure and will need time to revive," Liu said.
The National Immigration Administration's notice said that tourists can go to Macao through the Hong Kong-Zhuhai-Macao Bridge, Zhuhai Port, Hengqin Port, Gongbei Port or Wanzai Port.
"Tourists must hold a certificate showing a negative result on a COVID-19 nucleic acid test performed within the past seven days and must provide personal and travel information online to get a green code to prove their health," it said.