Passion for marigolds plants roots of success
Share - WeChat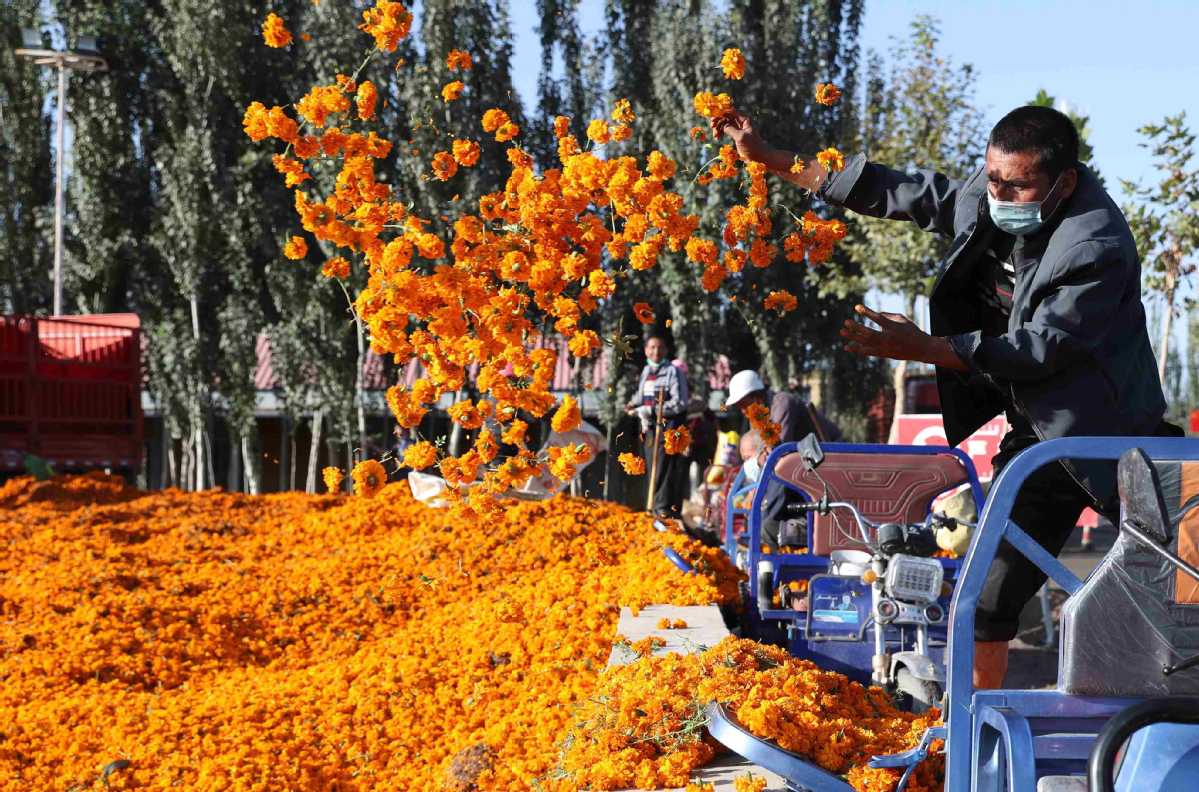 Recalling the old days when he went everywhere to find work but earned little money, Alimjan Arken's eyes filled with tears.
"My past life was so unstable that I didn't know where I would be the next day," said the 24-year-old Uygur man in Yarkant county, in southern Xinjiang Uygur autonomous region's Kashgar prefecture.
Before June 2016, Alimjan did many part-time jobs, including growing crops, picking cotton and guarding a reservoir.
The most difficult time, Alimjan said, was in 2015, when he only had 50 yuan ($7.30) in his pocket after failing to find a job in Korla, a city in Xinjiang. He clearly remembered spending 48 yuan to buy a train ticket from Korla to Kuqa, another city in Xinjiang's Aksu prefecture. He also recalled spending 1 yuan for a nang, the staple wheat bread of the autonomous region, and 1 yuan for a bottle of water.
"It was my darkest day," he said. "Leaning on a sycamore tree, I was shedding tears while eating the nang. I felt life was miserable."
Then in 2016, Alimjan accidentally came to work for a Hebei-based company that cultivates, processes and promotes marigolds.
"I was deeply fascinated with the golden flower, and I couldn't stop lying on piles of marigolds that had just been picked by workers in the sun. At that moment, I felt I was the happiest man in the world," he said.
While enjoying the sunshine and smelling the flowers, he heard some workers talking about the profits from growing marigolds. He then got a job loading and carrying flowers.
Alimjan also learned flower planting techniques from the company, such as seeding, spraying and picking, "because my dream was to cultivate marigolds by myself," he said.
This year, his dream has come true. He contracted 0.67 hectare of marigolds with his savings from the job and picked the flowers for processing. He estimated he could earn about 30,000 yuan from it.
Shi Shuzhang, vice-president of the company, said matured marigolds can be animal food after being purified and extracted, adding they located the branch in Xinjiang because the region's abundant sunshine can cultivate high-quality flowers, meaning higher value.
Since 2012, when the branch was opened in Yarkant, about 80,000 local households have started growing marigolds, and many of the farmers have been lifted out of poverty through the cultivation, he said.
Nurali Mehmet was one of them. He came across the company's technicians when growing crops in 2015 and he followed them to learn techniques, even though he was unaware of the flower.
"I was not sure whether the cultivation was profitable, but I like trying new things," the 27-year-old said. "To minimize economic loss, I just grew 0.07 hectare of marigolds at the start. After seeing the profits were higher than for crops, I began planting more and more."
Nurali confirmed mastering the flower planting techniques was not easy, but "no pain, no gain," he said, adding his monthly earnings increased to 8,000 yuan from 3,000 yuan in 2015 after his efforts.
He showed great will to continue the cultivation and learn techniques in the company, "as the stable income and skills make me stronger," he added.
Alimjan agreed, saying the flower not only beautifies his life but also brings him a sense of security.
Besides marigolds, rose cultivation and processing by a company in Yutian county of Hotan, Xinjiang, are also changing lives of local residents and helping them alleviate poverty.
Tohutkhan Roz, for example, is planning to apply planting techniques he learned into his 0.73 hectare of fields, after he found high-quality flowers could bring more value. Tohutkhan, who is responsible for packing processed roses in the company, said he is confident about the cultivation.
Mao Weihua contributed to this story.