Charity fund to support digitization of grottoes
Share - WeChat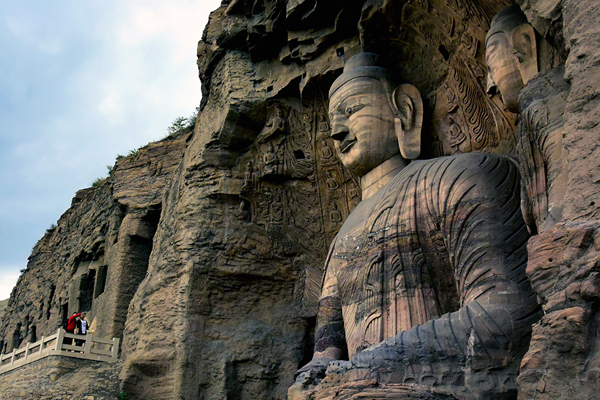 A nationwide charity program was launched on Saturday in Datong, Shanxi province, aiming to get the public involved in the protection of precious ancient Buddhist temple grottoes along the Silk Road.
The Beijing-based China Foundation for Cultural Heritage Conservation, which is supervised by the National Cultural Heritage Administration, announced it planned to raise 60 million yuan ($8.8 million) by 2025 for a public fund supporting the adoption of digitized approaches in conservation of the grottoes.
Li Xiaojie, director of the foundation, said the digitization will benefit restoration, exhibition, education and other fields related to the sites, which include the 1,500-year-old Yungang Grottoes in Datong, a UNESCO World Heritage site since 2001.
The grotto complex is widely considered an excellent example of Chinese rock-cut architecture. It was made during the Northern Wei Dynasty (386-534) under the rule of the Xianbei people-a nomadic ethnic group from the north that later blended with the Han people.
President Xi Jinping visited the site in May and called for protection to be given priority over tourism development. He also urged better display of its cultural significance in exchanges among different ethnic groups in order to enrich the Chinese nation's sense of a shared community.
The new charity program will also include two other major grotto complexes in China that are World Heritage sites: the Longmen Grottoes in Luoyang, Henan province; and the Maijishan Grottoes in Tianshui, Gansu province.
"The Buddhist temple grottoes were crucial landmarks along the ancient Silk Road marking communication among different civilizations," Zhao Shuguang, deputy director of the Shanxi Cultural Heritage Administration, said at Saturday's launch ceremony.
Taking Yungang as an example, Zhao explained it featured some artistic styles from India and Central Asia in its decorative patterns, and the stoas on its facade even showed Greek influence. Nevertheless, fundamental principles of Chinese architecture dominated construction of the grottoes.
"Protecting the 1,500-year-old heritage, we can fully display the spirit of inclusiveness on the basis of cultural confidence and thus encourage creativity," Zhao said.
Some enterprises and Buddhist temples donated more than 3 million yuan to the foundation at the launch ceremony. The foundation will also use internet platforms to seek crowd-funding. Additionally, cultural souvenir development competitions will be organized, with some of the revenue being put into the fund.
In 2018, the foundation cooperated with Tencent to launch a charity program and use social media to encourage young netizens to sponsor conservation of the Mogao Caves in Dunhuang, Gansu province, another key Buddhist grotto complex in China.
The aging grottoes are facing hazards brought by weathering as well as unstable rock foundations, said Lu Jiwen, deputy director of the Yungang Grottoes Research Academy. A study by the academy showed that in Yungang, on average, 10 cubic centimeters of rock disappear annually from every 1 square meter of grotto facade.
"The grottoes will not be immortal," Lu said. "But digital scanning and analysis can help us accurately diagnose the 'disease' and thus slow down the aging process with appropriate techniques.
"And if some parts really disappear one day, we can at least have permanent digital recordings and remind future people of their original appearance."
Using old pictures for reference and 3D printing, some damaged grottoes could also be fixed thanks to digitization, he said.
Digitization began in Yungang in 2003, and detailed digital recording of about one-third of the grottoes in the complex has been finished.
The accuracy of scanning can reach 0.03 millimeters, but that has led to an exponential increase in data, with up to 50 terabytes of data being collected from just one grotto.
Lu said a supercomputer center is being constructed and will begin operation next year, allowing the digitized information to be viewed online.