China reaffirms commitment to peace, unity
Share - WeChat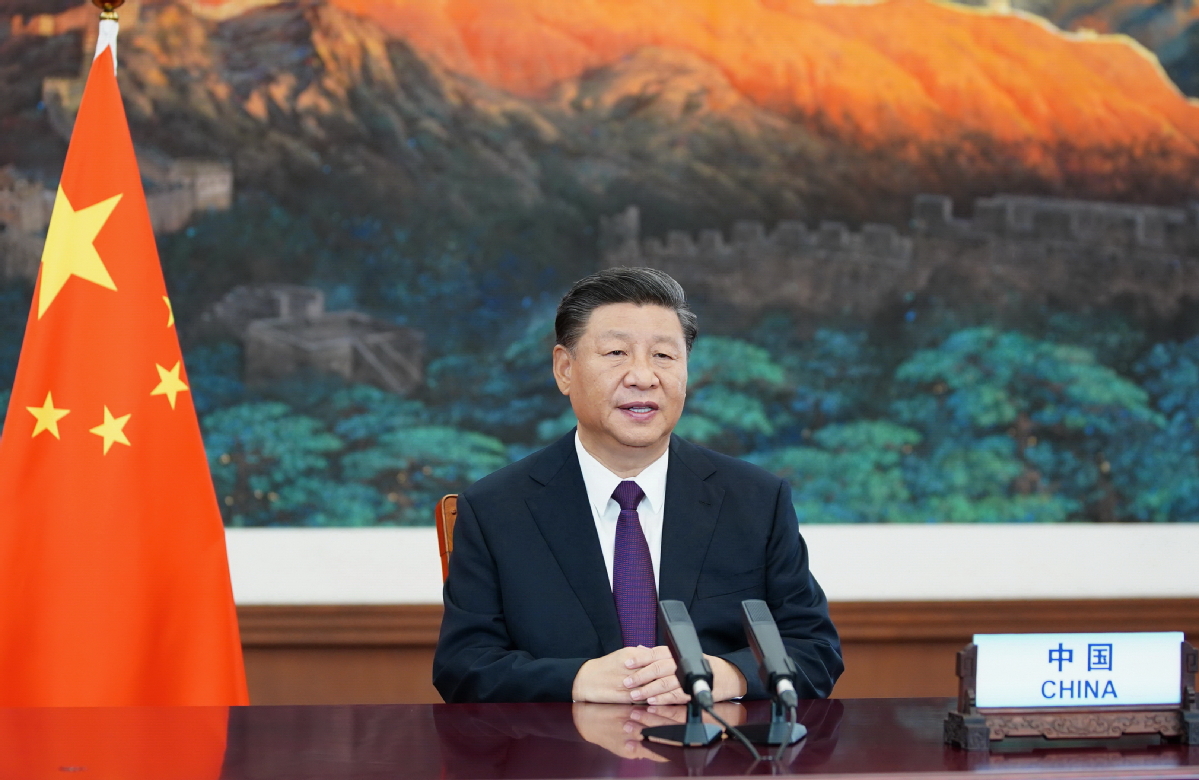 President's speech at UN highlights cooperation in pandemic, experts say
President Xi Jinping has reaffirmed China's commitment in his UN speech to promote peace, develop friendly relations among countries, and boost cooperation in the fight against the COVID-19 pandemic, global experts said.
In a speech delivered via video at the general debate of the 75th session of the United Nations General Assembly on Tuesday, Xi said that China will continue to narrow differences and resolve disputes with others through dialogue and negotiation.
He also said that major countries should "provide more global public goods, take up their due responsibilities, and live up to people's expectations".
Xi added that COVID-19 will not be the last crisis to confront humanity and he urged the world to join hands and be prepared to meet even more global challenges.
Nyongesa Lemmy, senior research fellow at the Africa Policy Institute in Nairobi, Kenya, said there are concerns the post-pandemic world order will be characterized by increased nationalism, isolationism, and retreat of globalization. President Xi's speech sought to allay those fears.
"He reaffirmed China's commitment to the core principles of the UN, namely, to promote peace and security, develop friendly relations among nations, and to cooperate in solving international problems such as pandemic outbreaks."
He appreciated that President Xi acknowledged that COVID-19 has tested the resilience of global cooperation in the face of a common life-threatening enemy across the world, a virus whose effects on global economic growth and development are devastating.
The pandemic is also a test on the resolve of member states to defend multilateralism and globalization, he added.
He said that Xi's commitment to global cooperation to contain and eradicate the virus and steer economic recovery needs support from the broader international community, for it is the most viable way of dealing with the present and future challenges.
Leela Mani Paudyal, former Nepali ambassador to China and an expert on international affairs, said that global leaders, like President Xi, are "constantly calling for collaborative efforts to deal with global problems of underdevelopment, poverty, climate crisis, nontraditional security risks and lately to fight against any evil of mankind like the COVID-19 pandemic."
Hisham AbuBakr Metwally, a researcher at the Egyptian Ministry of Foreign Trade and Industry, said that Xi made a great speech about peace for all, a shared future, and solidarity against challenges.
Critical points clarified
"President Xi clarified the most critical points to the world right now, such as climate change and facing the pandemics which both need compound efforts from the world," he said. "The world can't afford cold or hot wars anymore either. The thinking from all counties should be focused on development and helping people have a better life."
Christopher Bovis, professor of international business law at the University of Hull in England, said that China has approached the UN 75th Anniversary with a firm and positive determination of the international organization's remit.
"China has committed to the rule of law and justice as the foundations of international cooperation," he said. "International treaties and dispute resolution forums as well as national judicial systems epitomize the priorities of China's resolutions for the furtherance of the United Nations."
Besides, real action has emerged as a resolution for the UN, when international collaboration is needed to heal the catastrophic effects of the pandemic and start a path of economic development and sustainable growth, he said.
Laurence Tubiana, chief executive officer of Brussels-based European Climate Foundation, said in a tweet on Tuesday that she was impressed when President Xi said that China aims to see its carbon dioxide emissions peak before 2030 and achieve carbon neutrality before 2060.
Wang Mingjie in London, Chen Weihua in Brussels and Xinhua contributed to this story.