Shanghai launches 3-year plan to enhance care of city's toddlers
Share - WeChat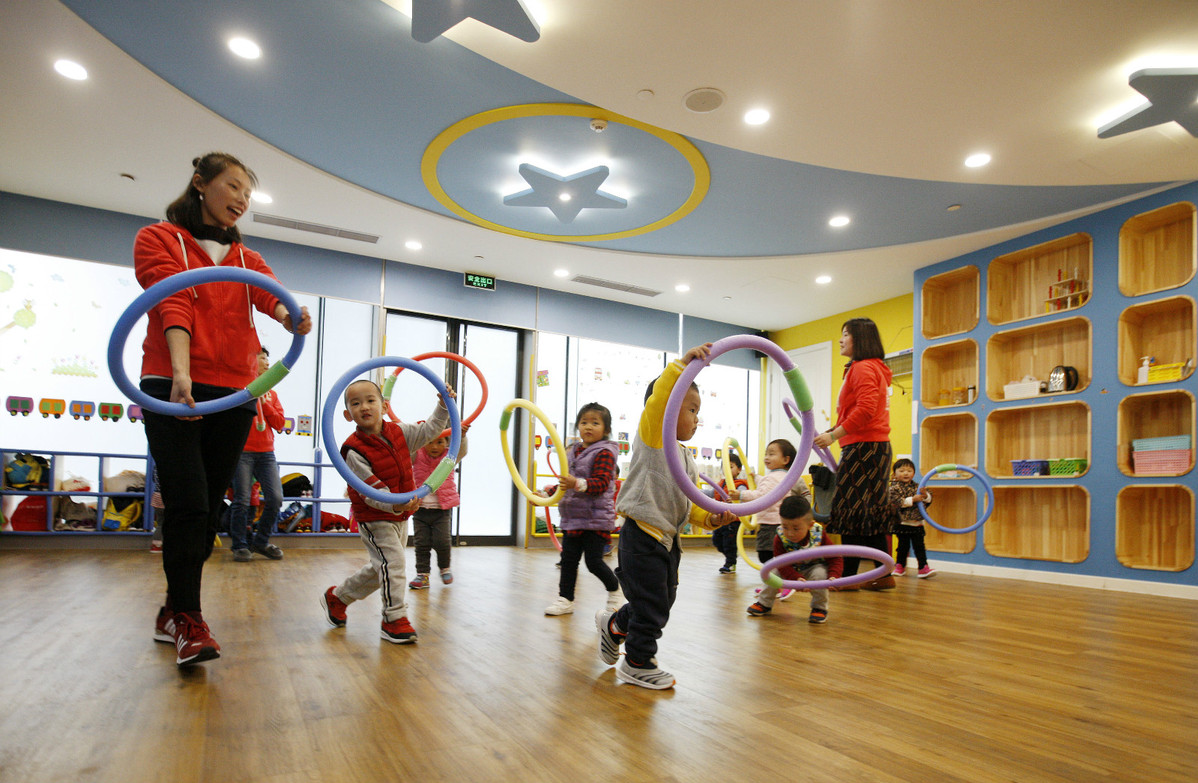 A three-year plan to enhance care of toddlers in Shanghai has been welcomed by parents and applauded by experts as an example for the rest of the country to follow.
The action plan, released by the Shanghai municipal government on Wednesday, aims to offer a systematic approach to improving public care of those aged 3 and below, Shanghai Vice-Mayor Chen Qun told a news briefing. It is the first plan of its kind to be introduced by a provincial-level government.
Shanghai will establish at least 150 care centers for children too young for kindergarten in the coming three years, according to the plan, and by 2022 more than half the city's kindergartens will be able to offer day care services for children under age 3.
The plan also encourages district governments to provide venues, reduce rents and offer other subsidies to support the establishment of such centers by communities, enterprises and institutions.
"Children under 3 years old are the most vulnerable group in society. Good child care is related to the healthy growth of children, the vital interests of families and the improvement of the quality of urban life," Chen said.
Following the introduction of the universal second-child policy in 2016, Shanghai has been witnessing demographic changes similar to those in the rest of the country, Chen said, with around half of the city's new births being second children.
The challenge of raising two children in big cities-which comes from the pressure of finding suitable housing and the cost of raising children, along with any mental health problems they might have-has made public support for child raising imperative. The plan, which also stresses the need for parental guidance to ensure the healthy growth of children, is aimed at meeting that growing demand, Chen said.
"Each street and town will build a parenting guidance station, providing at least one door-to-door guidance service for each family in the community with a newborn, and at least six offline guidance services for the families of infants and young children in need each year," he said.
At the same time, each district will build at least one development base for infants and young children to promote and popularize basic knowledge about the development of infants and young children and parenting skills, Chen added. The bases will also provide high-quality medical and healthcare services.
Experts say the plan is a model for dealing with two challenges faced by China: a quickly graying society and a falling birthrate. Official data shows the share of the population aged 65 years and above increased from 3.7 percent in 1970 to 11.5 percent last year. By 2040, projections suggest it will climb to 24 percent. In contrast, after a brief increase in 2016, new births have dropped each year, with the 14.6 million last year the lowest number since 1961.
Surveys suggest time and financial concerns are the main reasons couples are unwilling to have children, especially second ones.
"Welfare policies for prekindergarten children can relieve some of the pressure on families who intend to have children," said Zhang Jing, executive director of the Research Center for Family Development and Social Psychological Services at Beijing University of Technology's Gengdan Institute.
Wang Hui, an assistant researcher at the Shanghai Academy of Social Sciences' Institute of Sociology, agreed, adding that such policies can also promote the healthy physical and mental development of children.
"Due to the independence and separation of living space in cities, children have fewer partners to play with than in the past, which has become a source of distress for many young parents," Wang said. "Therefore, these policies also embody a humanistic approach to city building."
Shanghai resident Jiang Shan, who has a kindergarten-age son and a 1-year-old daughter, said the plan is a godsend. She expects to send her daughter to a day care center at a reasonable cost with the increasing availability of such facilities across the city.
"Taking care of two children is just too stressful," Jiang said.