Micro light-emitting diodes making serious waves in rapidly growing industry
Share - WeChat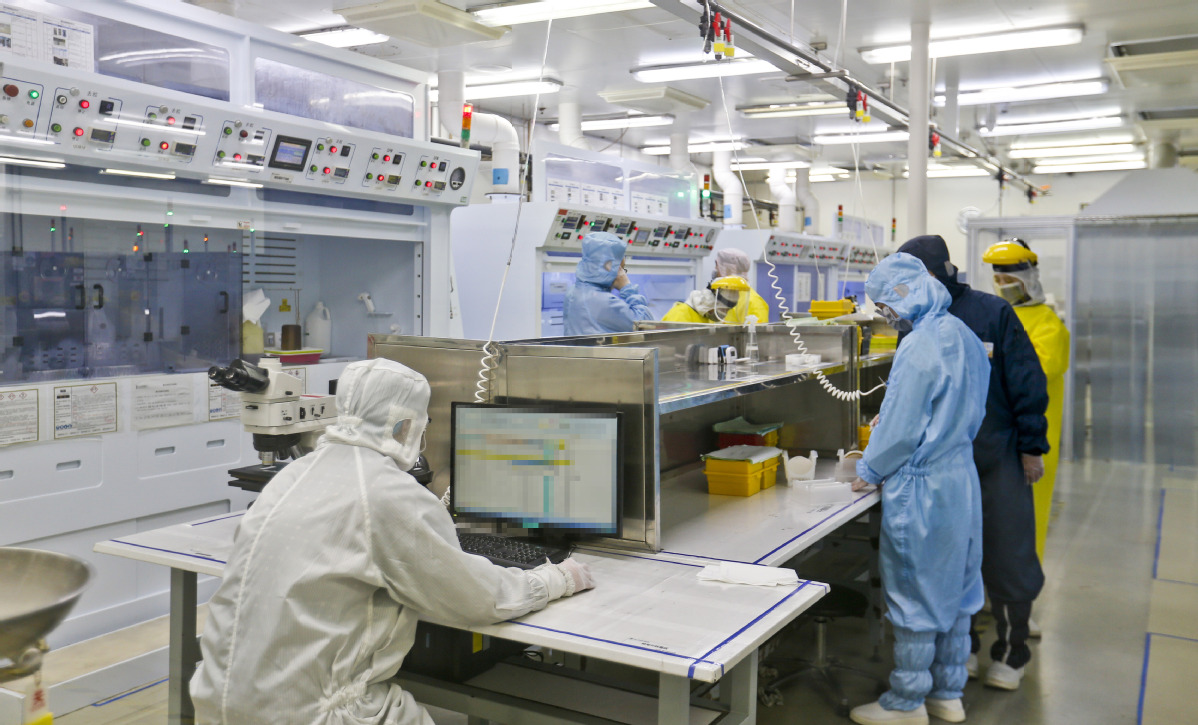 Micro light-emitting diodes (LEDs) are opening a new direction for the display industry and are expected to be adopted in a wide range of sectors including large-sized display products, wearable devices, augmented reality and virtual reality, said industry experts.
Innovative display technology is no longer a new idea in the industry with Chinese display panel makers marching into the emerging micro LED segment, and more and more micro/mini LED display products have been exhibited at major international events over the past two years.
China Star Optoelectronics Technology Co Ltd, a subsidiary of home appliance giant TCL Technology Group, will run a joint laboratory with San'an Semiconductor-a unit of San'an Optoelectronics Co Ltd-to develop micro LED technology, materials, production processes and equipment and accelerate the commercial large-scale production of micro LED displays.
The two companies will invest a total of 300 million yuan ($43.5 million) in the new lab, with CSOT accounting for 55 percent of the registered capital and San'an Semiconductor the remainder.
Founded in November 2000, San'an Optoelectronics is engaged in the R&D, large-scale production and marketing of full-color, ultra high-brightness light-emitting diode epitaxial wafers and chips, and has also worked in the field of micro LED technology for many years. Last year, the company announced plans to invest 12 billion yuan to build a mini and micro LED production site in Hubei province.
During the 2020 Consumer Electronics Show in Las Vegas, TCL unveiled for the first time a next-generation display technology called mini-LED, which delivers exceptional contrast and powerfully brilliant luminance.
"We believe that mini-LED technology will shape the near future of the industry and TCL has pioneered in applying this technology to TVs," said Kevin Wang, CEO of TCL Industrial Holdings and TCL Electronics.
In addition, TCL acquired Zhonghuan Electronics Information Group in July, which is mainly engaged in the R&D and production of photovoltaic and semiconductor silicon wafers, in order to improve its positioning in the upper stream of the semiconductor display sector's industry chain and generate synergies with its display business.
Micro LED display technology is based on self-emitting pixels, delivering advanced contract ratio, high brightness and a wide color range, and is regarded as the benchmark in next-generation display technology.
Compared with traditional liquid crystal display (LCD) technology, micro LED displays offer much better image quality and are highly efficient. Moreover, the technology promises to be brighter and more durable with a higher color range than organic light-emitting diodes (OLED).
According to LEDinside, a division of technology research firm TrendForce, the global market value of micro LED products will reach $694 million by 2022 and $2.9 billion in 2025.
Chinese television manufacturer Konka Group Co Ltd is accelerating efforts to expand into the semiconductor sector and increase research and development investment in micro LED display technology.
Last year, the company announced plans to invest 1.5 billion yuan to establish a micro LED research institute with Chongqing Liang Shan Investment Co Ltd for the R&D, production and sales of micro LEDs.
Konka has concentrated its innovation efforts on cutting-edge technologies such as 8K, AIoT, and 5G, and will continue to make efforts in emerging industries, new materials and semiconductors to achieve innovation in core technologies and drive the company's growth.
Konka showcased its latest product-Smart Wall-which uses cutting-edge micro LED technology at this year's CES in January in Las Vegas, as well as other advanced display products such as the 8K OLED TV, 8K mini LED TV and a series of high-tech smart home products.
"Although the development of micro LED still has many bottlenecks at the moment, mini LED has emerged as a transitional technology that will contribute to the evolution of LED in display-related applications," said Roger Chu, LEDinside's research vice-president.
Chu said more competitors may not be a bad thing for the LED industry when it comes to advancing technologies. "Commercialization and mass production of mini and micro LED products will likely arrive sooner if the number of market entrants continues to grow.
"Micro LED itself has a lot of potential and could one day shine in lots of applications including VR devices, AR projection, optical sensors and fingerprint recognition," Chu added.
BOE Technology Group Co Ltd, another leading display panel supplier, is also carrying out R&D into micro LED technology, and will launch related products in the future in accordance with market demands.
"Micro LED, as a representative of the next-generation of display technology, has certain advantages such as excellent display effects and flexible sizes," said Zhang Hong, director of the TV department at Beijingbased Sigmaintell Consulting, adding major panel and home appliance manufacturers have tapped into the micro LED sector to improve product and brand competitiveness.
"However, such technology is not mature and it still takes some time to reach mass production. Micro LED technology is expected to be adopted in 80-inch or above display products, home theaters, VR and wearable devices," Zhang added.