Realme banks on new 5G phones for more market share
Share - WeChat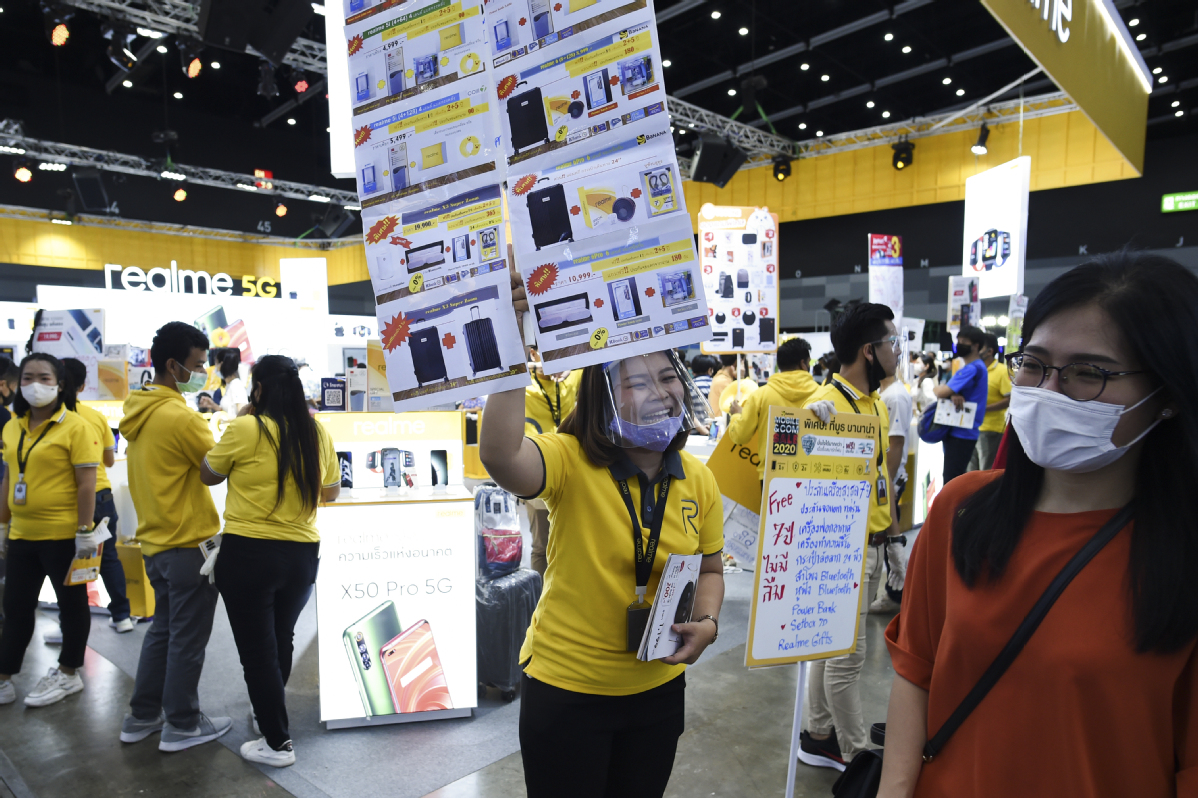 Chinese smartphone vendor Realme unveiled a below-1,000 yuan ($146) 5G handset on Tuesday, as the company aims to beat out rivals amid intense competition in the sector.
The move came after Realme consolidated its position as the fastest-growing smartphone brand in the Southeast Asia region in the second quarter, while its home-turf in the China market saw the increasing popularity of its 5G smartphones.
Realme V3, as the new smartphone is named, is priced from 999 yuan, and it is arguably one of the most affordable 5G handsets unveiled in China so far. It also marks an aggressive push by the company to establish a presence in the fiercely competitive 5G handset market.
Xu Qi, vice-president of Realme, said the company aims to popularize 5G smartphones.
Realme said in August that the company's products and services have been available in more than 59 countries and regions, and it has more than 40 million users.
In the second quarter of this year, Realme continued to be the fastest-growing brand in Southeast Asia, with 141 percent year-on-year shipment growth and a market share of 13 percent.
That came about despite the Southeast Asian smartphone market declining 19 percent year-on-year in the same time frame amid the COVID-19 outbreak, according to the latest finding from market research company Counterpoint Research.
Abhilash Kumar, an analyst at Counterpoint, said in a research note that "Realme became one of the top 5 smartphone brands in all key markets in the region, including Cambodia, Indonesia, Malaysia, Myanmar, the Philippines, Singapore, Thailand and Vietnam."
Kumar said that in the Philippines, Realme grew 97 percent year-on-year in smartphone shipments from April to June. In Singapore, the Shenzhen-based company grew 100 percent year-on-year to enter the top 5 brands in that country for the first time.
"The right channel strategies, effective marketing and good value-for-money products across all price bands helped Realme defy the market decline. The COVID-19 pandemic led consumers toward online sales platforms where Realme has a strong presence," Kumar said.
Launched in the middle of 2018, Realme has quickly grown to be the seventh-largest smartphone vendor in the world, chiefly relying on its popularity in e-commerce sales channels and its resonance with young consumers. It is extremely popular in Southeast Asian countries and has been expanding its presence in Europe.
It is now stepping up its push to seize opportunities in 5G handsets despite rising competition from rivals such as Xiaomi and Vivo in its home market.
In July, 13.91 million units of 5G smartphones were shipped to China, accounting for 62.4 percent of all smartphone shipments, data from the China Academy of Information and Communications Technology showed.
But overall mobile phone shipments stood at 22.3 million units in July in China, down 34.8 percent year-on-year, said the academy, which is a research institute under the Ministry of Industry and Information Technology.
The country's domestic brands continued to dominate mobile phone shipments in July, with those made by Chinese manufacturers hitting 20.72 million units, making up 92.9 percent of the total.
In addition to V3, Realme also unveiled a new 5G smartphone series including Realme X7 on Tuesday, as the company aims to offer a wide range of products to meet the diversifying demands of consumers.
Other players are also adopting similar strategies. Vivo and Oppo, for instance, have also been rapidly expanding their 5G smartphone portfolios, with products that encompass all price points to reach more customers.
"As the 5G network covers more cities in China, 5G smartphones will account for 70 percent of all smartphone shipments by the end of this year," said Zhao Ming, president of Honor, a flagship smartphone brand from Huawei Technologies Co.