Southern Power Grid project eases electricity woes
Share - WeChat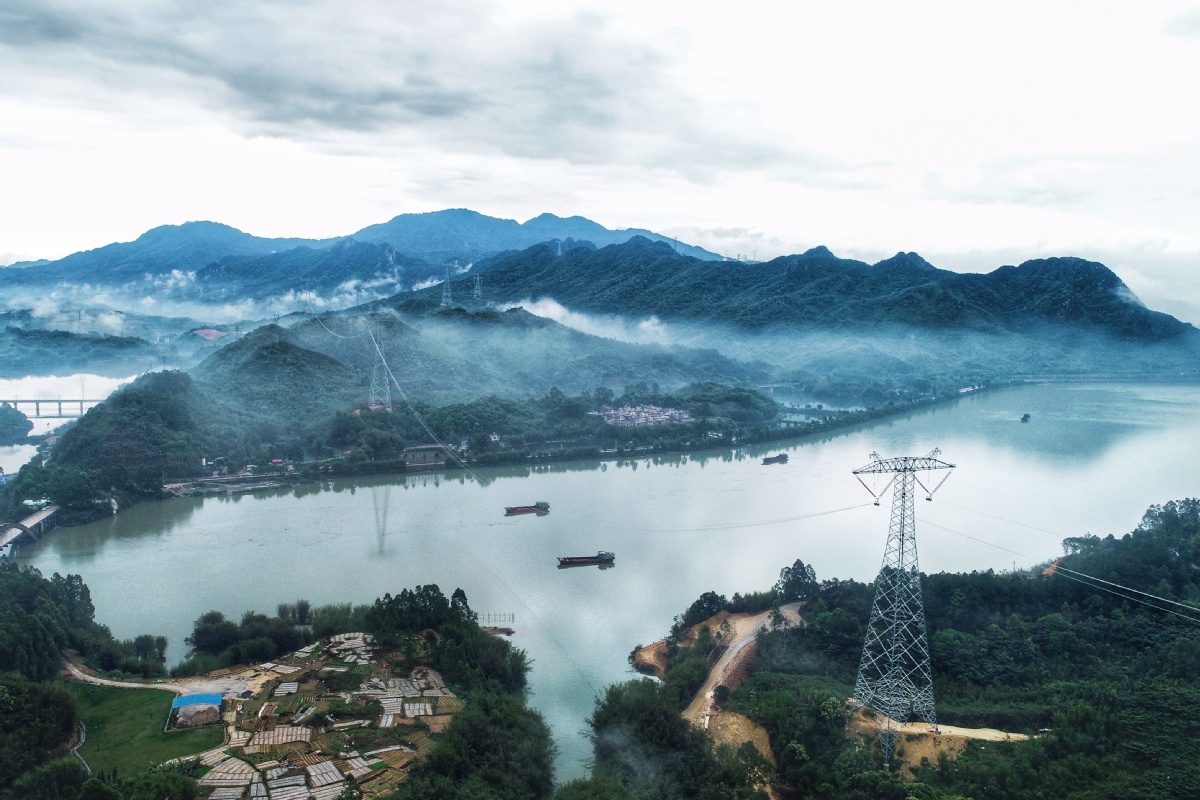 China Southern Power Grid's 800-kilovolt ultra-high-voltage direct current project that passes through the provinces of Yunnan, Guizhou and Guangdong as well as the Guangxi Zhuang autonomous region, had generated more than 1.39 billion kilowatt-hours of hydropower from Southwest China to supply southeastern areas as of Aug 17, said the company.
It has substantially eased pressure at the Wudongde Hydropower Station, the world's seventh-largest, during the flood season, while ensuring clean energy from Yunnan province is efficiently utilized and not wasted, it said.
Rao Hong, chief technical expert for the grid, said the system can improve stability, safety and flexibility to further support the transmission of electricity from west to east.
With a total length of 1,452 kilometers, the project transmitting hydropower has also offered power resources to the Guangdong-Hong Kong-Macao Greater Bay Area, thus helping promote its economic recovery.
The project, with a total investment of 24.26 billion yuan ($3.47 billion), kicked off in December 2018 and is scheduled to be completed in 2021. Wei Hanyang, a power market analyst at Bloomberg New Energy, said the new UHV line will deliver power from Wudongde Dam, which is a major Yunnan site serving the Guangdong power market.
"Its technology in flexible DC is the first trial in China Southern Power Grid's territory, and will further clean up the energy mix in the coastal Greater Bay Area," Wei said.
"After its completion in 2021,Yunnan will increasingly reconsider the idea of outbound delivery, because it is now hosting more energy-consuming industries than ever before. To reserve more hydropower for local development may be a next-step choice."
Li Licheng, an academician at the Chinese Academy of Engineering, said the world-leading project illustrates the country's UHV direct current technology has significantly improved.
The project will also provide experience for power grid development in other countries, Li said.
China Southern Power Grid said the project will provide green energy resources to areas that report heavy power loads in the Guangdong-Hong Kong Macao Greater Bay Area, and will help with the economic recovery of the region.
The company constructs and operates power grids in five southern provinces and regions in China-Guangdong, Yunnan, Guizhou and Hainan and the Guangxi Zhuang autonomous region-with a total service area spanning 1 million square km and serving more than 252 million people.
The company sold 1,051.8 terawatt-hours of electricity last year, generating revenue of $81.2 billion, with total assets reaching $133.2 billion, it said.
With its grid spanning 2,000 km from west to east and a total installed capacity of 310 gigawatts, China Southern Power Grid operates eight AC and 10 DC projects in the West-to-East Power Transmission Project, with a maximum transmission capacity of 50 GW.