Speed, cost, convenience helping propel demand for clean energy vehicles
Share - WeChat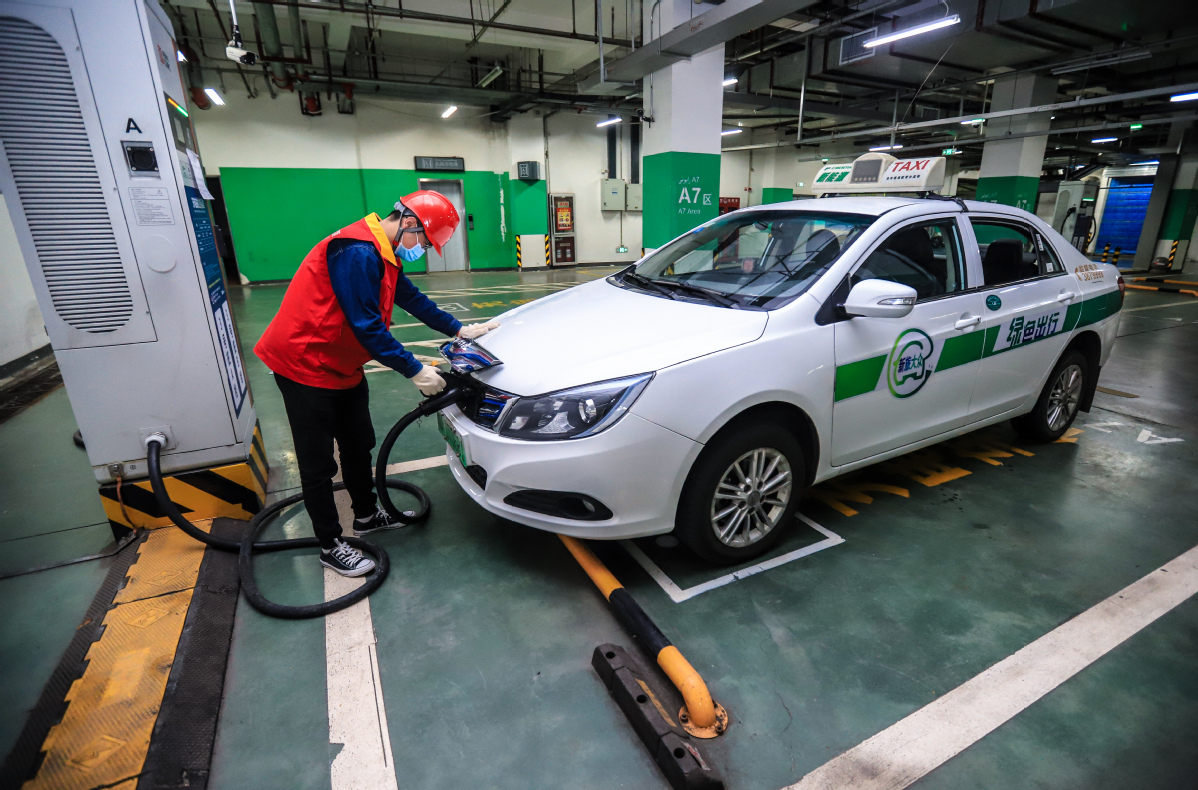 With the impact of COVID-19 on new energy vehicles in China gradually diminishing, the country's charging pile sector is slowly recovering and is expected to surge in the second half, insiders said.
As many as 7,834 new public chargers were added in July in China as the country-the world's largest auto market-saw strong performance in the new energy vehicle sector during the month, with production and sales surging 15.6 percent and 19.3 percent, respectively, year-on-year, said the China Association of Automobile Manufacturers.
The number of electric vehicle chargers for public use in China stood at around 566,000 at the end of July, said the China Electric Vehicle Charging Infrastructure Promotion Alliance.
BloombergNEF said new charger additions this year were interrupted by COVID-19. The level dropped from 15,000 new units in January to less than 200 in February. It bounced back to 10,000 units in March but halved to 5,000 units again in April.
However, the general trend has been stable since the second quarter, with the three-month moving average staying at around 6,000 new units per month, said Kou Nannan, head of China research with BloombergNEF's advanced transport sector.
"The charging volume quickly recovered from 172 gigawatt-hours in February to 604 GWh by June 2020, which was already higher than the pre-COVID-19 level of 596 GWh in December. The growth momentum is very strong and the trend is likely to continue," Kou said.
Kou added that he is optimistic about the future charging market.
"From the demand side, the EV (electric vehicle) fleet is growing rapidly. Early adopters to EVs were usually affluent people with private parking garages and private chargers installed. As the EV market expands, more customers do not own their own parking spaces, which creates more demand for public chargers. The rising charger utilization rate will generate better cash flow, which will help investors build more chargers," he said.
"With government support, we think new charger additions in the second half will rise faster. In the medium-to-long term future, we believe the market will pick up speed. This is because faster charging speeds will improve the charging experience by greatly reducing charging times, which makes EVs as convenient as traditional internal combustion engine vehicles."
BloombergNEF said automakers are accelerating their EV launch plans, partly to comply with increasingly stringent regulations in China.
While COVID-19 will delay some of these, by 2022 there will be over 500 different EV models available globally, it said.
The acceleration of charging piles in recent years is also due to favorable policies including more allowances for charging facility construction from the previous subsidy to new energy vehicle purchases by the Ministry of Industry and Information Technology and the Ministry of Finance.
China released its new infrastructure construction plan in March, including EV charging piles, making it a key sector for national infrastructure construction, which is believed to further drive the market and create an investment and construction scale of 18.76 billion yuan ($2.74 billion) by 2025, said iResearch.
The Beijing government also vows to further optimize the capital's charging pile construction and have available no less than 50,000 electric vehicle charging facilities during the 2020-22 period.
Insiders believe further subsidy policies and increasing profitability of charging pile companies will lead to more financing for related firms.
State Grid Corp of China, the largest power utility company in China, offers services to over 1.1 billion people across 26 provinces, municipalities and autonomous regions. It plans to invest up to 2.7 billion yuan this year to add 78,000 charging piles, while China Southern Power Grid also plans to invest 25.1 billion yuan in the upcoming four years to create 150 large-scale centralized charging stations and 38,000 charging piles.
Many carmakers and other companies are also partnering with the country's utility companies to lay out a charging pile blueprint for the country, with BMW inking a deal with State Grid Corp of China, through its subsidiary State Grid EV Service, to expand its elective vehicle charging infrastructure and promote electric versions of its popular models in the world's largest NEV market.
China's 5G leader Huawei also plans to develop its Huawei HiCharger DC fast charging module, partnering with State Grid Corp, China Southern Power Grid and Star Charge.
As of July, there were 24 large-scale charging operators, with eight operating more than 10,000 charging piles, including Qingdao TGOOD Electric Co Ltd, Star Charge and State Grid Corp of China, the three of which respectively see 163,000,133,000 and 88,000 charging piles.
The top three charging operators, with a total of 501,000 charging piles, account for 88.5 percent of the country's charging services.
EVCIPA said the ratio was 3.4 EVs to one charging pile by the end of 2019. Kou said he expects this number to slightly drop to 3.3:1 by the end of 2020.